I'm a sucker for closed road cycling events.  They are however fairly few and far between in the UK, so I don't get the chance very often.  So when the stars aligned and I got the chance to do the Tour of Cambridgeshire Gran Fondo, I was definitely up for it. Mind you, it wasn't just the closed roads that had me hooked;  I've cycled around Cambridgeshire a little bit before, and I know that it's pretty flat around there.  Just because I've decided I like hills and they're going well doesn't mean I didn't find the idea of hurtling around on the flat for a few hours appealing 😉
Cambridgeshire is not next door.  Peterborough Arena & Showground, where the event is based, is a good 3+ hours drive from chez moi.  Since long drives and I don't get on all that well, the sensible thing to do was book a hotel for the night before, and take my time getting there.  Which made the whole pre-sportive thing pretty relaxing.  Which was just as well, as I wasn't having the greatest day health-wise.  So…  Have lie in.  Get up.  Sort kit, clothes, etc.  Load up car.  Leave.  Thanks to roadworks near Birmingham, various traffic issues, and the need to take a break because driving was making the pain worse, the whole trip took me around 4.5 hours instead…but since I wasn't really under time pressure, I could at least remain fairly relaxed about that.
Home for the night was the Peterborough Marriott Hotel.  Which is also where I had to go to collect my Press Accreditation pack.  Did I forget to mention I got to be proper VIP Press for this one?  Yep.  I did.  How cool is that?!  *grin*.  My elevated status would apparently entitle me to free VIP parking on site, and also access to the Club Kermesse building, with drinks and food, throughout the event.  Which sounded pretty cool to me.  I am SO easily pleased sometimes :D.
It's a pretty big hotel, and as I arrived, the car park was crawling with a great many cyclists unloading cars, and kit, and by the looks of it, taking their babies into sleep with them.  There wasn't much space in the car park but there's always someone who's parked badly and left a space that's tricky for most cars to get into.  Not my car though, my diddy i10 can always get in there, and today was no exception.  'Rah!  So I parked up right near the entrance and made my way through lots of very expensive carbon to check in.  I didn't really have time to hang around though.  Registration, having been open all day, closed at 7pm, and it now being around 6pm, I needed to get on getting on.  So I checked in, collected my press pack, and located my room.  Which was nearly as far from reception as you can get…quite a trek!  No time to check out the room much though – other than to note it was large and looked nice.  I dumped most of my stuff on the bed, before opening my pack, getting my car window sticker and my little VIP wrist band, and heading back to the car.  I could have ridden directly over to registration, as many others had/were, but that would have involved too much faffing.  Getting there by car may have been more circuitous…but it was quicker!  A few roundabouts later, and a lap around the inner showground road, and I was in the official car park on the other side.  The marshals were very keen to point me to park with everyone else, but my little blue window sticker meant that, once they'd figured it out, I was sent off to park right by the main entrance.  Very cool :).  They were also very keen that I park neatly and make a row…which was amusing, considering I was the only one parked there!
The whole place had obviously been much busier earlier, but by now it had an air of ghost town about it.  There certainly weren't queues for anything.  I followed the signs to registration through various bits of building before arriving in the somewhat cavernous room where what I needed was.  With tables all set out in number order, I figured out which one included 7083, having been informed of my number by a prior email, and one of two surprisingly cheery gents dug out my entry envelope.  Well if I'd been stood there all day, I doubt I'd have still been cheery!  And that was that.  Job done.  Mind you I was marginally irritated that no-one had asked me for the photo id that the pre-event instructions had made very clear would be required.  I hate lugging my passport around – especially when they cost c.£75 to replace – and I still have a paper driving license (which is still legal, I've checked).
I didn't really know what to do with myself next.  With everything winding down for the day there wasn't much to do.  I looked at the map to familiarise myself with the site layout a bit, and wandered around a tad aimlessly in the sunshine.  The Club Kermesse building was in the middle but looked pretty vacant, so I didn't bother check that out more closely.  I didn't fancy an ice-cream, or any of the other food that was still on offer.  The event village was, like everything else, visibly closing down.  Talking of which, it was also sort of set off to one side and a little out of the way, which actually meant that I never got around to visiting it, since it was never on my way anywhere, and I'd have had to make a deliberate effort to go and look at things that I wasn't going to buy so…  I wonder if that happened a lot, and if that location really worked for the various stall holders etc?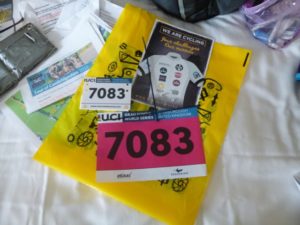 Enough musing about that though.  Time to stop being aimless and head back to the hotel.  Back to the hotel and back to the same car parking space, since no-one else had managed to get into it in my absence.  Tee hee hee 🙂  Unlike everyone else, by the looks of it, I decided to leave my bike in the car.  For starters, I figured if you were going to nick a bike that mine, compared to all the others, would be relatively safe.  I also couldn't be arsed to put it back together, wheel it all the way to my room in Outer Mongolia, only to repeat the trip the next day.  A lot of folk were probably going to ride to the start in the morning, so it probably made more sense for them.  However with the luxury of my VIP parking, and the need to drive home again straight after the event, it made more sense for me to drive over.  So the bike was staying put and, although there was a buffet dinner available that evening for VIPs and staff, it was at the golf course down the road and I didn't fancy driving, so I was staying put too.
My evening passed pleasantly enough…I drank the odd pint of Stella, at a fairly reasonable £4.50 a pint, passed on paying £9.50 (!!!) for the large glass of Sauvignon Blanc I might like to have had instead, was squeezed into the restaurant by the very helpful Maitre d' for what turned out to be rather nice food, and spent a lot of time hanging out with my Kindle.  The place was heaving, but I didn't end up in company though there was the odd chat here and there at the bar etc.  Including with one rather nice couple who I then bumped into several times over the weekend as you do.  Such conversations tend to go much the same way.  "are you doing the event, have you done it before, are you ready, which route/entry are you, have you been riding long…" always followed by the "so have you done many sportives then?" question.  Ah…  Well…  That's always a good one *grin*.  I usually go with the, "I've done a few…" type of response and dissemble madly. Explaining the who/why of me being there tends to follow, and then I have to explain that just because I do a "fair few" that doesn't mean I'm any good at them, which doesn't seem to stop folk getting a wildly inaccurate idea of what kind of cyclist I am!
Enough of all this frivolity. Time to head to bed.  No need to get an early night though.  Because this event is a bit weird.  I have to admit to not paying too much attention to the instructions beforehand.  I figure I know how sportives work.  I knew I had to get up there, ride a bike at some point, and then get back.  So when I finally read through the Race Book and discovered that whichever category of rider you were, nothing was kicking off until midday…I was kinda surprised…!   And to be honest, mildly annoyed…  I could have driven up that morning, right?  Although yeah, that wouldn't have been that wise, what with the ride a lot and drive straight back thing, but still…  Anyway.  Bed.  At which point my phone reminded me that I should be putting a new patch on.  Which would be great if I'd remembered to bring one with me…  Oh marvellous. I can be such an eejot sometimes…
So, even with breakfast served until 11, in amazingly considerate style, I still got up at 8am.  Well  a long lasting disagreement with dinner, early withdrawal, pain levels, and the usual wake up every hour and check the time thing that my brain does before sportives, it wasn't the most restful night.  Oh, and the mattress was a bit too soft… 😉  I'd decided to have breakfast at the hotel, which I booked the night before, not when I booked – having presumed I'd be up too early to have hotel breakfast – that's usually the case right?  I made my way, half kitted up, to join all the others milling around downstairs.  Breakfast was busy, so I had to wait until my room number was called before I could take my place at the trough 😉  Thermos jugs of Starbucks coffee, and all the usual breakfast stuff, including omelettes make in front of you…  I settled for coffee, fruit juice, and muesli with added dried fruit.  Not that exciting, but since me and my insides had only recently resumed being on speaking terms, I figured that was best.  Cycling food is mostly all about the fodder not the fun.
Time to kill then.  Boring….!  I read a bit.  Faffed into the right kit.  Pinned my number on my jersey.  Watched inane TV.  Watched the bunny rabbits outside my window actually enjoying their breakfast.  Eventually the time had come to stop waiting at the hotel and go and do waiting somewhere else.  Back into the car, back to the show ground, and back to my very fabulous VIP parking.  Which even had a couple of small rows of other cars in it this time around.  I was still all of c.10 cars from the entrance though 😉  And I was still early.  Time to faff then, sat in the sunshine, watching the cycling world go by.  My front tyre had had a very very slow puncture for a couple of weeks and was a little on the flat side.  Rather than pump it up again I decided I might as well change the inner tube instead.  So I did.  Hey, so it took me a while, but it's not like I was in a rush, and it helped me figure out what the temperature outside was like.  Sunny, warm out of the wind, but chilly when in the wind.  So once the bike was fixed and reassembled, I decided that what I was wearing – summer kit, with my new s/s base layer – and a gilet in the saddle bag would do.  Easy peasy.  All I had to do was attach my number/chip to the handlebars and that was that.  No more faffing to do.
I took my bike and myself through the gates, into the racecourse, and straight to Club Kermesse.  Which was working today.  Various cyclists were inside, or on the terrace outside, with their bikes likewise.  I leant mine against a wall, and helped myself to a cup of instant coffee.  Better than no coffee.  Actually scratch that…life is too short for bad coffee.  I'll tell you what was good though – access to clean, empty, toilets.  Probably something the hoi polloi outside didn't have…though I have nothing to base that statement on 😉  For a while I was on my own, sort of people watching, and people spotting, and at some point Patrick, who'd been the one to sort my entry & pass out before the event, came over for a chat.
I'm sure there were people there who I should have recognised.  You sees "the ToC Gran Fondo is a mass participation cycle sport event. It is also the 2016 UK qualifier for the UCI Gran Fondo World Championships".  And there are four different streams to this event.  One of which is actual, proper, RACE.  Which is for "those riders holding a current full racing license and intending to race to win their Masters Age / Gender Classification and / or to qualify for the 2016 UCI Gran Fondo World Championships".  So – you know – proper cyclists then 😉  One of them, number 624, Allan Beckett, maybe this one, even chatted to me for a while, which made a nice change from being sat on my own wondering what to do next.  Another 682, was Hannah Reynolds, maybe this one.
Outside, in the sunshine, with well over an hour to go before midday, cyclists were already queuing in their various pens.  Four groups, like I said before – being Race, Sport, Gran Fondo & Leisure, all to be set off in that order.  Generally speaking I like to be as near the front of my pen as possible, but it was already too late for that.  So I hung around a bit longer.  Well, I was inside, out of the wind, with VIP toilets remember?  But eventually my anxiety over being too far back won me over and I decided I had to go and join my queue which, conveniently, wasn't that far away from the Club either.  So I joined.  And I queued.  Which basically, as queueing does, involved standing in one place killing time for an hour.  Fun.  Not.  And although it was sunny, that wind was chilly.  So I dug out the gilet, and passed the time listening to and watching other riders, admiring/laughing at various kit, and you know…twiddling my thumbs.  There was music playing, and speakers, and helicopters, and I think nearer the front there was probably more of a sense of atmosphere.  We were just a bunch of riders stood in a very long queue…
As advertised, things kicked off, a long long way away from us, at midday.  Pen by pen riders were slowly let go, and eventually our lot were doing that shuffling, stop/start, half riding half walking thing.  And I was over the start line at 12:36, if I recall correctly.  Man it was a relief to get all that waiting over and done with!

Now, right now you're thinking that you've already read 2600+ words just to get to this point.  And you're thinking, bl**dy hell, if she's going to write the whole ride like this, this is going to take forever, and OMG…or similar, quite probably less polite…  Well you'll be relieved to know it's not going to be like that, because I can't write about this ride like your normal sportive.  It was different.  And not just because the roads were closed.
I got off to a good start.  Closed roads means no obstacles.  No stopping.  There were a few pinch points on narrow lanes early on which slowed everyone down, and a couple of accidents (possibly caused by those) that did the same.  Marshals carefully managed everyone past while the injured were being dealt with.  Everyone was pushing on, to get away from the crowds, to get going, to get warmed up.  There were a few ups early on that around there they probably call hills.  Which I call ups.  Or maybe drags.  I even pushed up those, though my insides made it quite clear that I had better not be going to do that all day.  And I didn't have to because the ups kind of went away.
The whole ride sort of shrank down to just me, the bike, the road and riders around me.  You can't look at the scenery too much when you're having to be so aware of everything.  Which group to jump on to, which peloton to avoid as they push past you, which route to take through the slower pack ahead of you.  Which side of the road to be on, looking out for potholes to avoid, road furniture to go around.  You can't get lost – there's just one route to follow – and time just seems to pass faster than usual.  And I guess I was faster than usual too.  I may not be great at  hills, although I'm definitely getting better…but I can bomb around on the flat all day.  At the end of the first hour my average speed was 20.1mph.  And I was going well.  Really well.
So it was like a 4.5 hour sprint.  This time it actually was a race 😉  Which is not how my sportives are normally…*engage understatement mode*…!  Sometimes I was behind a group.  Or in a group.  Or on my own.  Or I'd think I was  and then I'd turn around and discover I wasn't on my own, and had acquired a peloton.  And they'd either stay there, or having finished hitching a ride would go do their own thing, or I'd get bored of them being there and drop them, just kinda for fun.  Occasionally I hitched a ride just to get a bit of a break, but then I'd get bored with going slower than I wanted to, and push on again.  The sun shone.  There were no hills.  Because I wasn't pushing up anything, my insides calmed down.  There was inevitably wind, especially towards the end, a strong head wind which made things harder work for quite a while.  Flat is fun, but out there among the waterways and fens and fields, there was nowhere to hide…
On the practical side, there were three food stops.  One on the scary big loop on the airfield which was chaotic, and so I just cycled through it.  I didn't enjoy all the concrete with cracks and joins in there either, which could easily have tram lined my wheel…and I'm a bit averse to that happening.  There was another food stop half way around where I did stop, queued my way in, only to discover that the locusts had descended and there wasn't much left.  One friendly elderly gent was holding out a rubbish bag at the entrance as we filtered past in four or so queues, which was a good idea.  I managed to grab a chunk of orange, found the mountain of water bottles amidst the mess outside and filled up my bottle, bailed on the queue for the loos and headed off again.  And I skipped the third food stop because I didn't need it, and I didn't fancy more chaos, and why stop when going feels so good?  The best refreshment all day?  The ice-pop that I was given by a spectator as I left the second food stop – held out for me to grab as I went along – which was very lovely 🙂
And there was a lot of that.  By which I mean support en route. Loads of people everywhere cheering, clapping, waving.  Probably because there are worse things to do than sit outside your house in the sunshine, drink wine and beer, have a picnic, and watch lots of lycra clad loons hurtle past.  I waved back at people, smiled a lot, and clapped hands with the odd child as I went by, before realised that hitting hands at 20 mph hurts a bit! 😉
I had a lot of fun.  I really did.  I even picked up the odd more constant companion from time to time, for taking turns, and chatting.  Though I did tend to leave them behind eventually as they flagged and I didn't..*grin*.  Nearer the end there were narrower lanes again, and a few more drags and I pushed up them best I could and only started to feel a little slower very near the end, when one of my fans rejoined me.  It's odd how keen people are to tell you how good you are at riding when you're a girl…cos, like, you're doing the same ride as me with me so how does that make me any better than you?  Still…I had dropped him on the drags so… 😉
And sort of before you knew it, and almost sadly, the race was over, and we were back at the showground and then rolling under the Finish Timing Arch, which showed that it was 5:07 since the event had first kicked off.  Tour of Cambridgeshire done.  I joined the walking peloton, was presented with my medal and a bottle of water, and made the long cleat destroying walk all the way back to the centre of the venue.  I decided to nip into the Club again, partially because Patrick had said to look him up when I got in.  I couldn't find him, but I could park up, use the toilets again, have some more water, and chill briefly.  A text to my phone informed me that my official time was 4:26 which was a nice touch, and also quite cool.  I couldn't hang around long though, because I had a 3.5 hour drive ahead of me.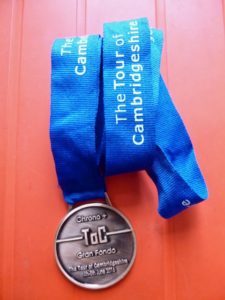 I walked back to the car, through lots of riders sitting around in the sun and taking advantage of the ice-cream van.  It all felt a bit anti-climatic somehow. though?  There didn't seem to be any focused place to be, or anything going on.  Not that it mattered, as it was time to get changed, load up, and head off then.  And finally, after a nice easy drive, sometime around 9:45pm I was back home.
The official results took a while to come out, as I gather there were some issues with the official Race, and pens, and things beyond my ken.  As it turns out I was 37th in my class of 118 40-45Fs, and I qualified for the UCI Gran Fondo World Championships!  Sadly they're in Perth (yes that one) in September, so I think I may have to give them a miss…
Cycling time: 4:20
Official time: 4:26
Distance: 83.9 miles
Avs: 19.3 mph
So…was it all worth it?  Hm…  Entry costs £68.  If you don't get into the car park early enough on the Sunday, it'll cost you an extra £10 from 8-10am and £20 from 10-11:30.  Which basically means you have to get there early and then hang around for hours.  I know this is to avoid the traffic flow problems from the year before but that's really not ideal.  I saw a lot of accidents out there.  Some of which looked really nasty.  There was even one rider being treated the other side of the Finish line.  Was it too hot for some?  Too many riders on narrow roads at times?  Riders not used to riding in groups?  I don't know – but at least there was a lot of support on route – outriders, and medics – and they seemed to be dealing with it all very professionally.  Bits of the organisation worked, bits didn't.  And the food stops were chaos.
But closed roads are amazing.  The marshals were all great.  The weather was amazing.  Just warm enough for me.  The route is easy, and also scenic if you have time to look around.  The pain gods were mostly off beating someone else up for a change.  And all in all I had an absolute blast.  I mean come on, have you seen my average speed???!!! *grin*.  So…I think on balance…it was worth it…but the jury may still be out on that one.  The organisers seem really good at taking constructive criticism and moving forward, and it's only their 2nd year running it.  Maybe I should do it next year too and see what improvements they've made, because I know they will 🙂