So this was it.  The Tour of Wessex.  It's on my doorstep, so to speak, so I've been hearing about it for years.  Apparently "The Tour of Wessex is the biggest Multi stage cyclosportive in the World".  Effectively it's three sportives in a row.  Three hilly sportives in a row.  I know people who've done it.  I've admired them for doing it, in a kind of awestruck way.  I've also always thought they were mad!  And all the time, in a small corner of the shrivelled walnut that is my brain, a tiny little bit of me wondered what it would be like, and if, just maybe, I could do it.  Man, I have to learn to shut that bl**dy voice up – it gets me into all sorts of trouble!
It would appear the universe listens to that voice too…since Cyclosport were after someone to review it.  If that wasn't enough, Nick, Mr Pendragon himself, offered me a place to do it.  And GB seemed glad of an excuse to do it again (for the third time!) and promised to keep me company all the way 'round.  Talk about the fates conspiring…!  I spent last week trying to eat as much proper food as I could (not easy when you're me), sleeping when I needed to, taking it relatively easy, and panicking at irregular intervals.  And it wasn't a good week either, with a lot of pain and copious tramadol consumption, so I had possibly even greater cause to stress about what was ahead of me than was strictly necessary.
Nonethless, at 6:45am on Saturday am, 15 minutes early as expected, my faithful chauffeur GB was once again at the door, and the time had come…*gulp*.  GB is not a morning person.  I kind of am.  And I'm even more perky and irritating when I'm excited and caffeinated!  You see I'd managed to convince myself that I didn't need to be nervous about Day 1.  Well, it's just a sportive right?  And I think it's fair to say I've done a few of them.  So I was up, and ready, and cheerful…  It's the following days that were worrying me….but let's not get ahead of ourselves shall we?
A 45 minute drive across the sunny, tho chilly, Levels brought us to HQ at Somerton for the first time, and we were marshalled on to the playing field, past the tents of those choosing that accommodation option for the three days, to park up.  Brave indeed…there was no way I'd have even been attempting this without the thought of my own bed and bath every night!  We opted for the register then faff option – and registration couldn't have been more low key.  Turn up – tell them who you are, get your entry pack…and that was it!
A quick trip to the posh Silver Street toilets and it was time for faffing proper.  We were joined by Steve (doing the Medium route) and Mark, aka the Pixie (doing just that day).  I may be known as the Queen of Faff but there isn't actually that much to it.  Generally I have it all pretty much worked out in advance.  My only real decision was which gilet to wear…and I went for the heavier option as it was a tad chilly and breezy.  Besides Nick, who I saw briefly at the start, was wearing his Maratona cap, so the Maratona gilet seemed to be the apposite choice.  Mind you, I hate this kind of timing chip.  It's supposed to be mounted like this, but facing backwards…which would be where my saddle bag lives and, being little, there is no space on my seat post for anything else!  I did this…GB stuck his on his saddle bag…mine ended up wrapped round to the right at some point, so whether or not it worked or not remains to be seen.  The car park was full of people similarly moaning about them…so it's not just me. People also do not like sticking things to their precious paintwork, even if there is room!
By the time we were all sorted, the queue for the start had already grown well beyond the railings and riders were squeezing in from the back, the side, every which way really, which was a tad chaotic.  Riders were let off from 8:30 onwards, and we slowly crept towards the front and our turn.  And suddenly we were on our way.  No briefing, no announcement, no fanfare…just packs of riders heading off towards Somerton and the day's riding ahead.
After a first, warming climb, we were heading out across the Somerset countryside, in flat and rolling fashion.  Everyone was in fairly cheerful mode.  Fairly fast too, with a fair few groups flying past.  Tempting though it was to hurtle off, I knew I had a long day (s!) ahead and that's no way to survive.  It being fast and flat, there wasn't much to break riders up either.  On the narrow roads past Glastonbury to Wedmore, where some of the road surfaces leave quite a lot to be desired, there was a fair amount of jostling going on.  It's hard to avoid the potholes and the riders pushing past you on the outside, without warning, at the same time.  It was a little bit hairy and after a few miles of that, by the time we got to the main road to go over Mudgley Hill I was a tad grumpy and also relieved to be hitting slightly larger roads.  As hills go, bearing in mind what was ahead, it probably doesn't count.  It certainly didn't seem to count to Sarah Godwin (yes you!), who went past us cheerily with her mates as if we were standing still…  Hey, it happens to me a lot, I'm used to it ;).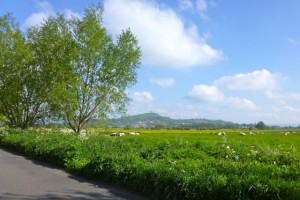 Right, on to the big, nay iconic, climb of the day – Cheddar Gorge.  At that time of the morning, it was relatively grockle free, but the stream of colourful riders winding their way up the wiggly road were attracting quite a lot of attention and support from those who were there, including the staff from the Caves who were all wearing blue disco wigs…no, don't ask me why, I have no idea!
The first section of the Gorge is the worst, culminating in one last very steep left hand wiggle where you will always find me in the middle of the road, and no, I won't be moving for you, be you cyclist or motorist, until I've got past the worst bit!  After that it gradually flattens out mile by mile, until eventually it feels almost flat by comparison, even if it actually isn't.  We didn't climb together – that's not how climbing works – but regrouped somewhere before heading along the road across the top of the Mendips towards Priddy and the first food stop.   Again, it's a road I quite like to fly along, but I was consciously reining it in a bit, and no-one seemed to object to that as I led the way there.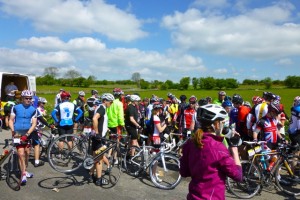 The first food stop was, not to put too fine a point on it, chaos.  One lay by, not big enough to contain all the riders milling around trying to get food and drink.  The actual food table was like a scrum, or possibly like a horde of locusts descending…  It was a bit disconcerting.  I managed to grab some jelly babies and a banana.  All I really wanted to do was go to the toilet…and there weren't any!  There was also nowhere for us "ladies", of which there were quite a few, to go and decently hide.  Grrr….  This meant an impromptu stop shortly afterwards, where the Pixie kindly waited for me, eyes averted, because there was no way I was going down Old Bristol Hill thus distracted.
As we flew down Old Bristol Hill, a little carefully as it's wiggly and the surface ain't great, we passed George and Ben cycling up the other way, and we all yelled hello at each other, which quite put a smile on my face – thanks guys! 🙂  In fact, this supportive trend was to continue…  We made our way into Wells, past an unfortunate rider who had come a cropper at the A39 crossing and was being treated by flashing blues – and there, on the side of the road, was a cheering Chris (aka Figgy)!  How lovely is that?!  I stopped shortly afterwards to take a photo of the Cathedral safely, and whilst doing so Pixie had to explain to a curious old gentleman what we were all doing.  Proof that he can indeed be sociable which is apparently not usually true and thus worthy of note 😉
The next section, around Bruton and the like, is less familiar to me, and also rather lumpy.  There was some amusing chaos around the Royal Bath & West Showground which was preparing for the Bath & West Show by having a large escorted wide load arrive….  Stationary traffic as far as the eye could see in all directions.  One of those days when your ability to negotiate such things p*sses off the motorist immensely!  Tee hee…  Evercreech had a very pretty church, with a little lane next to it labelled "Church View – formerly known as Twaddle Alley".   Which, I think we all agree, was a way cooler name!  Maybe that's just because I talk a lot of twaddle? 😉  As we went along, and up, and down, our little group splintered and reformed from time to time, but it was all fairly pleasant.  After all, G stands for Group.  We came to the route split, where the more sensible Steve was going right, and chatted to the two lovely spectators there, as we regrouped one last time to say our farewells.  Then we headed off towards the dreaded King Alfred's Tower…*gulp*.  I've been up it before.  I know I can do it.  Well at least I knew I could do it then…could I do it now?  It was a timed climb, which always makes me giggle…like that's ever going to be remotely relevant to me!  You can see the tower from a long away away, inexorably getting closer…  And the climb is still a killer.  Max 18%?  More than that I reckon!  And in this instance local knowledge is a good thing – I knew what was coming, and how it goes…  No rushing to get there for me – the climb real doesn't start for quite a long time.  One very fit younger lady went steaming past us, pushing us out of the way, so keen was she to hand me my arse on a plate.  Ooooh, I can't tell you how satisfying it was to plod past her, stopped by the side, on the steeper section which I knew was coming…  Hey, I'm petty, so shoot me ;).  And she wasn't the only one walking.  And yes, I made it all the way up again.  Without walking.  'Rah!  It did take me a little while to get myself back together again afterwards though, which meant I had time to take in, and take photos of, the very pretty bluebells thereabouts.
The second stop, also known as lunch, came at 53 miles in, and was at a village hall.  There was a long, slow moving, queue for the savoury rolls that were being made and handed out for lunch.  It almost made me glad that I can't eat those – or the other pasties, pies etc that were on offer.  I travel equipped, so I stuck to topping up the bottles and using the toilet instead.  The water was running very low so I'm glad I didn't get there any later…because no water would have been a bad thing.  We kicked back in the sun for a little while before setting off on our way again.  No rush, right?
As a sportive day goes on, the miles and the scenery tend to blur…what happened where, when?  I know there was more climbing, inevitably, and a stretch of cycling across the top of the world that was glorious.  It was lovely out there…sunny, not too warm, scenic…  It's a beautiful part of the world, especially when you know the hill you've been dreading is behind you!
The route also goes through and around the Stourhead estate, which came as a bit of a shock to the slow moving NT members ambling down the road oblivious to the trickle of cyclists descending towards and through them at considerable speed.  Their ignorance is no excuse for yelling rude things at them though.  Shame on you whoever you were, it's things like that that give us cyclists a bad name, so don't do it again, there's a good chap.  I was expecting the tourists though, having been there before, and I needed a stop for photos and so on anyway, so was happy to take it easy and enjoy the view.  It's not a race!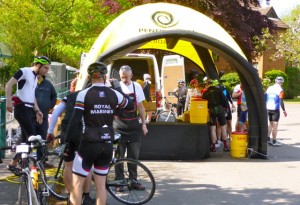 We came back to the route split, took the left indicated, and shortly afterwards came to the final foodstop, at 85 miles in, which left only 22 fairly flat miles to do.  Fairly familiar too, which does help on the pacing front.  After topping up once more, at a much quieter though rather understocked stop – the up and down sides of being a slow rider – we were ready to get Day 1 done!  We headed back through the country lanes at a reasonable, but not too fast, lick.  Pixie let us set the pace, so as to not make us go too fast, since he was only doing the one day.  There was a great sign for "Cider etc….in one mile".  We debated as to what the etc was.  The rider we were passing said he'd quite like a pint of etc roundabout then *grin*.   That kind of cider probably isn't conducive to continued riding though! 😉  Pixie took the lead towards the end, until the last flying descent to wards Somerton, which I love, and had to make the most of.  Sadly it was followed by the last kick of a climb back up to Somerton itself which takes it right out of your legs.  Still, at that point, we were nearly there, we just had to go through a very pretty Somerton to return to HQ, and go back over the start line.
We were clearly not fast, judging by the emptiness of the car park, but that's never a surprise to me these days.  We didn't hang around for any apres ride stuff either.  On went my Skins compression kit, as recommended and advised, and we packed everything up and headed for home, eating as we went.  Day 1 was done.  107 miles of mostly quiet scenic roads, with fairly polite traffic, lovely roadside supporters, rather too much dust for my contact lenses, and too many bugs in my helmet…but that's what you get when the sun shines :).  One third of the Tour of Wessex under our belts.  Or something.
Cycling time: 7:11 hrs.
Distance: 107.2 miles.
Avs: 15.0 mph.
Climbing: 1831 m
ODO: 1964.50 miles.