Yesterday a small group of the ACG – 5 in fact – all happened to not be working at the same time.  So we went for an easy recovery ride, also known as a coffee run, to the by now infamous Sweets.  I've been on the wattbike a couple of times this week, so I knew my legs were working, though my left knee is still not the happiest.  Still, it was the first time back on the actual bike post Tour of Wessex, so I was still curious as to how I'd be feeling.  For the most part, and I'll come to the least part shortly, we didn't push it.  Just a very nice ride in the sun with friends.  In fact, and it was the cause of some consternation, my legs even came out for the first time this year.  Yes – those were the funny pallid things at the end of my cycling shorts ;).  Mind you, courtesy of the never-ending wind, it wasn't actually that warm out, so I still had arm warmers and a gilet on!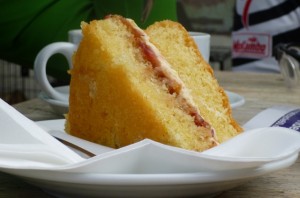 In my defense, I can always say I was testing out my new kit, right?  Yes, the Cyclosport team have new kit.  It's men's kit though, so us girls (and I'm not the only one) don't get shorts, which is a bit sad as the guys all look so smart turned out in the entire kit – like proper team members – and I wish I could too.  I do have a jersey, gilet, and arm warmers.   So my top half looks kitted out, even if the rest of me doesn't.  Thanks to Andy for getting me some plain black Kalas shorts so at least I'm colour co-ordinated ;).  (Please to be remembering that the camera adds 10lbs, that's my excuse and I'm sticking to it! :P).
On to the least part of the ride.  After a mad drop down Mudgeley Hill, Paul got ahead and started a sprint for coffee.  I got on his back wheel and stuck with him…as the speedo went up, and up…  He usually drops me around 24mph ish, but this time I was determined, and at some point it read over 27…and I kept going.  Every time he checked back to see if someone was behind him, and twigged that there still was, he got faster…but I stuck it out!  I wanted to see if I could, and I could!  Actually at some point in there it actually got a little easier as I settled into it a bit.  But before very long we ran out of road, and it was time for coffee, with a slightly sheepish grin stuck on my face.   Hey, what can I say, it was fun *grin*.  Gotta do what you can do and do it well, right?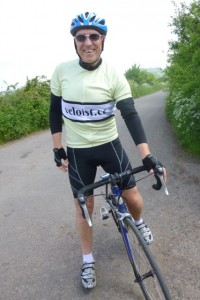 You wouldn't have thought I was doing that well out there.  I didn't push the rest of it, it didn't feel like hills were a whole heap of fun…but almost despite myself, I seem to have done ok for the rest of the ride too.  Even more impressive when you consider that I was on the pills, they weren't working, and my "I can't breathe" thing (possibly allergy induced) was off in a big way.  Maybe all this riding a bike is finally paying off?  Or maybe the wind was behind me briefly ;).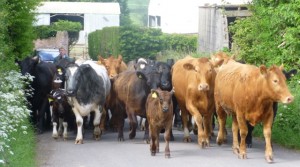 My next big challenge – the Quebrantahuesos – is now only 3 weeks away.  This is a tad worrying.  Not so much for the distance or the climbing – though 205km and 3500m is not to be sneered at.  No, I'm more worried about the heat since, let's face it, it's not like we've had much chance to acclimatise to such weather over here, now is it?  I am looking forward to the break, but it's probably time I got my act in gear and made sure I've sorted everything out for it!  Including the bungee cord that I'm going to attach to Figgy's bike so he can pull me 'round ;).
Cycling time: 1:25 hrs.
Distance: 23.0 miles.
Avs: 16.2 mph.
ODO: 2216.00 miles.
After a year where I am well behind on mileage, this May I have caught up a bit, mostly thanks to the Tour of Wessex.  In fact, it's the most miles I've ever done in a month: 767.  I'll probably never beat that :).