A sportive with a sunny blue skies forecast?  Surely not.  After last week's Tour of Wessex, all I wanted was to spend a few hours in the sun on my bike, on my own, without any pressure.  The Severn Bridge Sportive proved to be just what the doctor ordered.  I know, I know, he'd probably actually have told me I should be resting up and taking it easy.  Mind you, he knows me, so he probably wouldn't waste his breath! *grin*
HQ was at Castle Combe which is, should you be unfamiliar, is a motor racing circuit.  Courtesy of t'other half, and his family's motorracing genes, I am not unfamiliar with it, though it's been a while since I've been there.  So when the marshals parked us all up, one by one, in of the many car parks, I knew that the walk to HQ to register and back was no small trek, and so getting sorted before heading over was the way to go.  Being an "official" venue, there was even a very clean and presentable toilet block in the car park, which made faffing a more pleasant experience than usual.  Not that there was much to do.  For the first time this year, I exposed my legs to the sportive world.  Not that anyone noticed, but hey, I was impressed.  I didn't even stash precautionary legwarmers.  I did however, since it was still a tad nippy, don my armwarmers and gilet.  Layers, right?  All Cyclosport kitted up, I headed for registration.
Once I'd signed in, I was presented with my bike number (345), a map of the two possible routes (100 miles or 100km), and my timing chip for sticking to the LHS of my helmet – which remains my favourite timing method.  The sportive is part of a whole Castle Combe Cycling Festival, which was slowly springing up all around the place.   Looking at the timing figures, which were out the following day, there were only around 340 riders altogether, which would explain why the place wasn't too crowded, and there was very little queuing for registration.  In fact, even with a trip to the matching HQ toilet block, I was queued up right by the start as the minutes ticked by.
There was a bit of confusion going on for a while as riders arriving at the start were entering the venue over the start line (as we has all done) and then having to go through all the queuing riders to get to registration.  Tricky.  But as 8:30am approached they started to be routed another way, allowing us to all gather 'round, bunch by bunch, get our safety briefing, and be on our way.  I was in the second group away – sooner started, sooner finished as ever!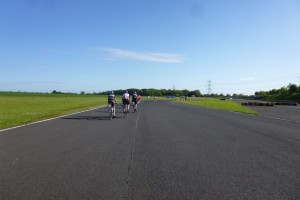 The way out of the circuit involved riding around a bit of it, which was kinda fun.  I wonder it's like to race around there?  I'm reliably informed that it's always windy – and it was then and it was later too – so maybe it's less fun than I think it might be?  Time to stop having that kind of fun, and move on to sportive fun.  This is called the Severn Bridge Sportive for a reason…you get to go across the Severn Bridge!  In fact, if you're on the shorter route, you loop out, over the bridge, grab a bite to eat, and then loop back again.  If you're on the longer route, you get to add a 40 mile Welsh loop in before doing the same.
This means the first 30 miles or so of the ride were pretty flat.  There's the odd little lump, but nothing to get too stressed about.  As a result the going was pretty fast.  I tagged on to the back of various groups for as long as they'd tolerate my presence without accelerating, and generally enjoyed flying along quiet country lanes in the sunshine.  What I was really doing was looking forward to the bridge, and it didn't disappoint.  Isn't it pretty?  You can't, and neither should you, fly across.  The surface is a tad dodgy, with ramps and lumps and bumps, and besides which you should be enjoying the experience..and the views! :).
It doesn't last long enough…and then you're spat out into the housing estates of Chepstow, where the food stop was lurking in a community hall.  A hall which doubled up as both the first and second food stop – neat trick!  There were toilets, plenty of food, and three types of drink outside – water and 2 types of energy drink.  Inside you could also get tea or coffee or squash to go with the goodies on offer, including teacakes as well as the usual and, second time around, cheese and ham rolls.  Someone's daughter was doing a great job of restocking and helping out, though she looked a tad scared by all the lycra clad freaks clunking around on the wooden floor.  Sorry, we don't mean to be scarey, though we probably are a little weird! 😉
Bottles topped up, banana eaten, boxes ticked, so it was time to be going.  Now, bearing in mind the fact that last weekend was a fairly heavy duty one, I had been thinking of doing the shorter 100k route.  But we were 30ish miles in, and it had only taken a bit over an hour and a half to get there.  If it was going to be the same kind of ride on the way back, then that would mean like only a 3.5 hour ish ride.  It would have seemed a bit daft to have gotten out of bed early just for that, and the sun was shining, and I was feeling good and…who am I kidding?  I was never going to do the 100k.  But it was nice having that as an option, to help with the PMA.  So I didn't take the SHORT ROUTE left turn and head back over the bridge.  I went LONG ROUTE on my ass, and went straight on :).
Talking of signs, and here is as good a place as any, this was one of the best signed routes I've been on in a very long time.  One sign before the turning, two on the turning, one after it.  Caution signs and repeaters too!  There was one hiccup, which I'll come to when I get to it, but really – you'd have to have been going some to get lost.  Even when later on, on the long route where there weren't that many riders and I hadn't seen one for ages, I could be sure I was on the right path.  And with a good GPS route downloaded too I never got that "am I lost" feeling.
Right, off into the Welsh wilds.  No sooner were we out of Chepstow than we hit a climb, through the Wentwood Forest reserve.  Wales has the kind of climbs that just keep on giving.  Go up and up, "peak" to go round a corner and…yep, up and up again.  This one went on for about 3 miles I think.  Fairly steadily though.  With scenery, and trees, and bluebells.  As you'll have gathered, I do love bluebells.  There's a brief break, when you think it's all over, half way up…presumably there just so you can admire the Wentwood Reservoir.  Well, it was pretty, and very green :).  It was my kind of climbing though, and if I recall correctly the descent afterwards was pretty enjoyable too :).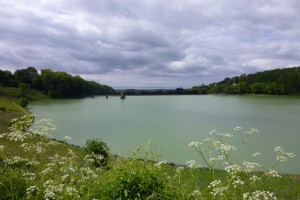 There were quite a few like that.  Not many – it's not a very hilly route – but a few.  Long climbs and long downs.  Nicely broken up by flat valley sections.  Mind you, the weather in Wales was a little less pleasant, it clouded over a bit.  Spot the Chippenham Wheeler rider?  There were loads of them.  I think, due to its locality, it was pretty much a club ride!  There were also a fair few Westbury Wheelers too.  Maybe we should be the Axbridge Wheelers…I'm feeling left out! 😉
I pootled my way around the entire ride on my own.  And before you take pity, that's exactly how I wanted it.  I stopped when I wanted to, I took photos, decanted bottles, ate gels, stashed layers, watched the world go by, and mentally meandered about things.   I was going to say that the Welsh are weird but I'm going to rephrase that as that's a tad generalising and quite possibly racist.  However there are some weird people in Wales.  Like the guy in Usk that has painted his house like a cow.  Well, apparently it's more of a dalmatian thing.  It's massive!  That's not all.  How about the house called "Panty Vista". Or the blue saloon car covered in varying sizes of pink polka dots?  Or the one with a little pink silhouette of Tinkerbell on the rear?  Sounds tame?  Well this was not just any Tinkerbell…oh no, this was Tinkerbell having a fag!  Really, no word of a lie.  Amazing what you see when you're left to take it all in as you go round :D.
There was the odd extra hill, and one final one on the way back towards Chepstow.  Somewhere at the top there was a junction where we had to turn right.  There were a couple of cars coming up the road, both indicating to turn left down the road we'd just come up.  I looked left – clear.  Looked right, the first of the two of them was going left and it looked like the second was following, so I pulled out.
Ah.  Well, she wasn't.  She went straight on, I pulled out.  There was some swerving on both parts, some form of impact…  I think some part of her car hit my front wheel in a glancing fashion….  Which all happened in that "oh sh*t" slow motion that cuts in…  And then she was past and stopped just up the road and, somehow, I'd managed to stay upright and other than being a bit shakey seemed to be fine.  As did, more importantly, the bike.  Rather than just head off I did go over and have a chat…she was terribly apologetic, reckoned she'd been so concerned with the cars in front that when they'd indicated left she did too. (doh!)..and was ever so concerned that I be ok and, to her credit, not at all concerned about what she called "just a chunk of metal".  All's well that ends well.  No point getting all shouty, I was too relieved for that :).
Time to get back on with riding, whilst thanking my lucky stars.  Which, after a most lovely descent for a very long time, and a bit of up, brought me back detouring through the housing estate to hit the foodstop again.  Yep – bottles and banana for me :).  It was much quieter now, probably because both routes shared the stop first time around.  There were only 72 riders on the long route to use it second time around.  Once again I left, and once again I reached a route split.  Only this time it was the same split.  Following LONG ROUTE would have meant doing the 40 mile loop again and, pleasant thought it was, that didn't appeal….so 4 of us did a U-turn and took the short route option to head for the bridge.  That's the only route sign bit that could have been made clearer though.  Before joining the cycle path to the bridge there was a sign for CASTLE COMBE which at least reassured that we really were heading in the right direction – though the bridge might have given that away! ;).
From here on in it was pretty much just me.  Not just me riding on my own, I mean me not seeing other riders for miles and miles and miles.  Today's flat spot came at around 80 miles or so, because I was on my own, there wasn't much to be looking at on the endless green country lanes, and I wasn't familiar with where I was.  There was plenty of rural idyll and a fair few picture postcard thatched cottages and the like from time to time though.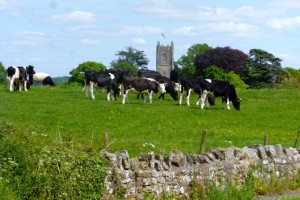 After a while I could see a monument on the horizon.  Now I've done enough sportives to know that if I'm on a sportive, and there's a monument on the top of a hill somewhere, that I am going to be made to ride up the hill to get there.  Mama didn't raise no fool!  And this was no exception.  I'd been warned there was a big hill near the end and, thankyou Mr Westbury Wheeler, he wasn't wrong, so at least I was sort of expecting what turned out to be quite a long steep slog up to what turned out to be the Somerset Monument.  Told you so! :P.
All that left was another 12 miles or so of more flat, quiet, warm country lanes.  As the billed 102 miles passed by, I was starting to wonder if I had actually managed to get lost, but finally at around 103 I was back on the circuit and doing a final curve around it back to the start, threading my way through the children and families enjoying it as past of the Festival and then going back over the now slightly relocated Finish Line, to be met by two cheerful ladies and a goody bag.  The Festival was in full swing – demonstrations, exhibitions, obstacle courses, music, bikes on display…looked like fun.  I sat under a tree and caught my breath for a bit, checked in with home in diplomatic fashion.  Since the free pasta meal, though no doubt lovely, was unlikely to be of much use to me, and having my mind's eye firmly fixed on a cold pint of the only lager I know I can drink, back at my local, I decided it was time to head back.  I did a loop of the circuit on the way back to the car because, let's be honest, I missed the turning for the car park.  I'm still tempted to see what that would be like if you were pushing it…even if it was still mighty windy out there!  I finally found my exit, and the car park wasn't as empty as it could have been, the toilet block was just as presentable, and the rubbish bin was conveniently next to my car.  Un-faffing to go home couldn't have been easier :).
Cycling time: 6:27 hrs.
Distance: 103.4 miles.
Avs: 16.0 mph.
ODO: 2319.00 miles.
There were only 72 riders on the long route, of which I was 37th. I was first out of the 6 women though – 'Rah! :D. There were 270 riders on the shorter route, of which 38 were women.  Since the usual turnout for women is around 5%, this event was doing pretty well!  I had a lovely day out, and it'd be a great ride for someone's first 100 miler…a few hills to challenge, some great scenery, well organised, and of course…the bridge! :).