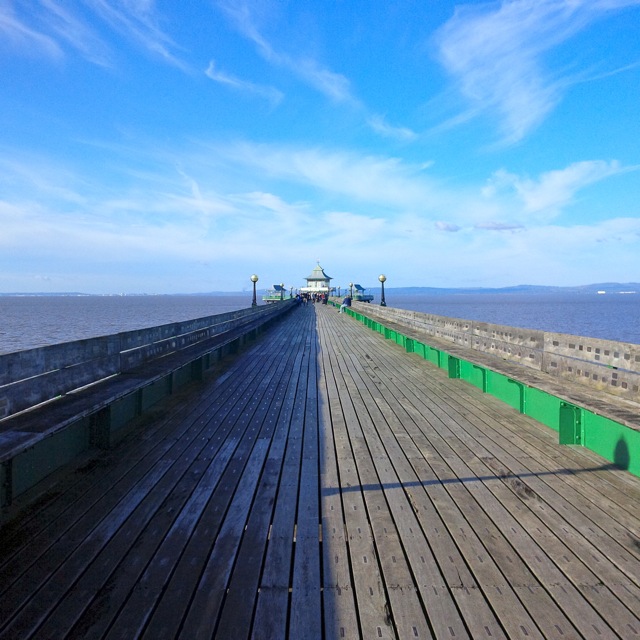 Lovely weather today.  Gorgeous in fact.  See for yourself.  Apparently if there are photos it actually happened… 😉  Well of course it did, because I wasn't on my bike, was I?  It would appear I am still in possession of my weather influencing powers.  If you'd like a nice day for something, let me know, I can be paid to stay away and my rates are very reasonable.  But it's ok.  Having promised myself that I would spend this morning sleeping off a hangover rather than getting up early to ride the bike like yesterday, that's precisely what I did, so I shouldn't complain too much.  Especially as there was no hangover to speak of, just a lie in!  I really do love sleep, and it's not something I've been getting enough of of late.  So I slept, and woke, the sun shone, Clevedon Pier was beautiful, and we perambulated along it, and took the sea air, and in a focus on the now vibe, it was a very nice moment to be in.  PMA :D.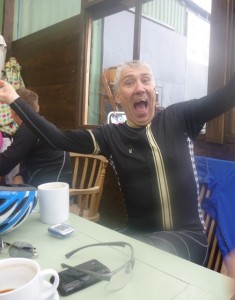 Yesterday on the other hand was cold, and wet, though not windy.  Two out of three ain't bad?  And, as it turns out, it was not as wet as it was supposed to be.  Which was something I and the rest of the assembled ACG quite appreciated, as you would.  Having gotten so cold on Friday that I didn't warm up until mid afternoon, I wasn't going to make that mistake again, so it was winter layers, waterproof, full gloves, hat – the works.  Something John is probably still wishing he had done – wearing shorts turns out to have been a serious bad call!  Due to the weather, we stuck to a coffee run loop, played variations on the usual theme, and predictably ended up at Sweets.  There was a little light hearted testosterone silliness from time to time but it really wasn't the day for hurtling anywhere, and G stands for Group.  Thanks to the winter gloves, you don't get "out there" photos, just the "in here" ones.  The ACG immortalised as ever.  With the exception of me – because I have the power!
If you sat at Sweets for long enough, sooner or later every cyclist in Somerset would pass by.  George and Simon, having been passed briefly by us out on the road, came and joined us for a while.  As we were getting ready to leave, the Tor 2000 lot arrived, complete with my mechanic extraordinaire Andrew, who is in the process of sorting me some winter longs and, far more importantly, some new wheels for the winter bike which is, if you're me, quite exciting.  Tragic I know…  We'd have hung around longer, watching John try to get some feeling back into his feet, designing solutions for getting too cold on the bike, and drinking better than usual coffee, but we were all getting cold too, and it was about to start raining again and we couldn't miss that, now could we?
Cycling time: 1:55 hrs.
Distance: 30.7 miles.
Avs: 16.0 mph.
ODO: 16817.2 miles
I felt proper on form on the way back, which is probably more something to do with the Americano with extra shot followed by gratuitous espresso that I had ingested, rather than any actual improvement but hey, it still felt good.  After some of that rain and a nice case of ice-cream head, things warmed up and settled down, and it was practically pleasant out there.  There were even hints of zone.  OK, so I paid for pushing it later, but t'was ever the case these days.  But now is not the time to be getting some form back is it?  My timing is always off…  Just as well they're going to cut me open to have a look around again in a month or so then, right?  That should duly knock me off program for a few weeks 😉 *grin*.  Roll on 2014 – I am SO going to do it better!