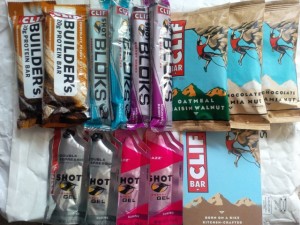 A little while ago I was lucky enough to be sent some Clif nutrition goodies to try out.  Having met Mr Clif bar on my training camp, where he'd become familiar with my tedious nutritional requirements, he reckoned they'd do me nicely.  Clif Bar's philosophy means that they use wholesome ingredients in all their products, and that all their food is free of hydrogenated oils and high fructose corn syrup.  Since not eating enough on sportives is something I have been known to do, trying out new stuff that might work seemed like a good idea.  So I spent April and May doing my sportives powered, mostly, by Clif.  With the odd flapjack and banana thrown in of course 😉
So, let's break this down into the four different products.  In, as it happens, my order of preference.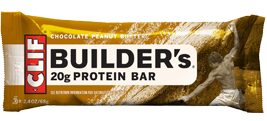 Clif Builders
These come in three flavours – Chocolate, Chocolate Mint, Chocolate Peanut Butter.  Each bar has 20g of protein and is supposed to be eaten post-workout.  I had the Chocolate Peanut Butter ones, and I have to say I wasn't mad keen on them – but then eating post ride is something I'm notoriously bad at, and after a sportive all I generally want to eat is something savoury – enough with the sweet already!  As a result I don't have much to compare them to.  They're a good size, quite dense, chewy, and fairly chocolately, if that helps?  Having said that, coming home from one long sportive driving down a long motorway, realising I was running on empty, one of these did get me back up and going and safely home again!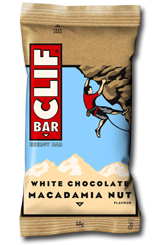 Clif Bars
I tried the White Chocolate Macadamia and Oatmeal Raisin Walnut flavours (also come in Chocolate Chip, Blueberry Crisp, Crunchy Peanut Butter and Chocolate Almond Fudge).  These bars are made with organic rolled oats, and are not unlike the flapjacks I usually eat on that basis – and are ok for me as I'm ok with oat gluten.  Unlike my flapjacks however they have a whole heap of other ingredients which elevate them above those.  Apparently this mix of whole grains, protein and fibre, means each bar contains B6 and B12 which contributes to the normal release of energy for use in the body.  That's all a bit techy for me…  However they do taste good!  Not too sweet.  Not dry.  Easy to chew.  They're a good size for my back pocket and also my top tube bag (some bars are too long and thin), plus they don't crumble all over the place either!  I certainly didn't "bonk" on the rides I used them, and I'd definitely buy more, and not just to try the other flavours 😉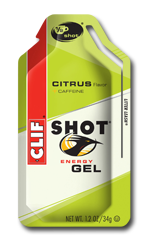 Clif Shot Gels
Thanks to the training camp and my samples, I think I've tried every flavour these come in – Double Espresso (100mg caffeine), Citrus (25mg caffeine), Razz, and Chocolate.  Unlike my usual gels these are shorter and squarer and they come with a special designed "Litter Leash™ Packaging" that means you can tear the top, drink/eat the gel, and the  top stays attached to the packet to be tucked back inside, before the whole thing goes into your back pocket to be disposed of later.  Very clever – and that bit less litter on the road is a good thing!  When it came to actually using them, they always come as a bit of a surprise.  There are I am expecting a sort of runny jam, and these are more like a thick custard.  I'd describe it better if I could – but I can't!  Initially I found the Espresso flavour a bit bitter but I'm used to it now and I especially like the Citrus one.  Clearly I'm a bit of a sucker for caffeine in gels… 😉  The gels, whichever flavour, definitely do the trick.  Having left it a little too late on one particular ride, and with miles and hills to go, I took one and I could really feel it cut in as needed!

Clif Shot® Bloks™
Now these I absolutely totally love!  Think of a tube of 6 separate jelly cubes – a bit like the ones you used to eat as a kid.  Each energy chew is 33 calories, and they come in four flavours – Mountain Berry, Strawberry, Tropical Punch (25mg caffeine per serving), Black Cherry (50mg caffeine per serving).  On a ride, once I've got past the bars/flapjacks stage, these have turned out to be the perfect way to make sure I eat something every twenty minutes, which is so important.  They're easy to eat, and rather than gels, which give you a hit when you need it, these gave me a more sustained energy level.  I like them so much I went out bought loads last month and I've been using them ever since!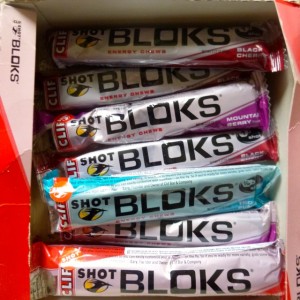 Unsurprisingly what you eat on a ride is always going to be a matter of taste.  However I'd definitely recommend the range – especially the Bloks.  None of the products upset my insides, and I definitely felt fuelled throughout my rides – result!