Being as how a weekend without a sportive is like bread without butter…presumably that would be gluten free bread without lactose free butter…something had to be done.  Gary mentioned that he'd be free Saturday morning or Sunday.  Due to my aversion to tents, damp fields, and walking to what passes for a toilet in the middle of the night, I had the house to myself for the weekend while the rest of the clan were off motorracing, so I didn't even need to earn brownie points in order to spend hours away from home.  Sunday seemed like the best option to me.  Right then…  I set Gary on the job and, even though it's his first wedding anniversary today, he created us a 66 mile route.  I'm betting Mrs G will quite rightly be exacting her revenge (aka reward) shortly!  *grin*.  He even agreed to a 10:00am start.  Well, if I was going to be home alone, I might as well enjoy a lie-in, right?  That all decided, we broadcast our plans to the ACG, and garnered ourselves an extra two ride partners – Martyn and Steve.  Steve said "I'll be there" which, since he appears to have an aversion to the Jackson 5, presumably made us the Four Tops? 😉
When consciousness dawned this morning, I moved.  As you do.  And OW!  OMG!  Not sure what I've done, but somewhere inside my back on the left hand side somewhere was , and is, proper unhappy.  Every time I moved..ow!  Inadvertently look over my shoulder or twist my neck?  Ow enough to make me yelp!  Or whimper at the very least.  This did not bode well for our ride.  Well the paracetamol wasn't really cutting it, and I kinda like to be able to look behind me to see what's coming up from there.  I did warn Gary and Martyn – the first two to arrive – that they might have to do the looking out for me!  At least the riding position is a fairly set one – quite well supported as these things go.  And yes, looking over my shoulder remained a bad idea, so mostly I just did as little of that as possible.  That's what cameras are for, right?
Gary, as we've already established, is fast.  So is Martyn.  And so is Steve!  Clearly we weren't going to be hanging around…and I was a little worried I was going to be sucking wheels all day.  And heading off across the Levels didn't do anything to allay my fears…  Gary swore he was trying to keep it reined in, and that the speed we were doing wasn't his fault…but I'm wasn't convinced then and I'm not convinced now! 😉
Into every flat a little hill must fall.  First off the climb up through Shapwick to the main road ridge, which isn't too challenging.  We had a quick break at the top so I could stash my rather too warm Maratona gilet in my saddle bag, where I discovered my Cyclosport gilet already lurking.  I clearly wasn't thinking straight this morning – I had to loop back to put bottles on my bike before even reached the Square first thing.  Doh!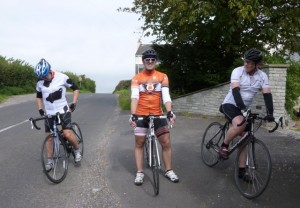 The great thing about being up here is the descent to come, down Pedwell Hill, which came completely unencumbered by buses today – always a bonus.  I did discover that one of my brakes was squealing like a bird of prey on the way down, which apart from making me let go of the brakes and descend faster, is not a good thing.  Methinks I'll be checking out the braking again especially as there was a degree of lurch going on descending one of the hills later in the ride.  I'm pretty sure I've established it's the front brake though, so that's progress right?
From there, it was time for High Ham Hill again which was as ever.  I brought up the rear, cos I'm good like that.  Services to the community and all that.  I wish I could say the new bike has made me faster…:(  I swear the gearing isn't quite as favourable even though I've been assured it's exactly the same bottom gear as on the Cube.  My legs disagree…and it's making hills above a certain gradient more of a slog than they need to be.  I'm a high cadence low gear girl, and this gear?  Not quite low enough.  Still once up there I was back on one of my favourite stretches of road that heads South over the top.  Long, wide, bendy but not wiggly, with an element of negative gradient.  Fast is totally doable and was totally done 🙂  The views were pretty good too…
Gary's route had us turning left for Pitney before hitting the main road.   I knew this, having paid a modicum of attention to the route beforehand, but he went straight on and had to be hollered back.  Turns out his Garmin had flooped a bit.  That's what comes of not following the signs, right? 😉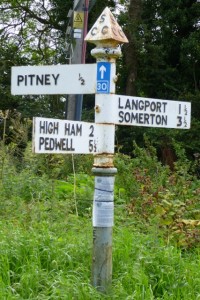 Our coffee stop was in Somerton at the Buttercross Tearooms, after a most glorious finishing straight into the town.  I must learn to curb my juvenile sprinting tendencies.  After all, it's not that I'm actually any good at it, I just enjoy it!  Maybe my legs could smell the caffeine?  Well if crickets can hear through their knees I reserve the right to smell through mine *grin*.
Considering the name of our café, one can only assume that the market cross opposite it is not in fact your average market cross, but is instead a Buttercross.  Whatever that is.  It sounds like something involving a hot cross bun with lots of butter on it…but that could just be me hankering after things I can't have, even if it's not particularly seasonal.
They did do a nice line in exceedingly tempting looking cakes, if not hot cross buns.  Considering my somewhat unusual degree of disorganisation this morning I had completely forgotten to pack anything to eat, and doing 66 miles without food, whilst also missing lunch, is possibly not advisable.  Luckily for me they did an Orange and Almond cake that was gluten free.  Almond is most definitely not my favourite flavour – I hate commercially made marzipan, or battenburg cake – but it turned out to be very yummy, very moist, and very safe.  Good cake, good coffee – get in!
However we weren't even half way through our ride, and there were yet many miles to be done.  As is ever the case, there were less photos on the way back.  Partially because it was chilly when we set off so I put my Cyclosport (much lighter) gilet on, and getting my camera out from under there is frequently more trouble than it's worth.  Partially because I was trying to keep up!  Clearly there was a reason I left that gilet in there though…clever me ;).
There was a long flat straight stretch.  There were hilly bits.  There was the Pilgrim's Rest at Lovington, which had the most pretentious chalk boards outside.  "Culinary Heights"…."Scaled Here".  I mean, really?!  Isn't that up to me to judge?  And it was also painted a particularly unattractive shade of dark Volvo green.  We know this, because a Volvo in precisely that shade went past Steve and I with rather more attitude than was necessary shortly afterwards, just as we were discussing said pub.  Very serendipitous.  Or something.
Somewhere along the way from where we were to where we were going I caught Martyn milking it again *grin*.  Him and Gary are as relentless as each other, though by the end of the ride Martyn was totally done for, so maybe a little pacing of energy expenditure is in order? 😉  The same cannot be said for Gary but, as we all know by now, he's a robot!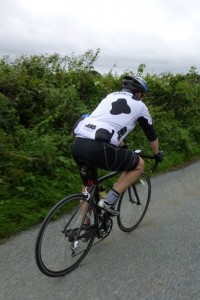 One last photo before the dash from Wedmore home.  I think maybe they were milking it too?  *grin*.  I'm not sure where the flags and gold medals come in, though I'm guessing there some sort of Olympic/Paralympic thing going on there.  Maybe milk is the drink of champions?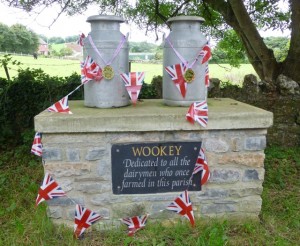 Martyn having, as I said, lost it just a little by now, we took it easy on the way back from here.  There was a little drizzle, but having had a little blue sky too, it seemed only fair.  It's an equitable life…  Steve peeled off after Wedmore, homeward bound, and we three remaining were back in the Square by around 2:30pm, having done this.
Cycling time: 3:52:15 hrs
Distance: 66.57  miles
Avs: 17.2 mph.
ODO: 198.27 miles
Fast, if not furious.  I should have got this blog up yesterday, but I have the most insanely busy week, all building up to Sunday's Etape Cymru which will not be flat, nor fast.  *gulp*.  Wish me luck?  Tomorrow I'm getting the bike checked over, tweaked, tightened, and adjusted, now that it's done a couple of hundred mile.  Hopefully it, and I, will be ready by then…