I could tell you about the ride I did with Alan on Wednesday that didn't go according to plan because rain stopped play.  I could also tell you about the solitary seaside loop I did yesterday.  But you don't want to know about those.  You want to know about the Great Weston Ride that I did last Sunday, right?  Which is by way of being a rhetorical question, because I'm going to tell you about it regardless of your response.  Every English woman must do her duty 😉
Right then.  Welcome to the Great Weston Ride.  My sixth I believe.  And since it was also its sixth, that means I've done 'em all.  It is by way of being a tradition, which has several elements to it, though not all of them were present this time around.
First of all, for starters, we, whoever we are, ride from our various homes to the start.  This is usually Guy, sometimes Clayton, and always me.  Sadly Guy was unable to join us this year, having worn himself out on yet another long audax the day before.  When shall we three meet again?  Next year maybe?  So then there were two.  Clayton and I met a little before 7:00am at Shute Shelve, as ever, and headed off, minus our usual guiding light…which probably explains why, in the absence of his commuting expertise, we managed to get somewhat lost and turn an 18 mile route into a 22 mile route.  But hey, the roads were quiet, it was dry and mild, and we still got to where we had to be in time, mainly because that little before 7:00am had given us a little leeway!
And where did we have to be?  Why Long Ashton Park & Ride of course.  For the second element, the main course, the main event, the GWR itself.  I think in previous years we've aimed to get there earlier, this time around it was already busy, full of riders and families and cars and bikes.  Alan was due to meet us there, but as there was as yet no sign of him, we headed off to sign in.  On my way I bumped into Andy and his mates James and Lee, who'd also done the Ride Like A Pro the day before, which was nice – always good to see a friendly face or three!  The alphabetised queues for registration were clearly marked, but for some reason mine seemed to be the longest, and queuing took quite a while.  Clayton had it much easier!  As I stood there on my own, slowly shuffling forwards, one of the guys popped over to say that if I was riding on my own I was more than welcome to join them, though I seriously doubt I'd have been able to keep up with 'em.  Luckily, thanks to the company I was already keeping, I didn't need to find that out for sure!  It was a very nice gesture though – thanks guys 🙂
Finally it was my turn at the front, and I was given my number, two (rather short) cable ties, and a card with contact details, told to help myself to free 9Bars, and sent on my way.  I found my way back to Clayton, fiddled the number on to the bike, and joined the queue for the Ladies – which just goes to show that there were quite a lot of women riders for a change 🙂  By the time I emerged again we still hadn't located Alan, who was failing to answer his 'phone, but luckily I spotted him loitering with intent, and hailed him over.  Voice like a parade ground sergeant me 😉  Right then, back to being three, if not the same three as usual, right?
Let's make a little detour here.  Although the GWR is, as we have established, a tradition, this year's route could be different.  I say could be, not would be, because although the usual 56 mile route remained, the organisers (hi Darren!) had added three optional little detours to it to add both miles and hills.  I'd like to say I was dying to try them out, chomping at the bit, etc…but you know what?  I'm essentially lazy *grin*.  However if I wasn't local and didn't know all the extra bits already I probably would have done.  Or not 😉  My real excuse du jour?  Tradition is tradition, tradition is not to be messed with, and the traditional route is 56 miles 🙂
Right then.  Route decided upon.  Time to join the groups lining up for the start.  The two motorcycle medics were watching on as Darren gave us our rider briefing, showed us the signage, and told us to be careful going down the hill after Priddy.  After six years he can probably recite it in his sleep 😉  So, forewarned and forearmed, off we went.  I know better than to hurtle off though, you always get instantly stopped by the traffic lights at the entrance and then another set after that before you get to head off through Long Ashton – and this year was no exception 🙂
Wasn't I here yesterday?  Ah yes, so I was.  Déja vù!  This time we may have been going a little slower though – it's not a race, right?  The road through Long Ashton rolls a bit, has lots of parked cars, and a seriously dubious road surface.  However the section afterwards is lovely fast and flat, so we got to overtake a fair few, which is always fun.  Which is also something that happened on and off  all day.  This is more of a charity ride than a sportive, there's no timing, and there's a whole range of riders out there to enjoy the day out, not just the usual race snakes and testosterone fuelled pelotons.  Which apart from meaning I can overtake folk also means it's got a really nice friendly atmosphere.  People chat en passant, families wait by the side of the road to cheer on their rider(s); it's all quite refreshing 🙂
Where to go from here?  Through Barrow Gurney where we stopped briefly to stash layers and lost Clayton who was ahead and didn't realise we were no longer behind him, and out t'other side.   Then up to the traffic lights and then up, literally, the A38, briefly.  Not briefly enough really as it's a fast road, and the traffic using it desperately has to be somewhere else and has to go past you at speed to get there.  OK, so we weren't on it for long at all, distance wise, but the drag up made it take longer than it would have done otherwise, overtaking slower riders was tricky, and it was nice to turn left off it and head east through Winford.  Admittedly this was also nice because I knew the next section, all bar a couple of little ups, was downhill and fun, and it was and it was 🙂
I appear to have forgotten to mention that despite the relative warmth and sunshine, it was still really windy out there.  When isn't it these days?  And of course it was a headwind.  *sigh*.  This became even more apparently heading south across the valley and past Chew Valley Lake.  Pretty yes, but pretty hard work!  Somewhere around here we passed Clayton waiting by a gate, and stopped to pick him up – he'd thought he was following Alan the entire time, even though his 'Alan' had different kit and a different bike! 😉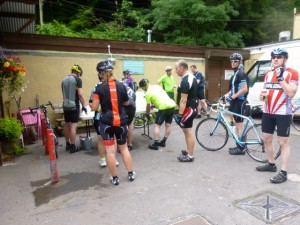 Time to head for the big climb of the day.  I'm not a fan of the stretch of the road going from Compton Martin to Blagdon.  It's more up than down, with a couple of nasty draggy ups, and that slow sort of big grain porridgy road surface.  Having said that, I've definitely struggled more with it on other rides than I did today.  Although we split up from time to time, going up inevitably, we re-grouped on the downs and flats, i.e. the bits I can do! 😉  Those weren't the ups of the day though.  Nah.  Today's big climb was Burrington Combe, not to be tackled however until we'd stopped at the water stop at the bottom and had a bit of a regroup and refresh first.  I wasn't in any rush to get up it, and when it came to it, I didn't rush getting up it either – unlike Alan and Clayton who left me in their wakes so as to wait for me at the top.  I still got to overtake some though, and I quite enjoyed pottering up there again.  I might have been faster without the wind all day, and without the day before's miles in my legs, but I was feeling ok, and that was fine by me 🙂
Big climb done.  Time to play with the wind across the top of the Mendips, and have a bit of fun doing some speed.  I like it up there, even today when it got a bit cloudy and drizzled briefly 🙂  I also like the descent to Westbury sub Mendip.  Well, I usually do.  I like it less when surrounded by lots of other riders who don't know it as well as I do.  It's fairly steep, narrow in places, wiggly…and there's often traffic of the motor vehicle variety going both up and down.  Which it's another good reason, if one were needed, why it was good that the earlier drizzle was only brief and didn't turn into rain – it's proper 'oribble in the wet!  I've been known to kick ass going down here on a good day, but not today.  Today I actually practiced some restraint.  Which is just as well as near the bottom on a narrow wiggly section, at speed, we had to squeak past a Land Rover coming the other way.  There's no way we'd have been able to stop…just as well we didn't have to!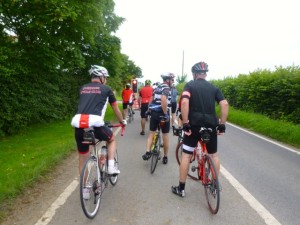 After a bit more restrained fun we reached the junction at the bottom where the marshal duly assisted us all across the main road when it was safe to do so.  A bit more down brought us to Rodney Stoke where, later in the day, various fête type things were due to be happening and we'd been asked to roll through it in neutralised zone fashion.  We were there well in advance of those but we still did as we were told, before heading across the flat back country lanes to Cocklake.  We do what we're told you know.  We even stopped for traffic lights 'n everything 😉
We were fairly motivated by now, because the infamous food stop is at Wedmore, just a couple of miles down the road.  And it was just as good as ever.  Free coffee/tea/squash, and with a large range of cakes on offer, as well as bacon rolls.  Not free but not expensive either, and although I don't do eating, Alan and Clayton do.  A large slice of sticky chocolate cake and a generous bacon roll respectively, both of which were apparently lovely 🙂  The only fly in the ointment was the wasp that wouldn't leave my squash alone!  So I dumped both and headed to the school toilets, which always make me giggle because they're ickle for ickle people *grin*.
We couldn't stand around eating all day though.  Time to get going, with 18 miles or so to go and no big hills.  As we headed down the 'mother-in-law' road from Wedmore to Highbridge (so-called because it goes on and on…) the sun came properly back out again too.  Well the sun should always shine at the seaside right?  Which, with Highbridge, Burnham-on-Sea, and Weston-super-Mare ahead of us, is where the rest of the ride was.  Burnham wasn't as busy as usual which was a blessing.  As we passed what passes for the pier, a large group of ladies and daughters applauded me.  Yes, just me, I was a way back from the boys at this point trying to take photos.  I think it was a female solidarity thing – and very smile inducing it was too 🙂  By now the wind, which had been more southerly than westerly, could have been expected to be behind us and helpful and blissful and….nah, don't be daft…it had veered around to be properly westerly and no use to man nor beast!  T'was ever the way…*grin*.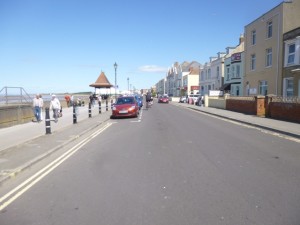 We stuck together for the last flat section, took turns at the front, and dragged our average speed up a bit while enjoying the sunshine.  Past the 10 miles to go sign, the 5 miles to go…up the A38, through Uphill, and then we were on the final stretch down the main seafront to the Finish on the lawns there.  There was a lovely reception awaiting us as we crossed the line, complete with applause and cowbells, and smiley faced girls handing out medals and food tokens.  Told you it was friendly, right?  Once again the Great Weston Ride was done 🙂
Cycling time: 3:42
Distance: 55.9 miles
Avg: 15.1 mph
ODO: 10493.3 miles
Time for some R'n'R then.  Those food tokens entitled you to a free burger/sausage/falafel wrap from The Cowshed.  But who eats first?  Priorities…!  Clayton disappeared like a shot towards the beer tent as I had a brief chat to Darren, and I joined him just in time to be presented with a pint of cold lager – bliss 🙂  Alan went off in search of their food, and I made some small boy's day by giving him my token and thus a free burger.  Positive karma has to be a good thing 🙂  We all sat on the lawn in the sun, played the debrief game, and drank that positively lovely lager, surrounded by lots of others doing the same.  The boys had a couple of pints or three, I stuck to just 1 and 1/2 before we headed off for the ride home, even given considerable peer pressure!…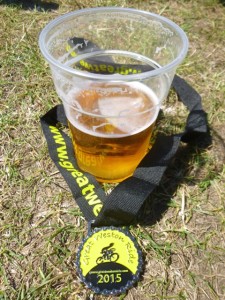 …which I possibly paid for.  This was the final element, dessert presumably, aka riding back home again.  Damn that tradition stuff!  OK, so it was only 10 miles back for me, and actually this probably had more to do with two days' riding in a row and not having eaten enough, but I felt properly and increasingly weird on the way back.  I'm very glad it wasn't any further!  I was very pleased to get home, get off the bike, and spend some serious sofa time so as to get it together enough to have a shower.  I know, girly lightweight 😉  Still, two lovely days out on the bike…there are definitely worse ways to spend a weekend 🙂