I'm getting behind again, and being nagged about it…so…
Last Friday morning I went for a ride with George and Mim, with a comprehensive and well earnt hangover after a night of escapism at the local pub.  All things considered, it went pretty well.  The after-effects mostly manifested as dehydration, and plenty of Nuun and a coffee stop sorted that out.  Mim was on her way from A to work, so only joined us for half the ride, leaving George and I to put the world to rights and no doubt give the staff at the Banwell Garden Centre café some fascinating conversation to eavesdrop on, as it was pretty empty in there ;).
Cycling time: 1:34 hrs.
Distance: 22.9 miles.
Avs: 14.6 mph.
ODO: 3856.3 miles.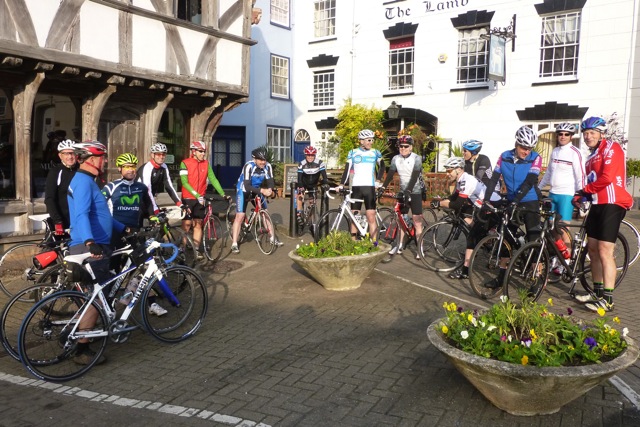 Which brings us to Sunday, and an ACG ride.  It had been billed as a forty mile pretty flat loop.  Maybe that was what did it, maybe it was the sunshine that no-one was really expecting, but for some reason there was a most unprecedented, not to mention record-breaking, turnout.  15 riders!  15!!!  I can't even remember everyone was there, and there were several newbies to boot.  Don't take it personally, I rarely remember anyone's name, I have a brain like swiss cheese at the best of times, and this is not the best of times! ;).  Anyway that's a lot of riders and a lot of colourful lycra.  And, as was fairly obvious for most of the ride, a whole heap of testosterone.  Yes, it was a flat and easy loop, if easy refers to gradient.  But don't anyone going expect that to mean easy when it comes to speed!  TMT…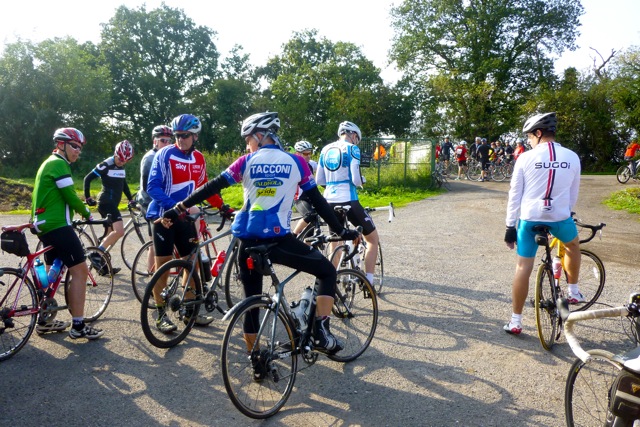 15 of us on the road did not make us massively popular with the metal box brigade.  And as we overlapped with the British Heart Foundation Glastonbury ride, there were so many cyclists around Wedmore that many of them were probably wishing they'd stayed in bed.  Luckily we beat most of the other cyclists to Sweets for our coffee stop, though I did wish I'd joined the sprint there as being at the back of the queue did mean quite a wait!  Being so numerous, we colonised the conservatory space nicely,  a bit like having own our clubhouse ;).  After a while listening to everyone chat, and having drunk rocket fuel, and eaten cake if you could, we headed for home.
Regardless of the speed, and the fact that I haven't got a lot to write because I was too busy concentrating on keeping up, it was a lovely ride.  Sunny, mild, plenty of good but undemanding company.  Can't blame Guy for the weather, can thank him for the route :).  I spent my fair share of time at the front, as well as right at the back and beyond if we ever went up hill.  Luckily someone usually waited for me.  Which is just as well as with the one decent lump on the way home they left me behind completely on the wiggly country lanes and I nearly got lost…I would have done if Chris hadn't played broom wagon and swept me in the right direction!  Still, fast and flat I can still kinda do, so it's just as well that was all I was really being asked to do :).  Some of the more masochistic of the group extended the route home to go via Cheddar Gorge, but I know my limits!  Far easier to head for home, and quit while I wasn't totally behind 😉
Not much by way of pearls of wisdom today, as you can see.  But hey, finally written up :).
Cycling time: 2:21 hrs.
Distance: 41.0 miles.
Avs: 17.4 mph.
ODO: 3897.3 miles.