Ok, so I've been riding.  I need to.  Sportives don't happen without riding.  But where is the love?  I am so fed up with wind, and rain, and cold, and mud, and the slog…  Please let it be Spring soon?
On Friday the bike was a means to an end.  Mim and I rode to Wells and back, which achieved an errand running goal.  And we caught up on what's been going on.  The riding bit was sort of a side dish for the main event really.  Time off the bike doesn't seem to have slowed her down any though.  Is it just me that that happens to?  So we caught up, but not with each other!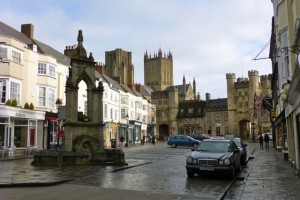 Cycling time: 2:02:19 hrs
Distance: 32.00 miles
Avs: 15.7 mph.
ODO: 15863.22 miles
And then there was today, when the ACG rode.  With a predictable weather forecast *sigh*.  I wear my waterproof once in a blue moon.  In fact I can't remember the last time I wore it – we are talking years here – but I dug it out today.  This was not adding to my sense of joie de vivre, can you tell?  Boil.  In.  The.  Bag!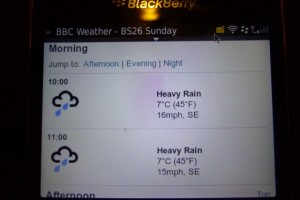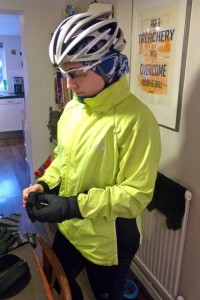 We rode in a circle, as ever.  A foreshortened circle, as the weather meant none of us, apart from the tri-athletically insane, fancied doing much more than riding out, drinking coffee and riding home again.  Off to Sweets where the service was friendly, and, as we were the first there, pretty swift too.  So here we are.  You know who you are…  I wish my hair looked as good as Jeannie's after hours on the bike though!  Sorry – I'm a girl in case you hadn't noticed – we think about such things.  Or maybe it's just me again? 😉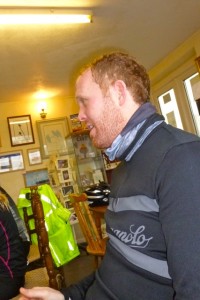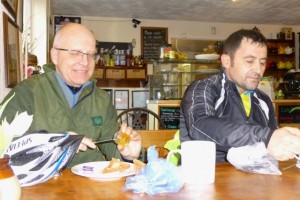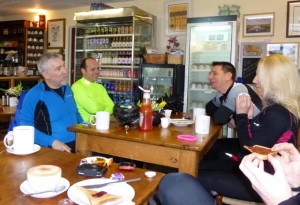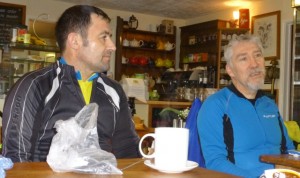 I did my best out there.  Having had a bad Saturday, I'd pre-warned Martyn that I was likely to be a little off form today, and maybe he'd primed his posse, but either way they did a really good job of making sure I wasn't left all on my own, for which I was very grateful.  I did my bit when I could, and tried not to get too depressed when I couldn't.  And no longer newbie Jon made sure I made it to our mid way stop – which was daft of him since that meant I could take his subs off him… 😉  But there was nowt for it…  Note to self.  If you're about to go for a ride, and you know that if you were staying home you'd be taking the pills?  Take the feckin' pills!
Cycling time: 1:35:16 hrs
Distance: 25.5 miles
Avs: 16.0 mph.
ODO: 15888.72 miles
So when it came to the coffee stop I gave in and took the pills.  And, as it would appear, it is possible to ride on codeine.  This is a positive discovery.  It's not the Higgs Boson, or the New World, but it'll do for me.  OK, so it doesn't entirely do the job, but I'm guessing it makes it easier, without stopping me in my tracks.  Whether or not the same can be said for tramadol is my next experiment…  It's all part of the journey, right? 😉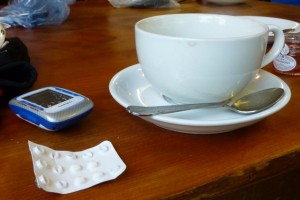 Talking of which, the journey home went pretty well until I was nearly home.  It was still cold wet and windy but hey, what's new?  However on the way back into town, up the road from Cross, a white van came past me at a constant and consistent speed, with literally mere millimetres to spare.  Made me flinch and breathe in…and curse under that breath.  But as he went past I registered the number plate…and it was my nutter of a next door neighbour.  So there's no way it was accidental.  After all, if proof were needed, he didn't do the same to Mike who was off ahead of me.  I know, no witnesses, his word against mine, etc…  But I know.  I nearly burst into tears on the spot…and probably would have done if I wasn't so busy being struck dumb by the concept of someone actually deliberately behaving like that.  And, before you ask, thank you twitterverse for your support, I have no camera, and there's no point reporting him – the history there is long and convoluted and I don't want him actually killing me which I wouldn't put past him…although as he's a bully and a coward he'd probably do it with his van rather than in person.  I'd still be dead though.  It kinda ruined what had been a better than I might have expected ride, left me shaking, and it took me quite a while to calm down.  I might have coped better if it wasn't for the whole already being in pain thing but hey, it's not like you can schedule these things is it?  Anyway…moving on…he's not worthy of any more space!
I'm very grateful for all the company I've had this week, which has kept me out there when I might otherwise have seen the weather and bailed.  And thank you all for looking after/out for me.  I think I probably need to do some riding on my own too though, as all this having to keep up with other people is doing absolutely nothing for my PMA.  I'm doing ok, but I'm still crap compared to everyone else.  However, even though I felt like a sloth going up the Webbington Rise on the way home, I was faster than the last time I did it in January.  Maybe I'm getting better?  Little steps :).