Right, so we're all rested and recovered.  It must be time to ride those bikes again, otherwise people will start thinking we were on holiday or something! 😉  Which brings us to Day 6.  A sort of intermediate day, billed as slightly longer but considerable flatter than the previous ride.  Which wouldn't be difficult.  Note, I am not using the word flat, but flatter…
It all started off well.  Well, unless you were Dave, who fell off negotiating the gravel drive on the way out of the villa, bashed himself and his front brake, and cycled the first few miles without realising there was an actual mechanical reason for it feeling like such hard work 😉  Having your brake permanently on will do that *grin*.  So we stopped, discovered that, and James and him fixed it in a jiffy.  Apparently life was much easier afterwards.  Well, for him anyway 😉
We headed out toward the same way we did for the Bedar climb many days before, but luckily that wasn't on the agenda today.  It did mean the roads were that bit more familiar, which was nice, I like to know what I'm doing.  Or pretend I know what I'm doing 😉  And it was fairly flat.  Mind you, that was the end of the "flat" though.  After that came the ups.  Whole heaps of undefinable ups, so there was a whole heap of me not entirely keeping up too.  There were various draggy bits, that sort of blurred into one, and then came the first real climb I guess.  Well, by the looks of it on Strava the road goes up for about 5 miles, so that's a climb, right?  We seemed to have timed our climb of this to coincide with every quarry lorry in the area desperately needing to be somewhere ahead of us, and thundering past to get there.  Considering how much they weigh, you'd think they'd be a cautious bunch, but they were taking no prisoners either up hill or down, however wiggly it was.  Brave or foolish, your call…  While I suppose this could have bothered me, it actually just reminded me of Shipham Hill 🙂  I resolved myself to plodding along in my normal style at the back, but as the girls were off doing other things today, and I was actually off the back, I was a bit more on my own than usual.  Still, I had yet to get grumpy about it.  And yes, I did use the word yet.  Ooh, the suspense 😉
About 20 odd miles in we took a left turn and headed into the hills.  This is apparently one of James' favourite patches, and I think it's a nature reserve of some sort.  Not that I saw any nature really, but it was prettier than some of the other terrain we'd been through.  Now that we were away from the main road, and there were climbs to be done, albeit of a shorter variety, we were allowed to split up and head for the hills our own way.  Fab 🙂  Now that I did enjoy.  No, honest, I did!  Hairpins, wiggles, a lovely down in the middle before another up.  Fun.  Mind you the motorcyclist who went past me and around the next hairpin with his knee <this> far off the ground may just possibly have been having even more fun than me *grin*.  Not only was I in relatively happy mode having not had to keep up for a while, the views from the top were well worth all the effort.  You could see the Puerto de la Virgen that we'd done the other day and beyond that and considerably higher, the big hill we would be climbing the next day.  Scary!
This was not the time to worry about that though.  This was time to take photos, eat and drink, and then enjoy some down time 😉  There was a really lovely stretch afterwards on empty main roads through a valley, past the equally empty high speed railway line.  Well it would be empty; when Spain went bust they couldn't afford to finish it so there it sits, long, straight, all high tech, all laid out, all tarmac-ed…but minus electricity and tracks.  Man, now that would make an awesome cycle path!
Talking of which, that's what we were on to next.  The cycle path we joined had apparently been converted from an old railway line which means it's wide, there's tarmac, and it's not too lumpy…apart from where you drop down to the riverbed for a bit and then have to climb a 25% kick to get back up to it again!  That hurt!  Even so, it still kinda put the Strawberry Line to shame.  But it sho' was hot.  Sheltered, inland, baking sun, again with the over 30ºC…  What with that, the cacti, the arid scenery, and being in the middle of rural nowhere, it felt like I imagine cycling in Arizona must feel like.
It was kinda pretty and novel for a while.  But it got hotter.  And the halfway mark came and went and it was still apparently still a way to go to the foodstop.  Oh dear.  And somehow, even though I hadn't properly registered it, we were going up and up and up.  Well I know that now, at the time it just felt like hard work, and I was proper suffering.  I was slipping behind again and when that path turned into a gravel path I ended up even further behind.  I was hot, bothered, and fed up.  Oh and I hate gravel, even if it's compacted and not deep.  Dave was actually, and cautiously, behind me, having had his share of gravel today.  At some point along here, for comedic effect, he asked the world if we were nearly there yet.  I believe I said that we f*cking well better be!  Very uncouth of me I know 😉  Sorry!  The others were so far ahead that I nearly lost them altogether when we finally arrived at Lucainena de las Torres, 45 miles in and 10 miles further than I wished it had been, as the roads wiggled through the town to where our lunch stop turned out to be.
It's a good thing no-one talked to me for a bit, mind you that's probably because I was radiating seriously grumpy again.  The van, which had arrived before us, what with cycle paths not being designed for vans, was parked up next to the café, and I sat down on a cool marble tree surround next to it and took five to get it together.  Man I was hot.  Cooked.  Over-cooked.  I'd been drinking all day but the speed at which I dispatched today's can of Fanta implied that I'd not done enough of that.  So I ordered another one, which lasted marginally longer.  I could probably have managed three!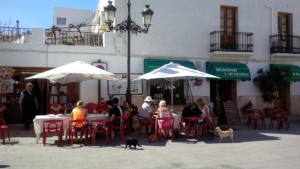 We tried to order some sandwiches for the group but due to some serious language barriers, a shortage of the right kind of bread, and the fact that they saw us coming, we ended up with artisan ham, artisan cheese, large slices of melon, chunks of the wrong kind of bread and also, bizarrely, two roasted poussin on a bed of vegetables, to be shared between all of us.  Well, at least I can eat ham and melon 🙂  And there wasn't much left when we'd finished.  But…did you note that word artisan?  I am presuming it must have been, in order to justify the cost!  It worked out at around 20€ each…but hey, it tasted good, we probably ended up taking a much longer break than we would have done otherwise which I more than likely needed, and it's all part of life's rich tapestry right?  They may have fleeced the eejots in lycra once, but I doubt they'll be getting many visits from future camps, so maybe we will all have lived and learned 😉
Somewhere in the midst of all this consumption, I was relieved to learn that we were at the highest point of the ride now though, like I said, I hadn't realised how much up we'd been doing so it also came as a bit of a surprise.  Still it did imply that the overall trend for the remaining 30 miles would be downwards, and that was encouraging.  Of course there was some more climbing, that was inevitable, and I don't really remember it in detail, I just remember getting dropped again and being permanently about what felt like half a mile behind everyone else, which was a bit of a lonely place to be.  Sure, Margriet was driving the van behind me, so I was never going to get truly lost or left behind but…  I think (probably wrongly) James had gotten a bit fed up of having to put up with the slowcoach at the rear, so there wasn't much bringing us all together again either.  By the time they finally stopped and let me catch up, and I mentioned that it might be nice if I didn't get left out all the time (yes, I had a fairly polite toys out of cot moment), it was a bit late for my PMA.  Still, apparently that was it really for climbing so it wasn't going to be a problem anymore.  Hm.  I've heard that before…  However by now we were back on the road that we came out on so, when told that, I could actually believe it too 😉  For the last 25k we all stuck together, worked a bit more as a team, and by comparison to how I'd been feeling, we almost flew in.  It's amazing how much difference it makes being in, and being part of, a group.  I did take a stretch with James at the front too, and I don't think I was holding us back.  Anger is an energy 😉  It was really nice to get back to the villa that way, barring Antas Hill of course, but although I'd perked up a bit, my PMA was still feeling pretty depressed.  But it was over, and better still it was over in plenty of time for us to enjoy the rest of the afternoon 🙂
Cycling time: 4:46
Distance: 75 miles
Avg: 15.7 mph
ODO: 8344.2 miles
The villa's landlord was holding his 60th birthday party out by the pool with live music and everything.  We had been told we were more than welcome to join in, but I needed a breather first.  I spent some time with a cold beer and a flapjack on my balcony again, watching the ex-pats' antics, listening and singing along to the music, before having a shower and putting a frock and sandals on.  It may sound daft, but I felt like I needed to remind myself that I am actually a girl, not just a decidedly average lycra-clad cyclist, and it worked a treat.  I stood in the (very chilly) pool for a while, chatting to the others, which my legs loved.  And then I took them off to the dance floor because, just for me, the band played "Walking in Memphis" again, so I danced and sang my little heart out in the sunshine to that and others, which put my woes and worries well and truly behind me 🙂