This week's rides are serendipitous things, organised at short notice, and not planned in any real way.  This time around it was Martyn wondering if anyone from the ACG was likely to be around to ride this morning.  Yes, as it happens.  Me.  Which is great for me because currently I'm preferring to ride in company, and to not just do the same old same old by myself as usual.  Low boredom threshold and all that.
Thanks to the sun, and the Tour de France effect, there are hordes of cyclists out there at the moment.  We could invent a new game – spot the newbie?  Apparently new bikes sales have already increased by 6%, and LBSs across the country are being deluged by the "well I thought I'd get it out of the shed and take for a spin and…" brigade.  Allen keys and cash registers at the ready… ;).  It'll be interesting to see whether there really has been, or will be, a sea change after the TdF and the Olympics, or whether it's merely a brief tsunami, washing new bikes into sheds across the country before retreating and leaving them there to rust quietly, in so far as carbon Pinarellos rust…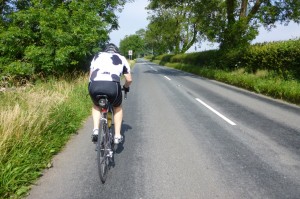 Martyn isn't that familiar with this part of the world, being Brent Knoll based, so he can't easily plan a route, and I hadn't planned one either because I'm a busy bunny.  And a tiny bit lazy.  Which was another perfect excuse for making it up as we went along.  Not South, because the ACG are heading south for the summer on Saturday.  Not West because it's the summer holidays and the seaside is where the migratory grockles live and roam free.  So we wiggled, meandered, pottered, climbed, and descended around here instead.  It's a funny looking route isn't it?
It was quite nice really.  Which would be a bit of an understatement, considering how gorgeous the weather was.  It did mean the roads were busier than they should have been, as people were presumably desperate to get to the best place to enjoy it in.  A tad irritating but hey, I guess they're as entitled to be out there as we are ;).  There was also more wind than you'd have thought but I can assure you it was there – we weren't going fast enough to generate that much headwind – we never are!  Still, it was closer to cooling breeze than howling gale, and it would be churlish to complain.  Besides, isn't it supposed to be wrong to attain perfection?  Something about flaws demonstrating our humanity…?  Or am I just talking b*ll*cks again? 😉 *grin*.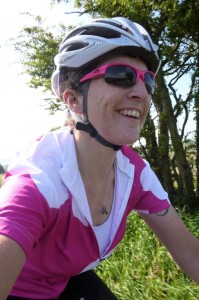 Look – I finally have a jersey to match my sunglasses.  You like?  I know, I'm not usually one for pink…but I'll make an exception.  It's not like it's pastel pink right?  As to whether or not I'm a cow, I suggest you refrain from comment.  Even if it's killing you ;).  Anyway, I believe I mentioned our route was an improvised one?  Well it was.  It was very much a question of getting to a junction and then deciding what to do.  Aided and abetted by…?  Guess..?  Yes – more signs!  *grin*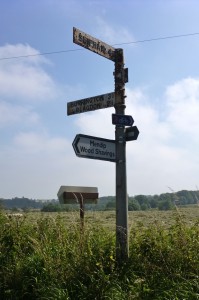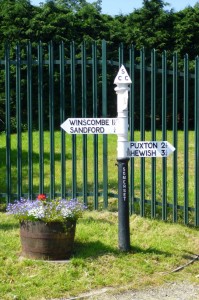 I wonder if I took the right pictures and put them all here, one after the other in order, you could figure out my routes by yourself?  A photographic dot-to-dot?  Or maybe we could just play "guess where the pink cow" is?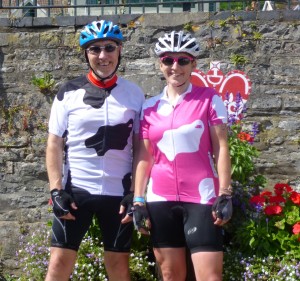 See look, not hordes of cyclists – herds of us! 😉  (I know, terrible…mea culpa).  As for our location, the red crown behind us is a fairly big clue if you've been around here in the last few months.  If however you prefer these things writ large in white on green for you then I have that covered too.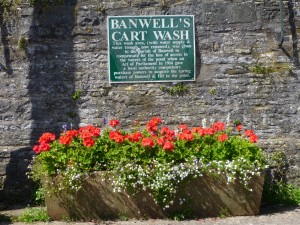 Cycling time: 2:03:22 hrs
Distance: 31.50 miles
Avs: 15.3 mph.
ODO: 15101 miles
Basically we rode in the sun, chatted a lot, ticked the two hour box, and got a bit more tanned.  We even watched farmers making hay while the sun shines.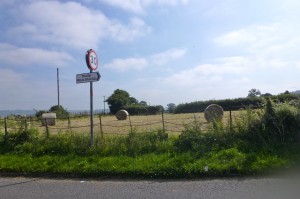 Martyn is fast and strong, and hard work to keep up with (in a good way), and we seemed to be going fast enough, but I guess overall we weren't?  Actually the last few rides have felt a bit slow, which is irritating, and I'm not sure why.  Maybe I've done enough?  Maybe I shouldn't have stopped taking all my vitamins and supplements, because I'm fairly sure my dietician was wrong about those not helping, amongst other things?  Maybe I was just enjoying riding in the sun?  Still, I do love those flying rides so I hope I get back to them soon :(.  And I think I'll be placing an order at zipvit asap.  Since I'll be on holiday for a bit shortly, I guess I'll be forced to see whether or not rest is really a good thing (*grrrr*)…and if it isn't I'll have some serious catching up to do when I get back!  I may get my hands on my long awaited new bike then though – so I'm bound to be faster, right? 😉  *fingers crossed*