Today I rode, with the ACG – GB, Martyn, Dave, Steve, and me. I also discovered that GB is doing the same sportive as me next Sunday.  Whilst I certainly do not expect him to ride with me, he is up for giving me a lift there and back which means one less thing to worry about.  Here's one for him ;).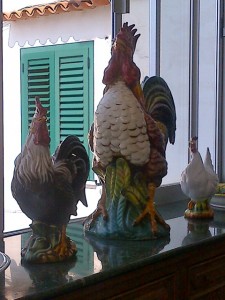 So…back to today.  I did not ride like I stole it.  I rode it like someone else had stolen it and I'd had to resort to walking instead.  I.e.: very, very, slowly.  I was, not to put too fine a point on it, rubbish!
I'd like to blame it on my holidays…and I'm sure that two weeks of consuming copious amounts of white wine, no serious exercise, and the wrong kind of food, didn't help.  But I'm afraid it's just a pain thing.  I'm having the worst patch since my birthday ride, and it's not a bundle of laughs.
The planned long ride to Bruton and back changed, which I really hope wasn't entirely on my behalf because I feel bad enough about them all having to wait for me all the time as it is.  Sorry everyone :(.  Flat I was just about managing, but up?  No sirree jimbob.  There's something about up which hits the wrong spot perfectly with every stroke.  Just breathtaking.  I was considering bailing as we headed up Westbury Hill – I just couldn't see how I could make it up that.  But as those thoughts were running through my screaming brain, GB was re-organising, deviating, he turned us right, instead and bailing didn't quite happen.  We went up Old Bristol Hill to get us to to the Rock Cake Café instead, and even though that's a lesser hill, I still ended up crying my way up it.  Talk about a girly wuss!  It's just as well GB really couldn't cycle slowly enough to keep me company, I'd have embarrassed us both.  And then, to add insult to injury, it started to rain.  Sometimes you just wonder why you bother!  😉  I won't bore you with the return journey, since that's way more than enough already, but it was a little better thanks to the lack of lumpiness.  
My stats are quite frankly shameful, and as I failed to turn the gadget on again after coffee they're not even mitigated by the Horringtons' descent, so I'm sticking to the basics.
Distance: 37.6 miles.
ODO: 3400.9 miles.
Still, at least I rode, right? 🙂  Every day is different.  This was yesterday, today was as above…who knows what tomorrow will bring?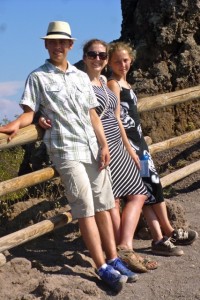 on top of a volcano