Just in case you hadn't noticed, it's Easter Sunday.  A Sunday, in the middle of a free holiday weekend.  Which would probably explain why, when I left the house at 8:30am, it was eerily quiet out there…
The ACG ride was due to start at 9:30am.  GB had planned a route, whilst pointing out that if we did his route it was actually shorter than it looked unless I picked him up at his house.  That looked like a gauntlet to me…  After some to-ing and fro-ing we agreed that I'd meet him at his house, having done a loop to climb Winscombe Hill, we'd both do a loop around Shipham, and then we'd do the ACG ride.  Clearly doing one ride isn't good enough.
So that's just what I did.  Except Strava has the Winscombe Hill segment down as being longer than I did so I have no idea what my time was.  I went past a waiting GB and over the brow of the hill and everything.  *sulk*.  Yes, I know it's juvenile, but I was only racing myself, and I was curious to see how the hill would go with relatively fresh legs.  Next time…  Back to the still waiting GB, both physically and literarily.  It turns out that he'd just done the Webbington loop to warm up.  Always goes one better…not that we're competitive or anything.  Much ;).
We went back down the hill into Winscombe and then up the pretty back lane climb up through the valley to Shipham which went well enough.  Then up those couple of steep kicks out of the village there that meant that I got one of my favourite descents done and enjoyed before we'd even started the ride proper.  Wheeeeeee…..! :).
We waited in the Square, aware that there was a distinct possibility that it was just going to be us two today, what with the complete lack of positive response to my ACG ride email.  But at the last minute we doubled in number.  Ex-MTB Steve joined us, and a newbie by the name of Peter who, with a sudden flash, I remembered I was supposed to have emailed with details and so-on after his Mrs had called me earlier this week.  Oops!  Ah well, least said soonest mended right?  Although we did have a planned route, we didn't go to plan.  I don't know why – blame the wind, the grey weather, the Easter holiday, the loops already done – but there was a degree of apathy floating around.  Both GB and I were feeling like the coffee element of the ride was a higher priority than usual, so we decided to head for the coffee stop first and then decide what to do.  Off to Fenny Castle we went, via the Levels and the odd lump, as well as a very lovely descent of Mudgley Hill which I totally nailed :D.
No portraits today.  Apparently the sweaty men in lycra weren't feeling that attractive, so I agreed to spare them the gaze of my camera lens.  So let's focus on the more important shall we?
As I have mentioned before, not only is the coffee good here, but refills are only £1, and it felt like a two coffee day.  So you get two photos of my coffee though, for the sake of journalistic integrity, I should point out that it's the second cup twice.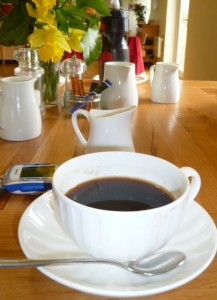 Ok, so you really don't care.  Nice flowers though right? 🙂  After quite some debate, democracy led us to some sort of decision as to how to get home.  Mostly this was all about trying to avoid the really unpleasant headwind that we didn't fancy facing on the Levels on the way home.  Using the usual warped logic it was agreed that going uphill would be more sheltered and therefore nicer.  Hm…
It was hard getting going again, as we wiggled our way around to Wookey.  Which way to go?  Right, up Old Bristol Hill, over the top and home?  Or left and up Deerleap, past Ebbor Gorge, over the top and home?  Decisive was not happening…and left was pointing towards home and right wasn't…so I figured left was the way to go.  On my own head be it…  It's something to do with not wanting to wimp out, and knowing that hills are good for me even if I'm not good at them.  The only way to get better at going up is to keep going up.  It's quite a climb and it wasn't feeling any easier than usual today.  Some spring chicken in full team kit on an Orbea went past us halfway up like we were walking (which I suppose we nearly were), which always does wonders for morale…*grrr*.  But it gets easier, marginally, as you go up, and as it flattens out at the top and the views open up behind you, it's almost pleasant :).  GB was waiting at the top having made it look nearly as easy as Orbea guy, as usual.  I was quite chuffed not to be last up :).
Time to be a crow and take the direct route home.  Crows have one of my favourite collective nouns.  A murder of crows.  I blame Sting.  Actually he has a lot to answer for.  A significant percentage of my brain must be taken up with storage of his lyrics, having had his music as the soundtrack to large parts of my life.  Imagine how much better at everything I might be if I'd used those little grey cells for something useful?! 😉  Anyway…I appear to have wandered off the racing line again.  In the absence of a judge to relegate me, I shall metaphorically slap myself on the wrist, and resume the narrative thread…  So.  Where were we?  Ah, look – there we are.  A little peloton going across the top of the Mendips, heads down, into the wind, going as fast as possible to get it over and done with, off to go down the Gorge.  Another descent which I did pretty well, helped by having to take the worst bit (to my mind) at the bottom pretty slowly anyway, whether I wanted to or not.  Well it's Easter, silly season is here, and there were flocks of randomly wandering grockles around.  Nothing to do but to slow down, sit up, take it easy, and keep your wits about you.  I don't know why, maybe because of the element of calorie consumption beholden on visiting the Gorge, or the quality of the clearly quite sedentary grockles, but there was a slightly smug feeling to cutting a swathe through them on our racing machines in our sporty lycra.  No?  Ok, maybe it's just me being catty ;).
Cycling time: 2:41:22 hrs
Distance: 41.03 miles
AVS: 15.3 mph.
ODO: 12996 miles
Our actual route looks like this – with the earlier loop being mine and GB's.  Not a bad ride all in all.  I may even have earnt the right to eat some chocolate, which is something I can actually eat – rah!  And today's "Rabbit" title?  That would be the Easter Bunny *grin*.