After this weekend's weather forecasts I didn't really think I'd be riding today.  But the forecasts changed, and the mob were booked into one of the KOW Leisure Centre's Kids Activity Days, and given the sparsity of opportunities to ride, what with it being the Easter holidays and all, I should ride right?  Ok, so that decided that, I was riding.  But what to do?
Well…  I've always wanted to go up the Glider Club hill.  I've never done it.  People talk about it, in awed tones.  I think I've been down it, but I wouldn't even swear to that.  And why today should seem like the day to put myself through that is beyond me, but it's good to have a goal right?  A goal, and a hook to hang a ride on :).  It also gave me an excuse to check out one of Bella's capabilities.  Although Bella doesn't do the complete GPS mapping stuff, you can plan a route, upload it to her, and then follow it – you just follow the arrow on the screen along a line.  I'd never done that, and would like to be able to do it for sportives, but I didn't want a sportive to be the first time I tested it out so…yes, today was the day for that too.  So here's what I drew and set out to follow this morning.
Weird weather today.  Very variable.  I was still in essentially winter kit, minus base layers, and it was still the right choice.  I got properly rained on before I even got as far as Cocklake which, considering how chilly and windy it was, was not making me think nice things about the rest of the ride.  But the squally showers disappeared behind me and over the Mendips leaving the sun uninterrupted, shining if not warming, and a little arrow to follow on a screen, daring me not to wimp out…
Nasty wind though.  Far more wind than there was supposed to be.  Enough wind to be frequently annoying.  But today's ride was an odd one.  On another day the wind would have been more of a problem, mentally if not physically.  But today it wasn't about doing it fast.  It was about doing the hills.  About riding the bike.  And, with a sportive this weekend, about not over-doing it.  I was in Alp mode.  As long as the wheels were going round, it was ok by me.
I started the ride with the Nyland Loop so as to be warmed up a bit before the main challenge ahead.  But this also meant that ahead of me, I could see where I was going…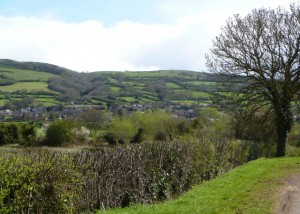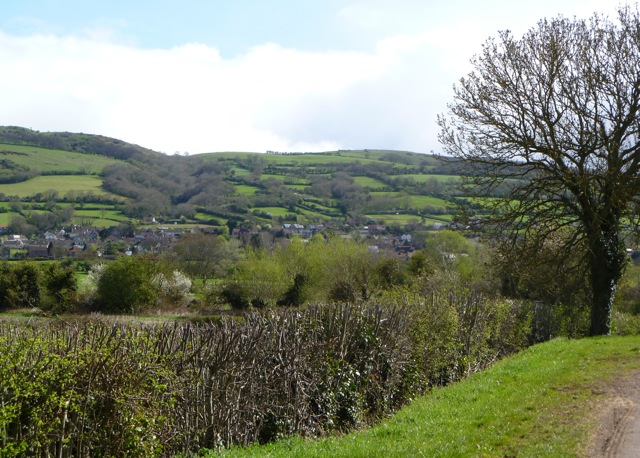 It's there somewhere, lurking in those trees, going up the hills in the middle.  *gulp*.  But hey, it's only a hill…right?  The profiles I'd seen of it show it as a fairly constant climb, with an average gradient of around 11%.  How bad could it be?…  Well it isn't constant, and averages are misleading.  I went up, and up, and up.  Slowly but surely.  Halfway up a car gently eased past me, and as I waved my thanks, the lady passenger wound down her window and stuck her thumb up at me in encouraging fashion, and gave me a big smile which I returned.  Go me :).  Good thing she didn't catch me later…
…where there's an even steeper section, all wooded, and the road surface was wet and gravelly.  Bella reckons it was 20-25%…and I was getting there, pushing and pushing, up the relentless wall.   But it was going on and on, and it got just that little bit steeper and even though I could see the top I didn't know it was the top, and I was starting to lose traction and my wheels were slipping…  My courage deserted me.  B*gger… Un-clip… Stop.  Just call me the cowardly lion.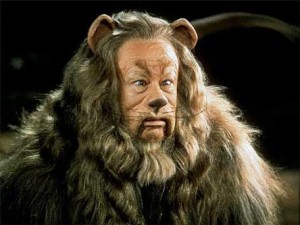 I took a little while to pull myself back together.  Even with it being generally cold, I was definitely hot by now!  I tried to get going again but just couldn't get back on the bike because of the gradient, and had to walk a little way up and try again which, luckily, actually worked and I made it up the rest and over the top.  Well, sort of the top.  The top of the steep bit anyway.  So maybe with a drier road, and a little more heart, I could actually make it all the way up?  It flattened out a bit after that – and I pootled my way up the rest, eyes stinging as sweat dripped into my eyes, until I finally came across the mythical gliding club.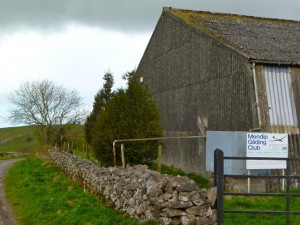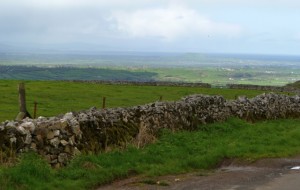 Awesome views from the top though.  There in the bottom is Nyland Hill, which I'd cycled around all of half an hour before, but boy did it ever seem a long way away now.  The odd thing about following the little arrow is that you're on a different screen, and deprived of all that information that you usually have.  No speed, time, nothing…so I have no idea how I was doing.  Sometimes it felt like hard work, sometimes it didn't.  It's quite relaxing.  Maybe that's where the phrase "too much information" comes from? 😉  I like the road going east across the top of the Mendips – it goes up and down, it's scenic, and it's wide enough for the traffic to go past without too much difficulty.  Not that this stops them going past with as small a gap as possible of course…and man there were a lot of that variety of idiot around today!
Traffic notwithstanding, I enjoyed the lovely main road descent to Chewton Mendip and then took the left turn on to quieter roads towards Litton.  Blue skies, green everywhere…doesn't suck.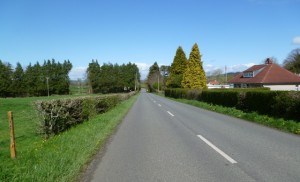 The wind was against me, but luckily the gradient towards the Harptrees is essentially downwards so it didn't feel as much of a slog as it could have done.  I couldn't remember which Harptree climb I'd plugged in, and as the arrow led me inexorably onwards it became clear that for some bizarre reason I'd gone with the Harptree Hill option.  Not my favourite, so I took a little break to take some photos in West Harptree and get ready for it.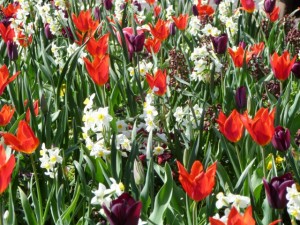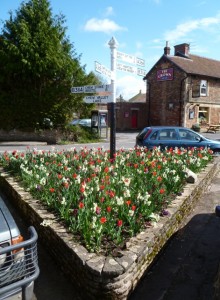 Time to go uphill again.  It's clearly been a long time since I've done this particular climb, and it wasn't as bad as I'd remembered it.  Not good, that might be going a step too far..but doable.  Clearly, because I did it.  I took the back road across the top, heading west towards my reward, because the more main road slog can be truly unpleasant even when it's not into the wind.  It was a good choice.  Very pretty.  Very quiet.  With cows, and calves, and flowers, and the joys of spring.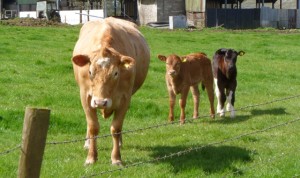 There are even a couple of stone circles up there on the left hand side.  I've no idea if they're original, so may have to do some research.  And then go back to take photos of them.  I'd already stopped enough by now so I wasn't stopping again!  Well, that's not strictly true, but in my defence I had to stop because it's a T-junction, I was turning right, and you needed to see this.  Up on the top of the Mendips, there is a castle on a cloud…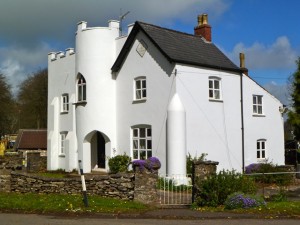 It's recently been repainted and was positively glowing in the sunshine!  Plus it has purple flowers and everyone knows how I feel about purple.  Very photogenic.
Enough stopping, enough photos, time for that which I had earnt – the descent of Burrington Combe :).  The wind wasn't in my favour, but then that probably stopped me going too fast for myself, so it went pretty well.  I then went straight along the main road to the Churchill crossroads though, rather than taking the usual quieter back roads.  Oops.  Remind me not to do that again.  Not only is the road surface that porridgy coarse grain almost cobble stuff, but there are way too many lorries.  Lorries that go past you doing that converging lines thing…  They start by going past you as close as possible and then pull over AS they're going past and your space gets narrower and narrower, like you're hurtling along that passage on the surface of the Death Star getting closer and closer to taking your shot, and praying that the force is with you…  Not restful!
Having turned left at the crossroads, and been overtaken by the same lorry again, it was a relief to get off the climb up the main road and go through via Rowberrow to Shipham.  More slow steady plodding, up hills I know I can do.  Nice :).  And then I got to go home, down a not quite dry enough but still plenty fun enough Shipham Hill, and along a bypass pointing irritatingly in the wrong direction.  By the time I got home I definitely knew I'd been working quite hard!
Cycling time: 2:27:54 hrs
Distance: 35.83 miles
AVS: 14.5 mph.
ODO: 13032 miles
OK, so it was slow.  Well, not it, me.  I did say I wasn't pushing it, right?  Bella reckons there was around 2,780ft/848m of climbing, as does Strava, which ain't bad.  This Saturday's Wiggle New Forest Spring Sportive route claims to only have 1316 feet of climbing, so it should be positively restful by comparison 😉  Well, apart from the whole 83 miles thing *grin*.
It was a good ride.  I enjoyed it.  It went pretty well.  But the Glider Hill remains unconquered.  Next time it shall be mine…! *mwhahaha*.