…and repeat…
Another Easter Holiday day.  Another KOW Leisure Centre Activity Day.  Another day when not to ride would be wrong, since that's having the time to ride was half the reason I booked them into the scheme in the first place.
But I have to say I wasn't massively up for it.  The weather is just the same as it has been for a while.  However attractive it occasionally looks, it's actually cold, variable, and distinctly windy.  Riding on your own can be very lovely, but I'm a bit bored of riding all the same roads all by myself, and due to a logistical hiccup it turns out that I'm also riding Saturday's sportive on my own.  It's just as well that, after my old mp3 player finally gave up the ghost, I have a shiny new replacement ipod shuffle to at least provide me with musical accompaniment.  It's engraved and everything.  Feel free to try and guess what it says ;).
Anyway, Rule 5!  MTFU woman!  Or is that WTFU?  Time to play with my toys and plot myself another route.  In order to reduce the boredom level and make it a little interesting I threw some hills in again – something I don't seem to be able to stop myself from doing at the moment.  Well I'm not going to get any better at them otherwise now am I?  Today's hills were, in ascending order (yes, another pun)….Notting Hill, Winscombe Hill, Mudgley Hill, and the biggie for today – Westbury Hill.  I didn't beat any records. I did nothing more than get up them, as there wasn't a massive amount of oomph in the legs.  But I still got up 'em, and that's all that counts.
It's always, well nearly always, better out there than you think it's going to be.  It's a good time of year.  The new greens haven't faded yet, the flowers are coming out, and it's frequently very pretty.  Think of it this way – some people come to Somerset on holiday.  I get to live here.  Could be worse :).
The wind was annoying me today, but it was at least essentially behind me for my stretch across the Levels if nowhen else.  I really wish it was easier to capture that area photographically so that you could get that wide open space feeling, the dome of the sky, the greens and blues, the reflections in the water…it really is lovely.  Unless there's a headwind in which case it s*cks big time! *grin*.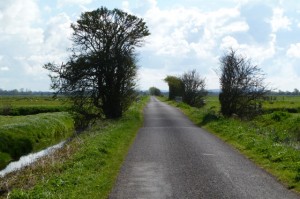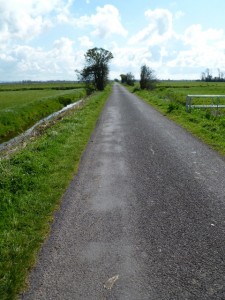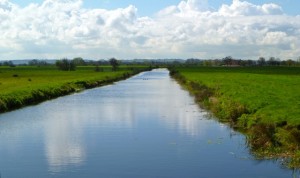 Having conquered Mudgley Hill again, I headed cross country to Rodney Stoke, where the church was sitting pretty by a field of yellow buttercups.  And/or dandelions.  I knew the big hill was coming so it was a good excuse to stop, drink, and get ready for it.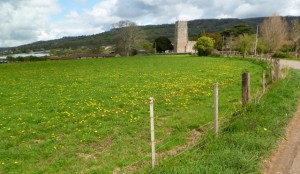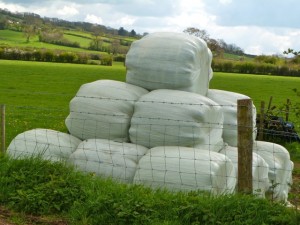 I always take more photos on the first half of a ride, and today was no exception.  Visually speaking…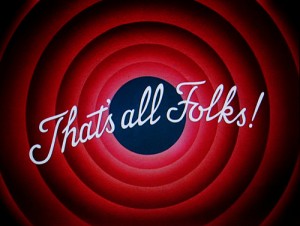 Off I went, ready for the hill.  Well, as ready as I get.  The hill went on, and on, and on…but without quite reaching the horrific gradient levels of the Glider Hill.  Plus I've been up it before and, as I've said before, that always helps mentally.   By the time I got to the top my legs and I were on their way home.  No more stopping.  I had to put my head down and grit my teeth for a while as it was windy up there and it was all feeling a bit of a slog.  The last stretch from Charterhouse to Tynings Farm can feel surprisingly lumpy and it did today.  Especially as it got colder and colder and, just to prove that, were proof needed, it then hailed on me for a bit.  Not the first time that's happened, so the novelty has worn off!  But hey, I was on my way home, and how else was I going to get to go home down Shipham Hill?  It was even better than usual today.  Not only was the road dry, but I had to go pick up the car from the garage in Cheddar where, £196 later, it had finally passed its MOT and was awaiting me.  Which is neither here nor there but which meant I got to go ALL the way down the hill, without having to slow to turn right to get to the bypass to go home.  Not something you do without paying attention though as that junction is nuts and a couple of motorists did make tentative attempts to get in my way. Luckily nothing came of them and I got to enjoy the whole thing properly :).
Cycling time: 2:36:34 hrs
Distance: 39.10 miles
AVS: 15.0 mph.
ODO: 13071 miles
Here's what I actually did, and if you want to get all competitive about it, here's what Strava says.  Told you I was playing with my toys :).  It's a good thing Strava and Bella have come along because like I said, it's easy to get bored doing the same old same old, and adding the odd little extra element helps keep it interesting.