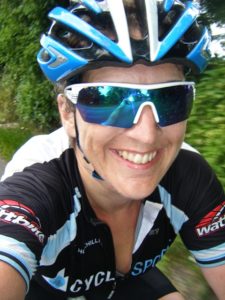 Right then. Time for another sportive.  Which in this case would be the Cycling Weekly Malvern Mad Hatter.  Which already had a couple of things going for it.  First off it was on a Saturday.  I like Saturday sportives.  It means I don't spend my entire weekend waiting for and then doing the sportive.  It also means I get a Sunday afterwards for R&R, which is allegedly what weekends are actually for.  Secondly I've done it before.  Ok, so it didn't go that well as it came just after my life went to hell in a hand basket, but I did like it, and clearly I liked it enough to want to go and do it again.
As usual my pre-ride preparation left a little to be desired, and after precious little sleep, the 5:45am alarm call was a far from welcome one.  But hey, who needs sleep anyway right?  So it was time to get up, drink coffee, eat porridge, and faff some as usual.  Matt was down for the weekend, and rather than just play chauffeur for me, and also because he worries about me riding on my own at the moment, he'd decided to actually do the sportive himself.  So that makes two people faffing…except he doesn't really faff, he just laughs at me while I do…!  I can cope with being laughed at though, especially if it means I don't have to drive and, since he drives a massive van, loading the bikes and assorted crap up was easier than usual too 😉  Besides, what with this being his first ever sportive, and one that he was about to do on a single speed (insanity), I figured I might get my own back by dropping him on the odd hill… 😉
1.5 hours up the motorway, in the sunshine, got us to HQ at the Three Counties Showground.  It wasn't a great journey.  There's something about sitting cars, or even vans, position-wise that makes the pain worse, and since these days proper pain seems to come with mild nausea, I really wasn't feeling great by the time we arrived.  Having a massive van mean that we were marshalled, after some debate, into a corner of the field right by the entrance road, which was handy as it would mean less walking on the grass in cleats.
We set off for registration, walking rather slowly because that was all I could do, through other riders already setting out on their way, and via the spacious and clean toilet/shower block.  Yes I know, I go on about it, but decent toilet facilities are important!  Ablutions performed, it was time to register.  As Matt had only decided to join me the day before, but as he was playing chauffeur and ride escort, a very nice lady in charge called Dawn kindly gave him a free place on the day to ride with me, which was exceedingly nice of her.  Credit where credit is due – since if Matt hadn't been with me, I don't think I'd have have made it to do the ride at all – and then this review wouldn't exist…even if it is a bit late in getting completed.
While Matt signed up, I went and registered myself, signing my name to get my bike number, two cable ties, and the timing chip for the LHS of my helmet.  It wasn't at all busy, no queues at all, although there were plenty of riders around, and parked up outside, so I guess they must just have been well organised!  We headed back to the van to get sorted in the lovely sunshine.  Yes sunshine again.  In fact it was so warm that I even ditched the base layer, just putting that & my gilet in the saddle bag just in case.  Well I know it was due to be warm, but when I'm having a bad patch I sometimes get cold so…  Oh, and it wasn't even windy!  How rare is that?  We took our time getting ready, as although I was signed up for the Epic route, I figured today was definitely a Standard day at best, and Matt was doing the Short route, so my nominal 8-8:30am start slot was fairly academic so it's not like there was any need to rush.
And when it came to it the Start was, as I briefly sort of alluded to earlier, a little weird, so let's get on with that.  Time to head there, via the toilets again of course.  We joined a bunch of riders near the start line, waited for that bunch to become orderly groups, and then shuffled forward in our group's turn to be given a long, fairly humorous, briefing.  Possibly the girl giving it hadn't done as many such as some other folk usually have so was still finding it enjoyable 😉 However when we went over the start line – which I'm sure points straight ahead to a main site entrance gate, or at least it did last time – instead we had to negotiate the way around the car park, up through one aisle, and then back out the way we came in to the site, through other riders milling around and cars still coming in.  Not great.  Maybe someone forgot to unlock a gate?
Anyway, as I've mentioned already, today's event has three possible routes, and they work kinda petal stylee.  Everyone does the first loop, including the big climb up the Malverns, back around to near the start.  At which point the Short route goes home.  The route then carries on for another 10 miles, before you decide if you'd like to add the extra 26 miles that make the Standard route Epic, as long as you get there by 12:30 that is.  Or just carry on and loop back around to the Start, happy with your less than Epic status.  It means the route is really flexible.  And in this case I meant I could do the Short route with Matt and see how that went before having to make my mind up about anything.  It's a really nice way of letting different levels of ability of cyclists ride the event together, and please all the people all of the time, and it also makes deciding on your route on the day easier as you don't have to commit to anything too early on.
So Matt and I headed off into the sunshine for our first 43 mile loop.  It was fairly flat to start with, for the first 15 miles or so.  I'm not complaining though, what's not to love about 15 miles of flat and sunny and scenic and easy?  Especially if you're not feeling great and are a little apprehensive about how the day might go.  Matt was getting a bit bored though…so it's just as well we hit a few draggy climbs.  Apparently that's more fun…even on a single speed.  I wasn't loving them much because they made things hurt…but that didn't mean I wasn't getting up them just fine.  Then came some bigger ups…and I was sorted out now, pain under control, warmed up, settled down, and back to feeling happy. I did get to leave Matt behind on the bigger hills, but downs we pretty much did together, and some of them were a blast.  Well, apart from the one where our descent met a tractor's ascent…without a lot of space…with my back wheel locking…  So I stopped braking, it stopped locking, there was just about enough room, and we got to carry on downhill a little more cautiously while the rather scared tractor driver probably went on his way cussing us a lot!
The first food stop came 25 miles in, at a nice shady village hall.  Fodder tended towards the sweet, but since that included Haribo, both normal and Tangfastics, which I love, I wasn't really complaining! I would have grabbed a Power Bar Smoothie, but since I already had my own with me, that seemed a bit pointless…  So I filled up my bottles with water, used the toilets, and we spent a little while hanging around and chilling out, a little literally.  Well it was hot out there!  Besides, it's all part of the experience, and since this was Matt's first sportive, might as well make sure he was getting the full show, right?  Besides, he looked like I needed the break more than I did 😉
Duly refreshed we headed off for some more draggy rolling in the sunshine – with Matt continuing to get kudos from all and sundry for his single speed insanity.  Well if they were struggling up the hills on proper bikes…then he was proper putting them to shame, apparently 😉  It continued to be nice out there, and we weren't rushing.  Sometimes it's nice to just ride around in company, chat, stop and take in the view occasionally?  In fact I can't tell you as much about the scenery as sometimes.  Well when you're on your own you have nowt to do BUT look around you…when you're not, it tends to fly past you more.
I can tell you it was all very pretty in a cultivated, well groomed and expensive fashion.  Properties with drives, and tennis courts, and so on.  Oh and the odd oast house.  Lots of fields.  It reminded me a bit of Kent, or Hampshire, in a green and pleasant land way.  Luckily the signage was mostly really good so even though we weren't paying as much attention as we might have been, we didn't get lost.  There was just the odd dodgy bit where it was hard to convey with a sign how sharp right turns were from where you approached them, which made navigating them a bit hairy…  Talking of the roads, a lot of the road surfaces were SERIOUSLY crap – even more so than I'd usually expect.  And there were a few 'interesting' crossings of main roads that, though well signed, and sometimes marshalled, were tricky when there was traffic.  And when on more main roads for any length of time, they tended to be a bit too busy too, which is never that pleasant.
Enough talking.  Enough bimbling around in the sunshine.  Time for the BIG climb of the day.  Which was not the climb previously advertised, thanks to roadworks and a road closure I believe.  Instead we all went on a little detour which added a couple of miles and meant that the climb wasn't the long, hard but steady one I vaguely remembered from last time…  Nah, this one was a doozy.  (Croft Bank apparently).  It was long, a bit steppy, mostly steep, went on forever, and got worse towards the end…  Killer in fact.  As a great many other riders would probably tell you.  Whilst I was plodding my way up, those riding were few and far between.  I'd spot a pedalling rider ahead, only to pass them by a little while later, as the gradient had defeated them.  And just for once, the single speed was defeated…  So as I doggedly, determinedly and more than little stubbornly pushed my way up, Matt was left behind to walk.  I made it up in one go though – I love that I can kind of do hills now 🙂  I spent quite a long time waiting the top, at what was clearly the unofficial point to wait for your team mates, until you were all back together and recovered enough to ride on again.  Matt finally arrived with a little posse of guys who'd ended up walking up together – sounds like they'd had time for quite a chat on the way up!  Oh, and apparently I'm well 'ard for making it all the way up without stopping or walking 🙂  Well…since you come to mention it… 😉
After that slog, we spend a fair few scenic miles bimbling around the top of the Malverns, with it being mostly flat or down.  Well earnt views and descents – nice 🙂  Lots of nice shady trees too – coolth being a good thing.  (And yes I know coolth isn't a real word).  The route split came about 40 miles in, up on the top somewhere, that I failed to photograph, next to a very tempting pub where a great many non-cyclists were clearly having a splendid time sat outside in the sunshine and watching us all.
And so…the time had come.  I'd had a really good ride so far, I'd been taking it fairly easy (sorry Matt!) and since I was feeling the love, and not the pain, and I knew the next 30 odd miles weren't due to be too challenging, I wanted to do what I'd set out to do.  Matt wasn't tempted to join me…after initially considering it, the last few miles had finally taken it out of him.  No gears will do that to you 😉  So we parted company for the time being, and I left him to turn left while I turned right and headed out on my own.
It's a little novel to feel that fresh more than half way into a ride, but I really did.  And as it turns out my legs were raring to go.  Head down, time to go!  To be fair, I think the first loop had the best of it though, from a challenge and scenery point of view.  This is not to say I didn't have fun.  I did.  Masses of.  I spent a couple of hours bombing around the countryside, on mostly quiet roads, in the sun, overtaking as many people as possible, generally having a blast, and seeing how far I could get my average speed up from the 14.6mph I'd started with…  I was definitely in the Zone 🙂  I know, not sociable, probably a tad juvenile, but SO much fun.  Flies in the teeth fun.  And I may even have been singing along with my music at one or two points, which is generally a good sign, though probably less good if you end up as accidental audience!  Still when I passed the route split for the Epic route around 20 minutes before its 12:30pm cut off, I wasn't tempted.  I might have decided to push it, but I'm also occasionally sensible enough to know not to push it too far!
The second food stop was much like the first.  Well-stocked with sweet stuff, at a village hall, conveniently under a shady tree and, I think, being used by both riders on the Standard and Epic routes, with riders suffering from different degrees of tiredness as a result.  I tried a PowerBar gel, as they didn't have the smoothies this time, and I know these things are a question of taste…so let's just say I'll stick to my own pocket-heated smoothie next time 😉  I stopped for a bit, clearly, and then headed off again.  After some more hurtling around, with a somewhat more boring stretch at the end, and some annoying temporary traffic lights that stopped play, I was back at the Showground, doing another weird car park loop to retrace my steps and head under the Finish Line.  Malvern Mad Hatter done.
T'other side of the Finish line I was given my medal, and a slightly bizarre collection of goodies – a cycling mag, bar, and men's toiletries – and was reunited with Matt, t'other side of the hoardings, complete with camera.  Having been in for a couple of hours he was all recovered and fresh as a daisy – you'd never guess he'd just done 43 miles,and was a recently deflowered sportive virgin 😉  Oh, sorry, make that 47 miles; that earlier detour added a couple of miles, and it's apparently important that I don't discount that 😉  On my way round, I also bumped into Herbie who'd used the event in a similar to us – his Mrs had done the shorter route and he'd done the long one.  Told you it was a good route set up for that – it's not just me after all!
So, how much fun was that??  I love it when this girl can 🙂  Although I think I probably overdid it a bit in the heat, as I tend to.  Even after restorative fizzy orange and some chilling out on the lawns, I slept most of the way back in the van, and I was a bit wobbly and off balance for quite a long time.  But that's ok, least said soonest mended.  Just as well I wasn't driving though, no?
Cycling time: 4:43
Official time: 5:38
Distance: 75.9 miles
Avs: 16.0 mph
Anyway, it turns out we both really enjoyed the ride.  It was a really good balance of riding his way, my way, in company, and not.  If Tash ever gets up to doing such things – it'd be a perfect one to do with her.  Maybe one day…  Oh, and I got a Silver time too 🙂  Looking at the standards, and judging by my usual waiting around times, it'd probably have been a Gold without all the time we took out actually enjoying the ride…but that's never going to happen, because that's what it supposed to be all about, and it really was 🙂