Apologies for the delay…usual excuses…etc.  But hey, better late than never so here goes…
Most of my sportives are only a couple of hours away.  It means they're within driving distance and I can get there and back in a day.  And the Welsh Raider was no different.  But what with the nights drawing in and not feeling great these days, I figured I could use a couple of extra hours sleep the night before, and booked myself into the nearest Travelodge. Presumably that's travelodgical…*groan*.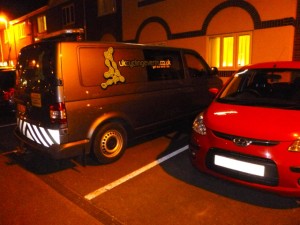 So on Friday night, off I went.  Yes, Friday.  The Welsh Raider was on a Saturday.  I always like that, it means you have Sunday to recover and relax, and you don't lose your entire weekend to one sportive.  It was getting dark as I set off, and and proper dark when I arrived, having spent a couple of hours blindly following my satnav along a whole range of pitch black country roads.  with no idea of what the scenery was like.  Mind you, at least that kind of road means I stay awake – motorways + medication tend to send me to sleep, which ain't great.  Anway, I may have had no idea where I was when I got there, but I was pretty sure I was in the right place, as I parked up next to the UK Cycling Events van!
Having checked in I took myself off to the pub next door, The Squirrel, for some food.  Scampi and chips, in case you're interested.  Having ordered, and whilst looking for somewhere to sit, I spotted a group who looked a lot like fellow cyclists to me, and as we chatted, they kindly asked me to join them.  Apparently they were from the Grench cycling club – which is something to do with concatenating two village names, and nothing to do with Dr Seuss.  I'm not good with names, but I think they were Mark, Nigel, Neil and Owen.  Hi guys!  It turned out to be a very amusing and enjoyable evening – which made a nice change from my usual pre-sportive nights.  Sometimes doing these things on your own is actually good – you get to meet new people 🙂
I got a reasonably early night, and then predictably slept like something not at all resembling a baby.  Why do hotels not have plug sockets next to the bed?  My phone is my alarm clock.  My phone needs charging overnight.  So my phone is now not next to my bed.  I must therefore now wake up at least every hour to check the time on my watch (old skool!) just in case something has happened to the phone and I have missed the alarm  I'm not sure why this would be improved by the phone being next to the bed, but I just know it would! *grrr*.
Right then.  Time to get up.  Outside the window was…well, who knows?  The sun wasn't properly up but there was enough light around to reveal that last night's meteorological fog warnings had come to fruition.  It also looked pretty chilly out there.  Marvellous.  I made some guesses as to which layers of what kit was going to work for this, and with minimal faffing was on my way down the road to HQ at Ludlow Racecourse, all of 10 minutes away.  I was there around 7:30am, when registration opened, and I was amongst the first arriving.  It was cold, darkish, and still very foggy, which also meant it was damp.  Lovely…
On my way to register I was quite impressed to see that each of the bike racks outside came with a track pump attached, which struck me as a really good idea, even if I didn't need one.  Mine was in my boot if I did.  I headed inside, and after a brief spell in my queue, was given my map, cable ties, bike number (3713) and helmet timing chip.  After nipping in to use the facilities I headed back outside to the car to faff for a bit.  It wasn't exactly inspiring weather for a sportive but I was here, and it was there to be done, so I could only put off the inevitable for so long!  It was time to head for the start…
Today's rider briefing was short and to the point which, as it was freezing standing around, was a good thing.  Around 8:00am I, and a small group of other riders, headed off for the day ahead.
Right, once again, like the Bristol Belter, I need to explain the route set up.  Think uneven figure of eight, with HQ in the off-centre middle.  The right/east loop is sort of 40 miles, the left/west loop is sort of 65.  The Short route does the 40.  The Standard route does the 65.  The Epic route does the Short route and then the Standard route – making up 105 miles.  Which pretty much means you have to make a call between Epic and Standard within about 2 miles of setting off.  I was here to do the Epic one so I duly turned right when the option arose, whilst almost everyone else didn't!  Too late now…
About 2 miles after that, whilst still freezing and not at all ready for it, came the first hill of the day.  A pretty steep one has it happens!  I may not have enjoyed it much but actually it proved fairly motivational as it didn't feel as bad as I'd thought it might, thus leading me to think that today might be going to go ok.  Mind you I've have been even happier about it if the roads across the top and back down again hadn't been so sh*tty.  And to the four riders who hurtled past me downhill one by one with absolutely no warning, while I was trying to avoid potholes, mud and gravel…?  No, I won't say it, but I did then, albeit probably under my breath.  Probably.  It didn't amuse me at all when one of them undercooked the following corner and ended up in the hedge.  Much.  And before you tut at me for my black heart, he was absolutely fine, not even his ego was dented.
There was another bigger, or make that longer, hill a few miles on, and then after that the route settled into rolling.  I'd looked at the profile before and had presumed it only looked relatively flat between hills due to scale.  But it really was like that.  It was also still foggy, freezing cold, and without views to look at or any sense of anything, it was a bit depressing.  Life picked up at one point though, when a gentleman called Ray (I think) pulled alongside me and asked if I was me, which of course I was, and it turned out he reads my blog!  How cool is that?  Hi there!  That definitely cheered me up a bit, and he also rode with me for a while which also helped, even though it would turn out to be the longest conversation I had all day.  After a while, and another small up splitting us up, he headed off with my blessing, and I carried on my own without having to keep up 😉
The first food stop came at around 27 miles in and though I wasn't feeling too bad it was nice to have a brief break.  The fog meant that I was proper damp and although it wasn't windy, the air temperature of the air going past me made for a significant wind chill factor – I was frozen right through!  Remind me to not use that base-layer again – bamboo doesn't seem to wick, and once that layer was cold and damp it just sat there keeping you that way!  It was actually warmer being stopped, but I still didn't hang around for too long.  Places to be, many miles ahead, etc.
The route split came another rolling 13 miles later.  I had been mulling my route choice over, since I wasn't having a whole heap of fun out there, but having driven there, paid for a Travelodge, etc…well, that ain't worth it just to ride 45 miles right?  With a quick "you can do this" to myself, I didn't go left, I carried on in to the foggy grey yonder on the Standard route, with another 65 miles ahead of me.  Most of which I spent not just on my own but without another rider in sight – another side effect of the route set-up.  The official times show just 96 riders doing the Epic route and judging by the times some of them recorded, some of them definitely didn't!  That means that there weren't a lot of Epic riders out there and we few were also a long way behind the Standard route riders.
The route carried on rolling through the fog, with the odd actual up and down but nothing too noteworthy.  None of it was making me any warmer or drier.  I was breaking the time and miles left down into blocks to deal with, mentally & physically.   I broke things up further with breaks for food, drink, and occasional photo ops as taking pics with the gloves on was tricky.  I was really looking forward to the halfway mark since that's always a bit of a mental attitude tipping point…and it even came with a church to photograph at precisely the opportune moment.  There wasn't a lot of scenery out there to admire, as I mentioned earlier and even the villages and towns seemed a bit unremarkable to me, so a pretty church was a sight to behold.
Time for another foodstop then, which I think was around the 56 mile mark.  The 'staff' were lovely and friendly, and there may even have been a bit of banter 🙂  And there were fig rolls!  At this point I was feeling ok.  Just ok, but ok is ok.  Ok and over halfway.  The terrain was proving to be doable even if I wasn't doing it as fast as I felt I ought to be given the lack of big hills.  What's new?  And I was bound to warm up sooner or later as the forecast had better things in store for the afternoon, right?  Time to go and get the rest of it done then.  Off I set, up through the town, up something that I guess was a small hill but really wasn't anything special.  However…  Halfway up it my left knee "went".  I can't describe that really.  I wasn't doing anything different to usual, I was just pedalling, which I'm fairly sure I've done before!  But something failed/scrunched/popped…and it started hurting.  Now I've had a niggling knee problem since my L2P in 2009 but that's sort of background.  This wasn't that.  Well ok, it kind of was, in that it was in the same sort of place, but it was most definitely foreground!   And for the next 49 miles every left pedal stroke hurt a bit.  Nice, no?  No!  I have to say it did very little for my joie de vivre…
There was nothing to be done about it, I just had to keep going.  The only way I was getting back was to get myself back.  So I rolled on.  I knew it wasn't going to stay rolling…there was at least one proper big hill between me and HQ, in fact between me and the next food stop, which had me a little worried.  In the meantime it brightened up a bit, and the fog cleared, but I still didn't get as far as needing to remove layers, I just carried on and counted down the miles to that hill…  At a couple of points I even saw a couple of other riders!  There was also some scenic stuff to admire too; I vaguely recall a nice bit along a tree covered river, which reminded me of similar in the Pyrenees last year.  However I figured I must be in Wales when I saw my favourite road markings 🙂  And there was even a level-crossing.  Train tracks have been known to be the bane of my life but I made it over these at the recommended 90 degree angle and stayed on the bike…
I was getting increasingly tired and less with it.  Being cold, the knee hurting, the relentless rolling, I think it was all just getting to me.  And my performance up that very big long hill was abysmal!  I mean I made it up, hairpins and all, but there really wasn't anything in the tank.  There was a sign by the road calling it "Ceri" at some point but I've no idea if that's the name of the hill or the nature reserve on it, or what.  I just know that it went on and on forever…most unusual for English hills.  Which is probably because it was Welsh 😉
Still, just briefly there, on the way up, there was sunshine, and views, and hey, after this hill it was going to be essentially downhill all the way back.  It wasn't that bad, right?  These are the things you keep telling yourself to keep you going…  A little sign at the top told me I should cheer up, because I could be mowing the lawn.  Actually mowing the lawn sounded like a perfectly acceptable alternative to me… 😉  But it did mean the hill was finally behind me, and it was time for the third and final food stop.
There were other riders here, the same faces as I'd seen before at food stops and occasionally on the road.  There weren't many of us though!  We chatted briefly, and I wasn't the only one not feeling it, or not feeling my feet for that matter.  But chatting wasn't going to get me home.  I set off on my own again and the last 20 miles were, yes, you guessed it, rolling, although with a downwards trend overall.  And those miles were also pretty much purgatory.  It clouded over again and got colder.  I got tireder, my lower back started hurting, the knee got worse, and even with gels and eating and drinking I was definitely running on empty.  I can't tell you much more about that last section other than it seemed to take a very long time!  I'd assumed that defeated, head sunk between shoulder blades drooping, position and the world had shrunk down to just me, the road ahead of me, and my need to get back.  Then 105 miles turned out to be 106.4 which isn't a big deal really, but did mean I spent the last mile or so wondering if I was lost on top of feeling out of it!  Luckily, as with all UK Cycling Events, the plentiful signage kept reassuring me I wasn't.  I kept following the arrows, kept pedalling, and finally I was back at the race course and limping under the Finish arch.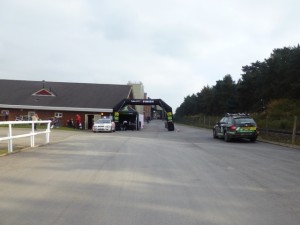 Cycling time: 7:13
Distance: 106.4 miles
Avg: 14.7 mph
ODO: 11326.3 miles
There weren't many people left around, unsurprisingly.  The timing team handed me my medal and various goodies – a Power Bar recovery drink, a magazine, Craisins, & pistachios – and I parked up on one of the racks I'd seen so many hours before.  There was no sign of the tea/coffee on offer, and the masseur was busy, so I gave up looking, retrieved my bike and headed for the car.  It took me a while to figure out how to get into the car however…my brain had so gone elsewhere.  I'd gone so far beyond, that I couldn't think straight.  Everything hurt, nothing wanted to move anymore, and I was wiped out!  Looking back later, I realised that it was my longest ride this year, and my first century since May, so maybe it's no surprise that it was hard work?  After a while sitting in the boot of my car, I got it back together enough to get changed, load up, and nip into HQ for a quick freshen up before heading off.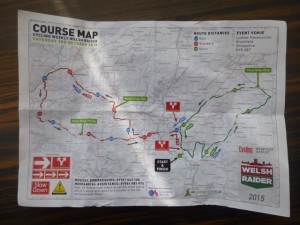 Not that I got far!  A couple of miles down the road I realised that there was no way I was going to get home in one piece in that state, so I pulled into the next available lay-by, locked the doors drank a can of Red Bull, closed my eyes, and was out like a light.  It's a good thing I set an alarm, otherwise I might have still been there the next morning!  As it was, 45 minutes later, I was up, feeling much better, and had a lovely drive home down through the Wye Valley and over the new Severn Crossing which, as you should know by now, I love 🙂
So.  I guess it's a nice enough event.  I'm sure on a good day it's much nicer.  It's well run – let's face it UK Cycling Events know what they're doing by now.  But 2 average hills, 1 big one, and a lot of rolling means that the only real challenge to it is the distance.  The way the route is set up reduces your options on the day and leaves long route riders lonesome.  There are also prettier parts of the country, in my opinion anyway.  So of all the events they run, for whomever, I'm not sure why you'd do this one, and I don't think I'd do it again.  Having said that I am still perversely pleased that I did what I set out to do.  Goal achieved.  My knee was not and is not…  But I do feel like I earned my little reward on Sunday, not that I ever need an excuse to drink fizz 😀