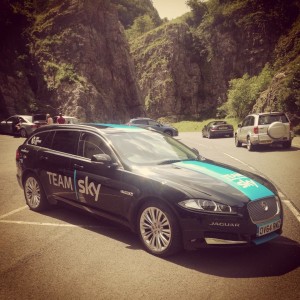 After a quick evening spin on Thursday, and a rest day on Friday, my cycling weekend had arrived.  I did the Jaguar Ride Like A Pro last year, and I have to admit I hadn't seriously been considering doing it again, but when they got in touch and asked if I'd like to do it again?  Well, I'm a sucker for an invitation.  To be honest, I did mentally debate it for a while, what with the Great Weston Ride the following day, but this year's Ride Like A Pro was only due to be 48 miles, and I've ridden two days in a row before, and did I mention they invited me?  Yeah, done deal 🙂  I signed on the dotted line, aka the on-line registration form, and the die was cast.
Of course the fact that I didn't have to be in Bristol until 10:00am was definitely in its favour.  So all I had to do this Saturday was get up at a reasonable hour, sling on summer kit because the weather was nice, throw (well, not literally) the bike in the back of the car and head North.  Result 🙂
Which brought me to Hartwell Bristol Jaguar, somewhat nervous, but under sunny skies, all according to plan on Saturday.  Why nervous?  Well although I did enjoy it last year, keeping up with the race snakes was hard work and, not helped by a gear cable failure, I ended up limping home with just James for company.  Would it be the same again?  As I parked up and started to sort stuff, the sheer amount of high quality gear being unloaded and paraded around didn't make me feel any more confident.  However I had been told they were hoping to have three ability groups – fast, medium, slow – and rather than be daft enough to opt for the fast group this year, I had every intention of being slow and not pushing it, especially with Sunday in mind.  I was doing my best to keep the nerves at bay.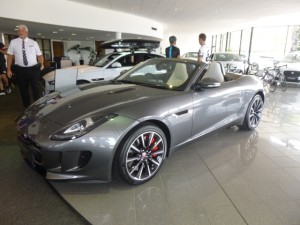 I went inside the showroom – I mentioned it was a Jaguar ride right? – and admired the cars in passing on my way to use the facilities.  I then chatted to Jack who'd invited me, and familiar face Ride Leader Pete who led us/me last year, while signing the relevant paperwork.  Time to get properly ready then and hope it would all go according to plan.  Whilst faffing I got chatting to another rider about the route and the day and where we'd come from and the like.  A little while later, whilst waiting for the rider briefing, he popped up again and said…if I was from Axbridge, and cycling…was I in fact the Cycling Mayor?  Well…yes…as it happens…I was.  Am.  Whatever 😉  Aw shucks, someone who reads this.  How cool is that? 🙂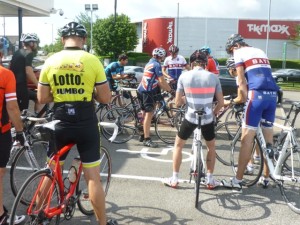 Time for the 'tick every health & safety box' rider briefing then.  Which Jack did very well, to be fair.  My heart sank somewhat when it became apparent that the plan was for us all to be one group for the whole ride.  Oh dear… Resolved though I was to do my best I had visions of me just fading slowly into the background…and I found myself thanking my lucky stars that I'd downloaded the GPS route, even if my Garmin isn't all that good at those.  At least I would be able to get around on my own without getting lost!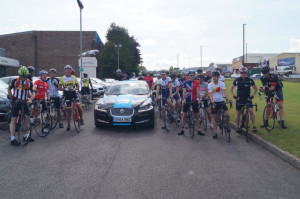 So, after some obligatory photos with the Team Sky Jag, it was time to head off.  It took us quite a while to get out of Bristol, what with traffic lights, traffic, and the like.  And being one big group, which tended to get a little bit strung out as a result, I think it's fair to say we didn't make some of the rather impatient motorists like us any more than they had done before!  On the upside this meant we were all pootling along at a more than tolerable speed.  I wasn't deluded enough to think that this would last but it was nice to have some time and space to warm up in.
Which took care of the first five miles or so I think.  And took us out by the Long Ashton Park & Ride and out towards Nailsea which, on Sunday, would cause a certain amount of déja vù.  Now that we were out of the big bad city, the group speed started to go up, as expected.  I decided the best thing to do was to try and stay near the front so I had a way to drop back if necessary.  However the roads through Wraxall and beyond were more rolling than anything else and dropping on the ups didn't seem to be a problem.  I even had chatting company for a while which was nice.  It was definitely going better than the same time last year when I definitely remember struggling more.  Actually I think this year's group were overall a little slower…even if they'd hate to hear me say it…but you won't hear me complaining!
It was nice out there though.  Pretty.  Sunshine, colourful lycra, Somerset countryside, what's not to love?  Mind you, I knew it wasn't going to stay flat and easy all the way around.  As we passed through the land of my father, through a surprisingly quiet Yatton, and on to Congresbury I knew that the first up of the day was ahead, and there was no way I'd be maintaining my place in the pack for that!
Right then, time for the up from Churchill to Shipham.  And actually I got overtaken by far fewer riders than I was expecting.  Which just goes to show that overall we were slower than last year 😉  It's not the worst climb in the world, pretty gradual, with a steep kick out of Shipham, and then a lovely down which means you can then get quite a long way up the next kick to get to the top before the descent…
Which is where we met the Wiggle Mendips Sportive riders, who were coming down from Charterhouse to merge with us at the bottom by the Lillypool Cafe before going up to go down Shipham Hill.  Of course having far more momentum on my side than them, I shot past them many of them who, not realising I wasn't on their ride, were a tad bemused about me cruising up the hill past them like that.  Very funny 🙂  After inevitably slowing down a bit for the last bit of the final up my favourite descent awaited me, complete with rabbits to chase and overtake.  And I had a blast going down – much much fun.  Especially as this year my gear cable didn't snap on the way down! *grin*  Since we were heading for our café stop at Edelweiss at the bottom of Cheddar Gorge I didn't even have to slow down at the junction where I normally turn right, and knowing those roads well, I had lots more fun hurtling past lots of less cognisant riders to get to where everyone was gathering.  As I neared the bottom of the Gorge, a Wiggle rider pulled up next to me to give me kudos on my descent.  Apparently he'd been pedal to the metal trying to catch me all the way down and hadn't manage to narrow the distance between us at all.  Tee hee hee :D.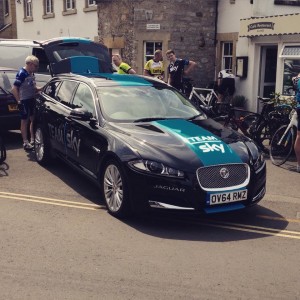 Time for coffee.  Well it would have been, and was for many, but actually I fancied fizzy orange.  And I definitely couldn't face the cakes, bacon rolls, etc that others were eating.  Not before Cheddar Gorge!  The café staff were a tad overwhelmed by us all, so service got a bit chaotic.  And £2 for a small bottle of fizzy Fanta seemed a tad much but hey, it went down at the same speed I'd just gone down 😉  There were also drinks and bars and things in the back of the support car too, as well as the opportunity to have your photo taken with it – all of which I let pass me by.  I was just wondering when would be a good time to head off before everyone else so that they could catch me up later!  After some time spent chatting to others in the sunshine I decided the time had come.  It turned out that several others had already headed off, so I told the Ride Leaders I'd be doing the same, and one of the others joined me too.
Hello Cheddar Gorge.  Again 😉  I'd like to thank the Wiggle Mendips Sportive for all their riders who were doing the same as it meant that, unusually, I actually overtook lots of people on the way up!  Go me!  Somewhat amusingly somewhere in the wiggly bits, on the side of the road, was Phil of SportivePhoto fame…  I said hi, pointed out that I wasn't one of his so he didn't need to immortalise me, but he did anyway – and having seen the result on Twitter later, I think I need to buy that off him!  He did make me laugh though 🙂  And I even overtook some of "our" riders as we neared the top – the shallow the gradient the faster I go, and it's not like I don't know the climb, right?  Shame Strava doesn't think I went up there at all…
Near the top I caught up with the rider I'd left the bottom with, and also picked up one I'd overtaken, and so as three Pro musketeers we headed off over the Mendips without waiting for the rest of the group to catch us.  I had my reservations about this, mainly because I didn't want to get lost, but we figured that between us and our various gadgets, we could probably find our way back.  Which we did, with the odd little wiggle where we weren't quite sure about things.  I was a bit cautious about the West Harptree descent, not wanting another puncture.  Chew Valley Lake was as pretty as ever, and the country lanes afterwards just sort of rolled by.  Having done the ride before definitely helped, as sometimes I could remember the way, and also because it was all vaguely familiar, so it didn't feel as long or as hard as last year, even including the couple of ups after Chew Magna.  Luckily the guys waited for me to catch up after each one!  The fast group caught us up on an up towards the end, but nowhere as soon as I'd expected, and then left us in their dust to head back into Bristol, followed by one of us.  My remaining companion Andy, as he turned out to be, stuck with me however, which I was most grateful for; it is nice to ride in chatty company.  He even waited when we got separated by traffic lights on the way back into Bristol on the basis that we'd done the last 20 miles together, we should do the last 200 yards that way too!  And then there we were, back admiring posh cars, and picking up our goody bags.  I'm pretty sure we were far from the last in too 🙂
I think there around 40 or so other riders on the ride, but I'm pleased to announce that I was the fastest woman today.  I was also the slowest woman.  Yes, I was the token woman! 😉  Not that I really noticed.  I was Riding Like a Pro which, as I've said before, in my situation would make me Lance Armstrong, so I was just another bloke out there 😉  I really enjoyed the ride, even more so than last year.  To be fair, the Ride Like A Pro supported ride bit only really worked for the first half of the ride, but at least after that, however splintered we all were, there was still a support car somewhere behind us.  However the route is nice, the weather was good, there was a really friendly atmosphere all round, and I definitely feel like I held my own.  A good ride for sure.  Maybe they'll invite me back next year? 🙂
Cycling time: 3:03
Distance: 48.5 miles
Avg: 15.9 mph
ODO: 10363.5 miles