Right then, where was I?  Well, certainly not riding the bike as much as I'd like to be.  It finally got cold for a bit there, so the risk of ice was rather a deterrent. And there's been other rubbish weather, and other factors.  Not the least of which being that I'd ended up with my head stuck in that place where you're convinced you're just crap at the whole riding thing.  Again.
So I was somewhat apprehensive about dragging my arse all the way over to Newport to do this year's Tour of Pembrokeshire Prologue on Friday 22nd January.  That's the Newport in Pembrokeshire 3.5 hours away, not the one just over the water by the way.  Not only is it a bl**dy long drive, it's also seriously hilly over there, my form had been rubbish, the weather had been horrible and the forecast was dubious…  Let's face it, it did not look like being a whole heap of fun!
I went anyway.  It's what I do.  I got up at stupid o-clock, in the pitch black and went west.  A longer than planned drive there, through Storm Whatever, in torrential rain and scary winds, did not perk me up any.  Apparently my little car can swim!  Negotiating my first proper flood ever, I over-did the speed, under-estimated the bow wave, and very briefly had water over the bonnet…oops!  I made it through, but after all of that, I was seriously wondering if I would be riding the bike at all.  Maybe I could just turn up, partake of the sociable elements of the event, and come home again…?
However as I got much closer to my final destination the weather started to clear, finally ending up behind me, and Pembrokeshire started to look much more attractive.  Day had arrived, the skies had cleared, and by the time I arrived at "restaurant with rooms" Llys Meddyg, which was both HQ for the event and my home for the night, it was bright, dry, and rather surprisingly considering the freezing temperatures early in the week – it was warm!  Well, by comparison anyway.  How does 14°C sound?  Sounds good, right? 🙂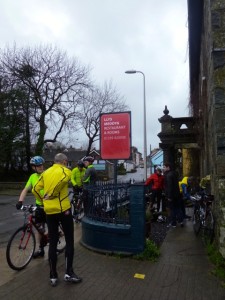 Although I was staying at the hotel, its car park was chokka, there was, as you might say, no room at the inn.  I blocked a whole heap of people in, unloaded the car into the lobby, and then parked up across the road and got the bike sorted.  My recently fitted mudguards had survived the journey, and I managed to get the front wheel back on and all chafe free fairly easily.  Leaving the bike outside the hotel I was allowed to get into my room earlier than usual check in and so could faff a bit.  Having travelled down in kit there wasn't too much to do, but considering how warm it was, I decided the base layer had to come off as I was baking already!  Back downstairs riders were gathering, milling around, drinking coffee and generally getting in each other's way going to and fro.  I signed the relevant sheet of paper and picked up my emergency map, but passed on the coffee.  Well, there wasn't going to be a coffee stop en route and I didn't want to need one, if you see what I mean! 😉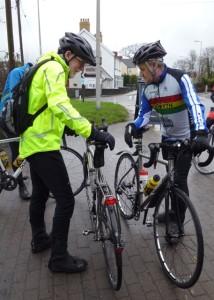 The time came for us all to gather outside rather than in.  There were around 40 of us, about to be split into three groups on two routes.  The longer route – c. 54 miles – would have a faster group and a slower group.  The shorter route – c. 24 miles – would be just one group.  Shorter, slower, sociable.  As you'll have gathered by now, my PMA was pretty much AWOL, so it was definitely going to be the latter group for me!  Even with the sun shining, and the unseasonable warmth I decided I'd be better off taking it easy and enjoying it, than risking the longer route.  I know 24 miles is nothing, and sounds pathetic.  I know 54 miles really isn't that far either.  However, as I mentioned earlier, Pembrokeshire is NOT flat.  Which is by way of being a serious understatement.  I've done the Tour proper a few times, and the Prologue a couple, and I know that 54 miles around here is easily equivalent to 100 miles somewhere flat!  So…discretion, valour, limits, etc…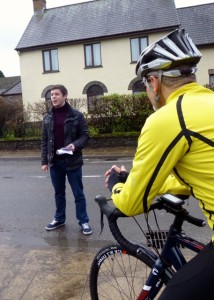 Time for a briefing from Joshua Fiddy, one of the Tour of Pembrokeshire organisers, who welcomed everyone and gave us an introduction to the ride.  Each group would have two of the team with them which, in our case, would include Peter, previously chief organiser of the Tour of Pembrokeshire.  There would be, and was, a support vehicle out en route with us in case of punctures, mechanicals or other problems, staffed by staff from Pembrokeshire bikes in Narbeth.  All very supportive, all very sportive 😉
We were set off in shifts. Short slow, slow long, fast long; so as to keep the groups all a bit closer together overall than would happen otherwise.  Off we went into the as gorgeous as ever Pembrokeshire countryside.    It was just so lovely to be cycling somewhere different, and to be feeling warm!  Dry overhead, if not under wheel.  After the first climb I realised I was also feeling relatively on form, and not only was I not getting left behind I was actually near the front of our group and feeling pretty good. 'Rah!
Being familiar with the general route, I knew roughly what I was in for for a while at least, and settled into it.  In no particular order…  The hairpins and the ensuing slog upwards at Moylegrove went up and on for just as long as ever, although it didn't feel like quite as much hard work as sometimes.  The wiggly descent down to the sea, with stunning views, made my spirits lift and my face smile, as usual.  A descent that quite a few people missed as the left turn for that particular diversion came amidst another descent and what with the groups getting spread out and somewhat muddled up, well..if you didn't know the turning was there…you just went flying past.  I'm glad I didn't 🙂  The descent to Poppit Sands was much fun, and I still think it's an adorable name for a place, don't you poppet?  All in all, even with all the ups, I was having a good time 🙂
It has to be said that, as you may have gathered, the groups did not stay together.  What with missed turns, varying abilities, and the odd bit of getting lost even when with a leader, things went a bit to pot.  One such error led to us going up a most impressive, and new to me, hill out of St Dogmaels, which was steep and long and, very very oddly, which I loved!  I didn't want to turn around and go back and see if we'd gone the wrong way.  I just wanted to keep going on up it and see if it was doable.  Hello crawler gear 🙂  And it was totally doable, and I totally did it, and once t'were done, there turned out to be just three of us left when we gathered at the top!  The support vehicle stopped to chat briefly, and assured us we were on track…which would only turn out to prove that they were a little lost too!  Still, the other lady in our three knew the area, I soon recognised some familiar tarmac, and with her help and some guess work we were back on track in no time.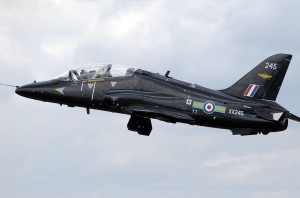 And thus it remained for the remainder of the ride.  Three of us, with a vague idea of where we were, a map that turned out to be barely legible and therefore not a lot of use, and a lady who knew better, and who, come hell or high water or, in one case another massive flood that we had to ride through, would get us back to base.  Which she did.  And even somewhat lost, and slogging back into a head wind, it was still lovely.  Warm, sunny, chatty…  There were two fighter trainer planes, Hawks I think, hurtling around the sky Top Gun style, making a tremendous noise and (I reckon) having even more fun than I was.  Yet another reason for me to *grin*.
Some more ups, some more downs, and then we were back on the swoopy main road to Newport, and I let rip for a little while, having been taking it easy all morning, just for the fun of it…I do like to hurtle sometimes 🙂  It was a ride that did wonders to revive my PMA and unexpectedly was just what I needed.  It was so nice to be enjoyably reminded that I can ride a bike, I can go up hills, and that riding a bike is fun 🙂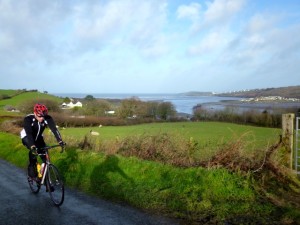 We three, we happy three, were the first back to Llys Meddg, unsurprisingly.  With our lunch not due until mid afternoon, at 3pm, this left me with plenty of time to stash the bike away, have a lovely long shower, and chill out in lazy be-robed fashion in my room for a while.  Bliss 🙂  By the time 3pm rolled around, a lot more of us were back, but by no means all, and there was a steady drip feed of returning riders as the afternoon progressed.  Lunch turned out to be, in Peter's judgement at least, the "best shepherd's pie he's ever eaten". I don't know if I'd go that far, but then I'm no shepherd's pie connoisseur.  It was pretty good though, and the sticky toffee pudding with cream afterwards was more than pretty good, it was fantastic!  Presumably that's why it's an award-winning restaurant?  I'm not sure I'd entirely earned such gratuitous calorific intake, but hey, it would have been rude not to…
There was a lot of the usual cycling banter over food, and drinks afterwards, and gradually riders peeled away one by one to head for homes.  I on the other hand was staying over, so Peter and I took a trip to see the new venue for the 2016 Tour of Pembrokeshire, at Crug Glas, a little way out of St David's.  As we left, the last of the riders was just rolling in…  Anyway, back to the new venue.  Not only is this a (having stayed there before) very superior boutique country house hotel in scenic grounds, but it now has a new purpose built/converted barn affair, for weddings, events, and as it turns out, sportives.  It's very nice, and very swish.  The new venue means that everything can now be all in one place – free parking, registration, start/finish, food afterwards…the works, which has to be an improvement.  There's even a bar…
And that's not the only change to the event.  The three routes – 50, 75 & 100 miles – have been tweaked for 2016, to make them flow better apparently which, having done the Tour several times before, I'm quite excited about, because when I'm back there in April, I'll get to try them out and discover some new roads.  Not that this will make 100 miles, and over 10,000 feet of climbing, any the easier mind.  But after the Prologue, I can honestly say I'm looking forward to it, even though it's gonna hurt!  I have been quoted in various places as saying that the Tour of Pembrokeshire is a "must-do event" and I really do think it is.  Brilliantly well organised, stunning scenery, and a range of challenging routes.  What more do you want?  See you on April 23rd.  Go on, sign up, you know you want to 🙂
Cycling time: 2:00
Distance: 23.2 miles
Avs: 11.6 miles
ODO: 17830 miles