Well, large parts of my life may be heading to h*ll in a hand basket, but the rest of it would appear to pretty much revolve around cycling still.  Well, it is a many splendoured thing, working as it does on many levels.  T'is both meditation and medication.  And that's just the actual act itself.  Throw friends and work into the mix and it's the whole enchilada.  Or something.
So I have been riding, but I haven't always been writing.  I have seen cycling friends but I haven't always been riding.  Sometimes when I couldn't be riding, I've even been walking.  But you can see the trend there, riding is still the glue sticking my life, and me, together.
Last week I went to the annual Cyclosport party.  Since it now takes place during the week, and my hands and purse strings are now somewhat tied when it comes to getting away, I could only run to one night away and couldn't get up there in time to do the ride part of the event.  Still I've done it twice, and lovely though it is, there's no way it's worth getting out of bed at hideous o'clock to drive up the motorway for hours just to ride up Box Hill again.  Maybe next year…?  Mind you, since life can get a tad all work and no play, doing the reverse occasionally surely can't be bad.  Sunshine, nice lunch, drinks, good company?  Sounds pretty fantastic to me…and that's because it was.  Definitely a good day at the office ;).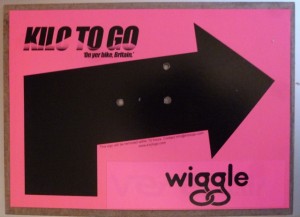 And just in case the gentleman from KiloToGo is reading this – I said I'd take down your errant sign, so I did.  See, here's the proof!  Regular readers will know how important it is to have a sign in here at least once a week, so it's a win/win thing for us both :).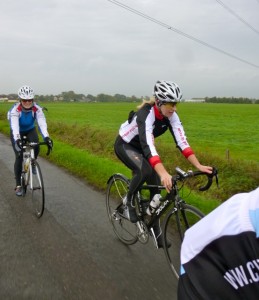 I did go actual riding with the girls yesterday. Round the rhynes and fairly flat.  Anger is an energy, and I wasn't in the best of moods, neither was I feeling that chatty.   Sometimes being in a less than great mood means you can ride better, and if you ride well you then feel better.  Therapeutic and cathartic.  I told you cycling was good for me, right?  Fast and flat I can do, remember, so I just kicked off, and kicked ar*e for a while as and when, and then let them catch up when I'd had enough of being an anti-social cow.  Mim reckons I must have had three Weetabix that morning ;).  However if I hadn't had the company to go out with I'd probably have bailed, it being easier to stay at home in my comfort zone, with my warm dry Wattbike, than risk a soaking.   So company was good, even if I wasn't good company!  And top it all, I beat the rain home by 30 seconds.  Result :D.
Cycling time: 1:38 hrs.
Distance: 26.8 miles.
Avs: 16.2 mph.
ODO: 16606.8 miles.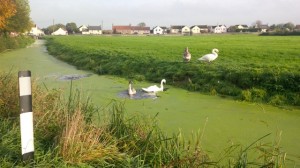 Tomorrow is the Exmoor Beast...wish me luck? *gulp*
And if you don't want to get soaking wet, don't go anywhere near that end of the world tomorrow, my ability to bring rain to Exmoor is verging on legendary!