Having spent 2 1/4 hours by the side of the road today, waiting for rider recovery, with nothing better to do than twitter and facebook, most of you will already be aware that today did NOT go according to plan.  Many thanks to those of you who interacted with me and made the time pass a little faster…
I've been looking forward to the Magnificat since I asked to be signed up for it, and even more so having done the Preview Ride.  It was one of the bigger events on my calendar – and figured as part of my training to help me build up to the Maratona.  I was nervous too, as 127 miles is a long way, and I didn't know how hilly hilly was, and so a challenge awaited me.  The nearer the event got however, the worse the weather forecast got.  I'd already heard horror stories about the wet weather and related punctures at last year's event, and various cyclists were bailing left right and centre before even getting to the start line – including many of the Sky Velo ride leaders who were due to be there – clearly fair weather riders the lot of 'em ;).
Still, a little drop of rain wasn't going to put me off.  Skin is waterproof after all.  And I had a job to do.  Generally speaking I don't bail on things.  So it was just a question of kit, and preparation and faffing.  And Rule #5.  I was up before my 5:00am alarm, as ever, having dreamt about riding half the event already.  Weird, but not unusual.   There having been a deluge last night everything was wet, even my very shiny car – shiny because MiniMe decided to wash it yesterday. Apparently that was a freebie, I only have to pay him to wash my bike! *grin*.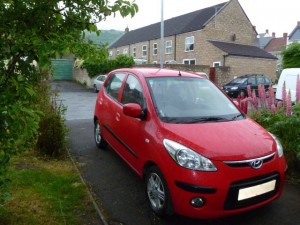 The inevitable trip down the by now very familiar M4 was wet, but only in a drizzle light rain kind of sense, which was positive.  Ish.  However the closer I got the more the drizzle became rain…and it was definitely raining as I parked the car in the coach car park next to Newbury Racecourse.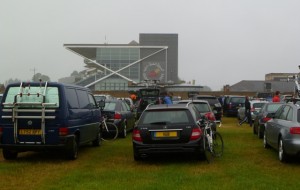 Time to go and sign in, and I really wish someone had told me it was a good 5 minutes walk from the car park to registration at the racecourse itself…  There were lists on which to find your rider number, if you hadn't checked it out online beforehand, and then armed with that, you signed by your name at the desk for the distance you were doing, before being given your rider pack.  All very simple, but with not a lot of room, so I bet there were queues from time to time.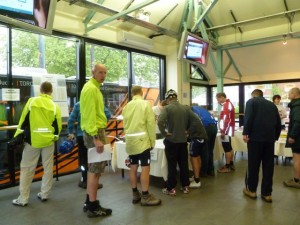 My number was 1432.  Last week was 321.   They feel related somehow…  The timer tag was a part of the rider number, to be attached with decent length cable ties, which was all in all very satisfactory.  It came with various blurb bits, and a route map/instructions just in case.  I had downloaded the latest gpx file for the same reason.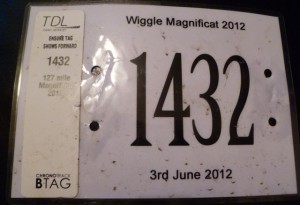 Time to walk all the way back to the car, sort the bike, faff, decide on kit, and then ride back to HQ.  For future reference – get yourself and your bike sorted, then ride to the start.  One trip – done. Especially if it's raining!  I was damp before I even got to the start.  At least it being a proper venue there were nice toilets etc.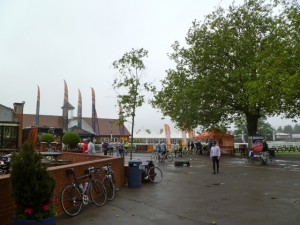 Time to get going – and riders were let away in batches every two minutes by the event organiser Ken Robson.  He's the man in yellow on the left with a white hat on – getting just as wet as the rest of us!  It may have been wet, but it was pretty mild and there wasn't much wind, if you'd like your glass half full.  I chatted to Andy, who I met at the preview ride, and who was at the start helping out, until it was our turn to line up.  Always nice to see a familiar face :).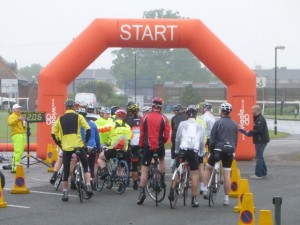 Our batch was away at 8:05am, off into the rain.  There's a hill pretty much straight away, and the first big hill combo comes around 10 miles in.  I had been worrying about that too, but it turns out that the hills around here are my kind of hills – long slow climbs, with only the odd section of steep enough to be annoying gradient.  No photos for this section though – as taking photos in the rain is no fun, and not good for my already semi-knackered camera.  Sportivephoto.com were out in force though so should I wish for a souvenir of damp suffering I'm sure I'll be able to lay my hands on one.  I'd like to have admired the views on the way up, but they were hidden in the clouds so I can only presume they were there.
For this first hour the back roads were fairly horrible.  Dodgy road surfaces, covered with debris washed down by the overnight rain.  People started getting punctures from the get go.  That which is washed over the roads here is clearly pointy.  Flinty I gather.  The sheer number of punctures would appear to have been astronomical – and I saw at least one rider every mile or two changing an inner tube…  More of which later.
After an hour or so there were hints of lifting from the grey blanket.  Things became noticeably less dismal.  I even saw rays of sunshine hitting a now visible hill in the distance.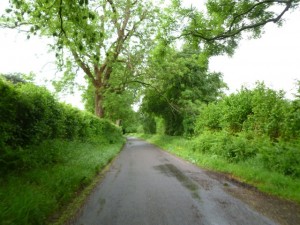 After an hour and half or so it was properly clearing and the roads were drying.  This came as a massive relief to me since I don't (really) mind getting wet, or cold, but I do mind not being able to enjoy those bits of riding that I can kind of do – specifically downhills.  You can't enjoy a downhill properly if you're worrying about the potholes/debris/gravel at every turn and corner.  Dry roads are way better!
The surrounding countryside, when not looking green and lush, was looking very Jubilee.  Cutesy villages, bedecked with red, white, and blue bunting, union jacks, fancy dress scarecrows.  Very festive.  At one point I actually had a discussion with another (non UK native) rider about how he reckons the UK can't be beaten for pomp, circumstance, and pageantry.  We even discussed whether or not the reformation had added to the UK's cultural heritage.  Man – get us!  ;).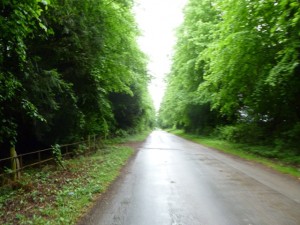 After many tree lined avenues, and foresty sheltered bits, the scenery started to open up a bit, and after the first few climbs life turned into more of a roller coaster.  You were either going up, or going down…and never going down fast enough or far enough to get you up the next up though!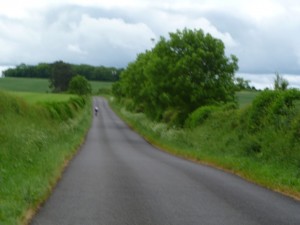 As well as scenery there was wildlife.  A great many pea brained pheasants of both genders.  The odd rabbit.  A very cute stoat/weasel that ran across the road ahead of me and then stood up, meercat fashion, and watched me approach until it lost its nerve and vanished into the hedge.  An amazing lack of squashed badger though, come to think of it.  Which is nice.  Or at least less aromatic.  And hats off to the bravery of the one small green caterpillar that hitched a lift on my sleeve for a while.
There were regular liquid refreshment stops en route, as well as the two foodstops.  This was just after the first liquid stop…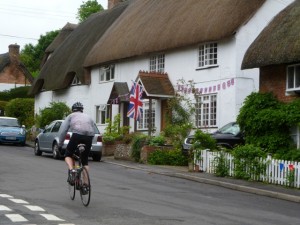 Kinda sums it up really.  Cute country cottages, lots of thatch, patriotic flags, and a rider in a waterproof…;).
It must be time for a sign, right?  Plus I get to show you what the event signs look like – bonus!  The signage was really good actually – just a couple that weren't quite as clear as they could have been, but they were large, clear, and plentiful enough for you not to feel lost.
Clearly we were going left, but I love the way you don't have to specify which of the Wallops you're heading for – they're all thataway!    Ride conditions were definitely much more pleasant by now, and some of the views were quite expansive.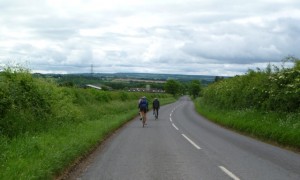 The first food stop was at 40 miles in, and all riders were made to cycle over a timing mat for control purposes.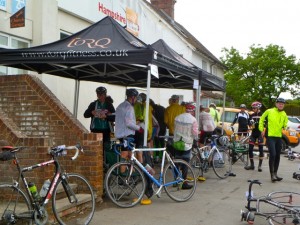 Being at a village hall there were toilets inside, which is always good, and outside the catering was plentiful.  There wasn't a lot of space to park your bike though, and lying them on the floor isn't ideal.  I was seriously tempted by one of their very lovely looking fruity flapjacks, but being in careful mode, I'd actually made my own and had them with me – here they are all cling filmed up and ready to go the night before.  I did avail myself of the usual half a banana though.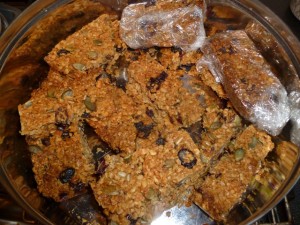 Here's a couple of riders doing the timing mat thing, and possibly not expecting to be photographed doing it…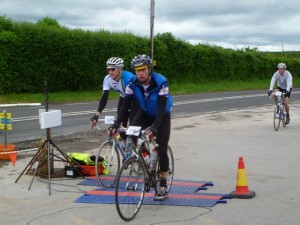 Shortly after this foodstop the 81 and 127 mile routes split, in very well marked fashion, and there I was turning right and all set for doing the full 127 mile Magnificat as planned.  Feel free to admire the nice house/hotel that was on the right there as we went too.  They build their properties small and bijou around there ;).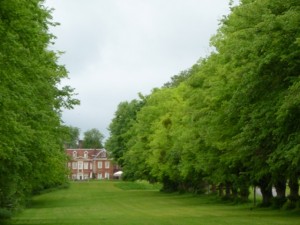 This was followed by plenty more climbing through green tree lined tunnels, and a whole heap more roller coaster…  Some riders may complain that this doesn't allow you to build up a rhythm, but since they were my kind of hills, followed by nice descents on dry roads, I was fairly happy with it.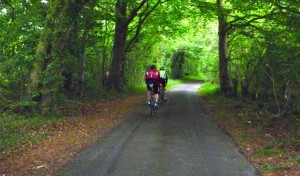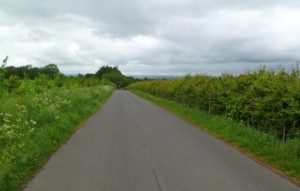 A little while later we popped out of wherever it was we were, and turned left onto a main road near some watercress beds.  Now I may not always be able to remember what I had for breakfast, but something about them rang a bell in the recesses of my memory…  I was sure that round the corner would be…but no, we turned left again, and it looked like I was never to find out if I was right or not.
As it turned out, the left turn was just to detour us off the main road, to the next stop, which was another liquid one, though it seemed to have food too – which was no doubt a good thing for some.  As with all the stops the volunteer helpers were very friendly and indeed helpful, though clearly a tad bemused as to why on earth anyone would do this to themselves…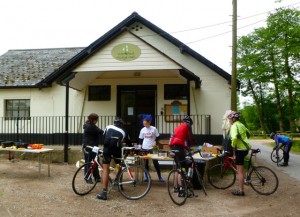 Photo op taken, and it was off to loop back round again, where we rejoined the main road, to cross it, a little further up.   I looked right,and I was right!  "Mother is always right…"  Here's one for Mum and Dad :).  They'll get it, even if you lot don't.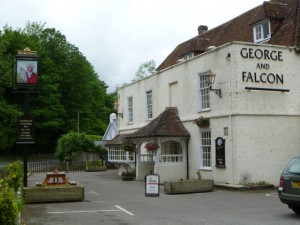 I knew I knew where I was!  Albeit only briefly ;).  Once over the main road we started climbing again.  The weather was intermittently trying to rain on us, and the trees were quite useful from a shelter point of view.  Apparently this was the 3 mile climb of Old Winchester Hill.  As with many of the climbs, it felt like a climb, not a hill, if that makes any sense.  The views from the way up show how variable the weather conditions were though.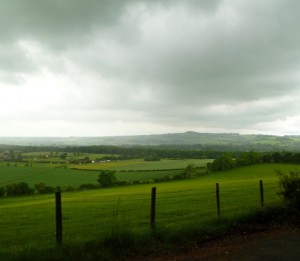 By now I was part of a loose group of 4 riders – which meant company from time to time, wheels to suck or to aim for.  After a period of variously leapfrogging each other, we had gradually coalesced into a small peloton, as often happens.  Here's one of them having taken a slight lead for a while.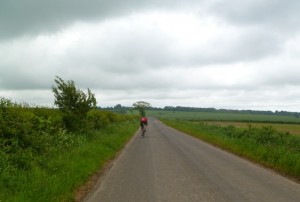 It was nice to have people to chat to a bit.  Finally we were over halfway through, with (allegedly) the worst hills behind us.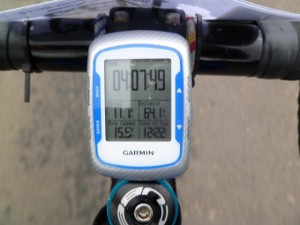 Even though I probably had another four hours or so to do,  I was feeling like it was doable.  Especially in company and not in terrible weather.  OK, so I had a long way to go, but I was in a positive frame of mind and feeling pretty good all things considered.  However on leaving one of the next, arrived at rather suddenly, junctions I was in the wrong gear and getting going again made a nasty scrunch…  Then as we turned left up the next hill – Ridge Down Hill or some such – I changed down and…  Well it could just have been my chain coming off but it sounded way worse than that…for good reason.
One snapped chain.  B*gger.  For last year's Etape I carried a spare link and tool with me.  I don't these days because, let's be honest, I don't actually have a clue how to use them!   My temporary friends did their best to help, one of them had a 9 speed link, but mine is a 10 speed (apparently they're different – who knew?).  One had a tool but no link…  It just wasn't happening.  They went on their way, and I walked my sad sorry self up the hill to a safer place by a gate to a field, and called the emergency help line, at around 12:55pm.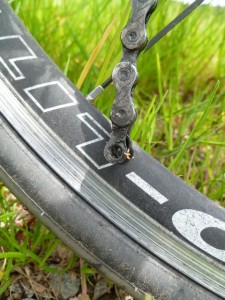 In case you were wondering – it's not supposed to look like that!  The emergency helpline was not responding so presumably busy, but I left a message as instructed, and they called back shortly.  The initial plan was to get the Banjo Cycles mechanical assistance, currently 30 miles away from me, to me.  Great – fix the chain, get going again, it could still be done.  45 minutes later, when they might realistically have been expected to be with me, I got another call.  Apparently they'd been flagged down by so many puncture afflicted cyclists that they weren't going to get to me, so the next (and only) option was to get rider recovery to me.  After 45 minutes sat by the side of the road I was already cold and clammy and the intermittent sunshine was almost worse in that it meant I got briefly warmer, and then got colder again when it went away and the wind blew.
I sat there for the next forever, all huddled up, getting colder and colder, shivering frequently, and being extremely grateful for my Blackberry.  I tweeted, Facebooked, chatted via twitter with various other clearly not very busy folk, listened to my toons, and tried to be patient.  Which, as some of you will know, is not my strong point.  However it wasn't like I had a choice.  It was either that or walk 56 miles back!  I couldn't have broken down much further away from the start if I'd tried :(.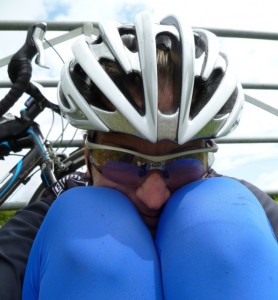 The flow of riders going past me slowed to a trickle, many of them checking to see if I needed help, which I appreciated, but sadly I was beyond help by that point.  Finally the bringing up the rear motorcycle rider pulled up next to me.  He was leapfrogging the last few, mostly puncture delayed, riders to make sure they got home ok, so he stood and chatted to me for 15 minutes or so.  Lovely chap.  Not only did he insist I ring in to make sure someone was on their way (which they were), but he gave me the spare t-shirt he was carrying with him to help warm me up a bit.  Top man!  He only left me when I was safely ensconced in (as it turns out) Andy's camper van with my bike on the back.  Wish I'd asked his name so I could say thank you properly :).
So that's 12:55 – 15:10 sat by the side of the road, watching ladybirds, swotting flies, looking for a four leaf clover (no luck unsurprisingly)…
We picked up another equally long suffering rider shortly afterwards, who turned out to be the Paul I interviewed for my Joker sportive review after my snapped cable drama – he must think I'm jinxed.  Plus – small world, no?  We picked up a third rider as well, just in passing, who decided that sod it, he was fixing his fifth puncture, his tires were shredded so the sixth was inevitably around the corner, and the novelty had well and truly worn off – even he was pretty good at getting the tyres on and off by now!  Can't say as I blame him.  The now full rider recovery van helped a couple more puncture stricken riders as we passed – my pump came in very useful again! – before taking a more direct route back to HQ.  I was finally in, thanks to Andy, with a commemorative jubilee medal for just having taken part, at about 16:50 – probably about an hour ish later than I would have been if I'd ridden!
Pushing the bike along somewhat disconsolately towards HQ, the chain tangled itself in a knot around my cassette, and the guy from British Cycling who I met at the preview, happened to be walking past.  He gave me a hand to sort it, and a rather fed up me, out , before I lost it completely – and the chain went where it deserves to be – in the trash!
I couldn't face walking back to the car, sorting the bike, walking back to the showers, getting sorted, and then walking back to the car.  Instead I used the posh toilets again, stuck my head in the bar area to see if I could get ahold of a free coffee or some such but couldn't seem to be able to.  Being on my own, and lacking a friendly face to talk to, I gave up and made the one way journey back to the still remarkably full car park.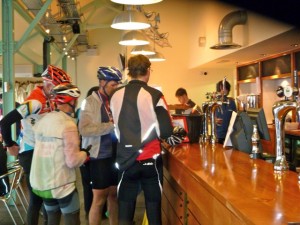 Time to make the best of what I had, pack the bike away, clean myself up a bit, put on some warmer layers, and head down an extremely wet and horrible M4.  I think it's safe to say my day did not go accordingly to plan.  The Magnificat and I now have unfinished business, so I think I may well be back next year!
My very first DNF 🙁 .  Here's what I actually did.  My official cyclosport review is up here, and you can see the photos online now too.
Cycling time: 4:34:33 hrs
Distance: 71.22 miles
Avs: 15.6 mph.
ODO: 14188 miles