This was supposed to be a weekend off.  Something to do with resting.  However it turned out that the rest of the clan were going to be off motor racing at Wiscombe, and if I was going to be home alone (camping and cars are not my thing) I might as well be riding the bike, right?  I did make one concession though, I decided to opt for the shorter of the two available routes.  Yes, I'm a proper cyclist, my idea of resting is to do the 60 miles route, not the 100 miler *grin*.  Various people were laying bets as to whether I'd stick to that plan, so it's just possible that one of the reasons I did so was to prove them wrong.  Surely not.  That would be juvenile right?  However I did have better reasons – I have a lot of big events coming up, I've done a fair few events already, I haven't eaten properly this week, I did East Harptree on Friday and didn't need to do it again, and Ebbor Gorge with lots of other riders didn't appeal.  Etc.  Still, the split point was at the top of Burrington Combe, so I had plenty of time to make up my mind, and it was still up in the air yesterday…
Right then.  Another local sportive, another practically civilised alarm call.  Once awake I ate my muesli and "granola" and pondered which layers to wear this time.  Just the usual degree of faffing then, which resulted in new shoes, socks, legwarmers, shorts, Galibier short sleeved jersey, long sleeved winter jersey, and Cyclosport gilet.  Turns out I got it spot on – my saddle bag remained resolutely closed all day, and the only things that moved clothes-wise were zips!
My chauffeur collected me a little earlier than usual, but was dramatically in need of coffee, which I most definitely had, so we left around 7:30am as planned.  HQ was at Gordano School in Portishead, half an hour's easy drive away, and I bibbled away witlessly as usual, while a very hoarse GB got on with driving and blowing happy Premier League bubbles ;).  Marshals directed us into one of the school car parks when we arrived, and we headed off in search of registration.  This was easier said than done, there being no signs of any sort, leading to the amusing sight of a small group of cyclists following each other around like sheep, presuming that the one in front knew the way, as we looped back around to precisely where we started, and some bright spark finally asked the marshall at the gate which way we were actually supposed to be going…  Having trekked around to the start area, it was a further hike to the shower/toilet block, which was completely lacking in toilet roll, but was blessed with another female rider carrying tissues.  I did tell a member of the team of my way out, but his only suggested solution to that was that I go and tell someone else at reception, which I have to admit I didn't do…and since I popped back there before we left, it was clear that no-one else got around to doing anything about it either.
The queue for registration was growing rapidly, probably because it was just one line being funnelled to the desks, which then actually had 3 different people working, depending on rider number as issued before the event.  Three queues would have worked better, and moved faster methinks.  The rider numbers had changed during the week before the start due to technical issues and not everyone had paid attention to this either, which probably wasn't helping.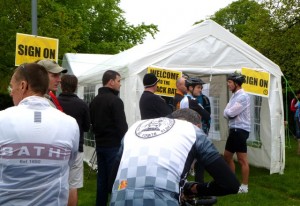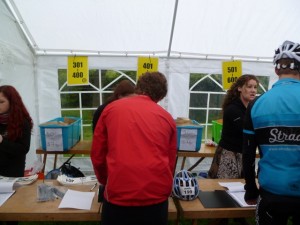 Once signed in, we were given a large brown envelope of stuff – two gels, fliers, etc and more importantly our numbers, which included timing chips, and had to be attached to the seat post, which is a new one on me, and wasn't going down that well around me – the amount of clearance there is very variable and it could easily interfere with the brakes and wheels etc.  There were also 3 helmet numbers which seemed a tad overkill, especially as they didn't do anything other than identify you.  I think my favourite systems are the ones with the chip in the rider number on the handlebars, or on one helmet sticker.  Far more user friendly.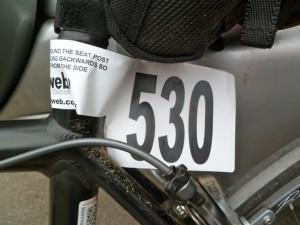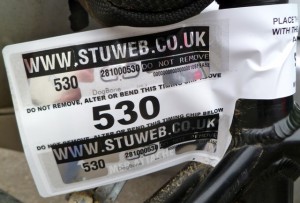 Apparently the best pre-ride food is not bars, or gels, or special drinks, it's Creme Eggs!  Maybe it's a northern thing…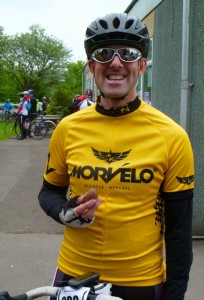 Once again you see, what with it being local 'n all, there were plenty of people doing the ride that I knew.  Gary (as you can see), GB, Steve, Nick of Somerset Hills Gran Fondo fame, and my Dad, amongst others.  Mike and his son Matt were seen arriving too, if never again.  Practically an ACG outing, even if we weren't all wearing the uniform.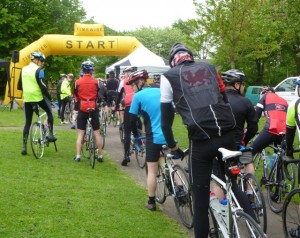 Several groups had already been sent on their way, but there was an inexplicably long wait before we were being briefed and then underway, certainly not the every 5 minutes advertised.  Still, 8:50am and off we went.  Our little group got split up as they called a break in departing riders not far behind me, leaving my Dad behind us – oops!  Having been sent off as quite a large group, down the lanes of the Gordano valley, there wasn't a lot of hurtling off, more a slightly leisurely warming up and slowly spreading out.  The first climb of the day was Failand Hill, which was more gradual than I recall it, followed by the fairly technical descent of Belmont Hill.  It's wiggly, steep, with patches of distinctly dubious road surface, and cycling scuttlebutt after the event suggests that at least one rider came off going down…
We headed across the flat section towards the next climb, past Motivation Corner – a personal favourite of mine – which clearly called for a group photo.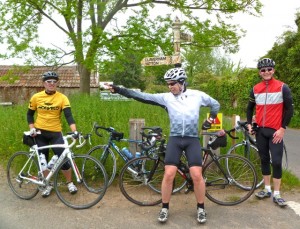 Motivation is right, we were going left, as is ably illustrated by GB.  The original route had us going up the gradual climb that is Brockley Combe, around the airport and then down again.  Apparently however the road surfaces up there, combined with the nature of that particular descent, were considered to be unsafe at the moment so the organisers changed the route earlier this week and replaced it with Goblin Combe.  Which is a bit like taking a kitten and swopping it for a hyena.  Kittens are cute and fluffy and friendly, and a hyena would come as a nasty not at all cute surprise if you were expecting a kitten.  I could have gone with tiger, or lion, but even they are considered cute by some.  I prefer to think of them as majestic and Goblin Combe, whilst a nasty hill, is not an Alpe.  Which is why you got a hyena.  I hope we've cleared that up.  Besides, come to think of it, hyenas do have kind of lumpy hilly spines in profile, right?
In an attempt to explain away my relative sloth ascending the hyena, I did my usual multi-tasking thing, and took photos – always a good excuse.  The rider next to me reckoned having to watch me multitask was an equally valid excuse.  I liked his thinking :).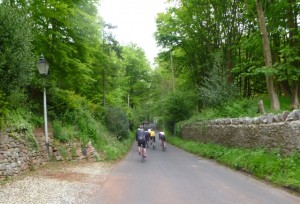 The bottom of the climb is steeper than you'd like, but constant, and then it ramps up for a bit, through some rather attractive trees, should you have time to be considering them on their aesthetic merits.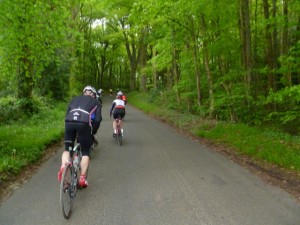 This was, as is often the case, followed by quite a nice descent.  Nice as long as you're aware that it ends with a T-junction…many great descents are ruined thus!  There was a warning sign somewhere near the bottom, though I think a couple more earlier on might have been useful.  Another descent safely done, and Wrington, with bus to make it more interesting, negotiated.  As everyone knows, one Combe in a day is not enough, so it's just as well Burrington Combe was next on the list.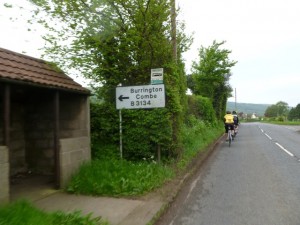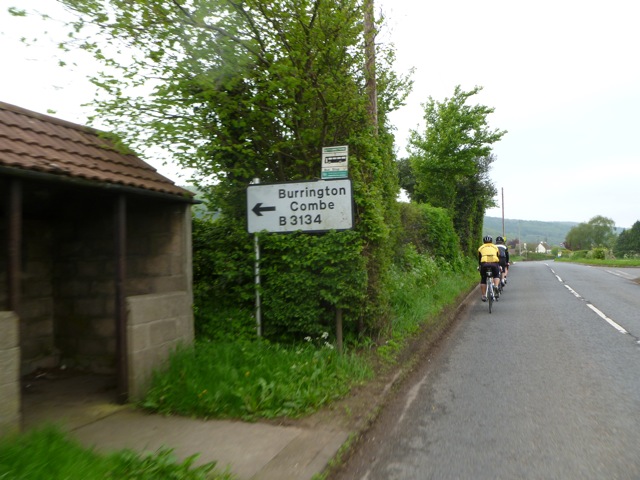 Thankfully before having to go and climb that, it was time for the first food stop.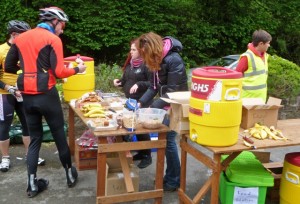 Contrary to the instructions issued beforehand, we were not allowed to use the toilets at the Burrington Café next to Bad Ass Bikes, where the stop was, which meant trekking all the way across to the public toilets at the bottom of the Combe, and back…not good in my shiny new cleats, that mean I walk like a duck just like everyone else now.  I was also a little surprised that Bad Ass Bikes was closed, you'd have thought this would be the perfect time to show off to potential customers.  Mind you I have heard a rumour that it's for sale so maybe that explains it?
Time to get back and eat, predictably as ever, a banana.  Yes, a whole banana, not half.  Get me.  Following some discussion, GB and I decided, shock horror, that we would both opt for the shorter route, leaving a far more hardy Nick and Gary to the longer route.  There – told you so.  I swear that actually made the climb easier, probably because I now knew that I definitely wasn't going to be doing East Harptree and Ebbor Gorge so I didn't have to spare my legs too much.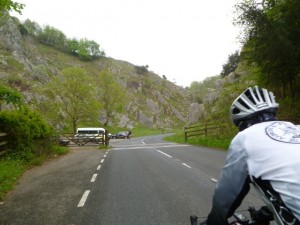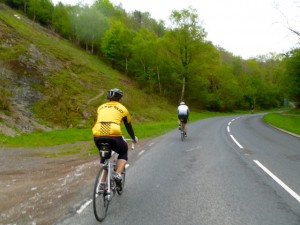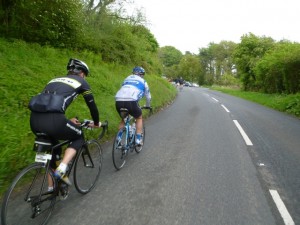 The route split after the top, with several repeater signs to remind you which route you were on, in case it wasn't the route you were intending to be on.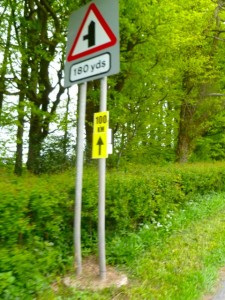 We were on the right route which, knowing these roads as we do, didn't come as a massive surprise.  It was proper windy up there, and a bit of a slog as we headed east, before taking the right turn that put the wind behind us for a little while, and pushed us onwards to the descent of Cheddar Gorge, where the wind was every which way but useful!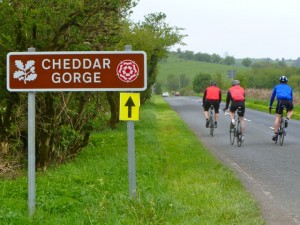 I'm possibly (probably?) a little strange, but I actually prefer climbing Cheddar Gorge to descending it.  Less scarey, less hazardous, and far easier to photograph as generally speaking I prefer to descend with both hands on the handlebars and ready to brake cautiously as necessary.  Still, that would hardly give you an idea of what it looks like, would it?, so I stopped briefly and took this…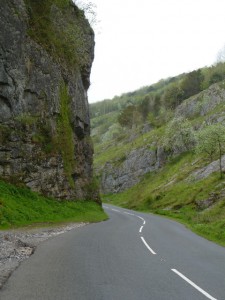 …which turned out to be a mistake as I was then over taken by two 4x4s who were even slower than I was when it came to the bendy bits and who I had to sit behind, on the brakes, for most of the rest of the way down.  Boring!  Luckily GB had waited for me at Tweentown, otherwise I'd have been stuck doing the rest of the ride on my own.
There is something odd about doing a sportive that actually goes past your front door.  Not quite literally in my case, as we bypassed Axbridge due to some event or other preventing us going through it (news to me and I only live there!) but quite literally if you're GB.  In fact his pit crew were even out waving flags in support as we went past his house and then down Winscombe Hill.  How cute is that?
The next section of the ride was pretty unremarkable, possibly because I know it so well.  Around the chilly, and wiggly back roads to Congresbury, through the ever traffic ridden Yatton, and then out round the lake lanes of Kingston Seymour to get to the seafront at Clevedon, complete with it's very elegant and historic pier.  I should probably mention the annoying headwind that wouldn't go away around all of this too.  I was very glad not to have an extra 40 miles in my legs and be facing that, and we spared a thought for those that would be facing it later.  In fact although we were going pretty well, I'm fairly sure there wasn't an Harptree or an Ebbor Gorge in my legs today, so doing the shorter route was the right call all 'round.  That's what instincts are for – listening to!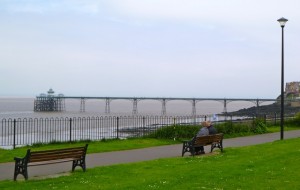 Anyway Clevedon was very pretty and very Victorian seaside, but it came garnished with rather too many people trying to either park along the seafront or cross between it and the various cafés and shops opposite it.  How dare they try and enjoy it at the same time as us, right? 😉  We climbed out the other side of the bay, and then were rewarded with a very lovely down to the road to Walton in Gordano.  That left us with just one last climb to do – up along the coast road to Portishead which, being on the way to my folks' place, I'm more than a little familiar with.
This is GB going past the golf course at the bottom of the climb.  Apparently cycling is the new golf, and since there were precious few, if any, golfers to be seen, maybe that's true?  Something to ponder during the nice long slow plod up along the coast which could have been a lot worse.  It has become traditional to take a photo showing the view from the Ship at the other end of the climb too.  If twice in two sportives that pass by it can be called traditional…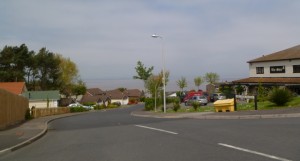 As you can see, it was a bit murky out there, and as we say in our family, someone had stolen Wales again *grin*.  I don't think I've even descended Valley Road before and I enjoyed it so much I was almost tempted to go back up and do it again.  With the emphasis on the "almost" obviously.  From there there was no distance at all to be done to get us back to the start, or as I suppose it should now better be known, the Finish.  It wasn't precisely clear where this was, as the signage seemed to vanish, but luckily having ridden in that way to the school from our car park to start the ride, we worked it out for ourselves.  We're clever like that.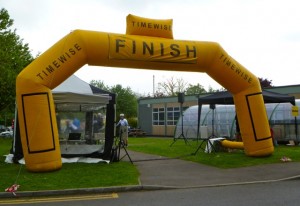 Cycling time: 3:41:08 hrs.  Official time: 3:59:33.
Distance: 59.15 miles
Avs: 16.1 mph.
ODO: 13817 miles
There was somewhat of an anti-climatic feel to the end of the ride.  As GB and I stood there at a bit of a loss, the timing guy came over and explained to us how to type in our numbers to get our timing slips, which I'm still liking, though it was a different company this time.  Turns out we made it in just under 4 hours including stops, which ain't bad.  There were a few other riders loitering around, but there was no-one there to welcome you in, explain where to go and what to do next.  Being far from novices at this we guessed, and guessed correctly.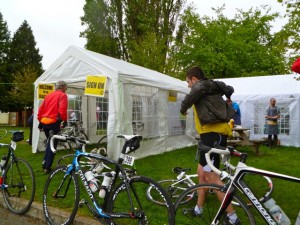 Bikes parked, we headed back towards registration where we checked in, and were given our free Black Rat glasses, all the better for putting our free Black Rat cider in.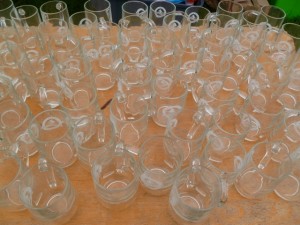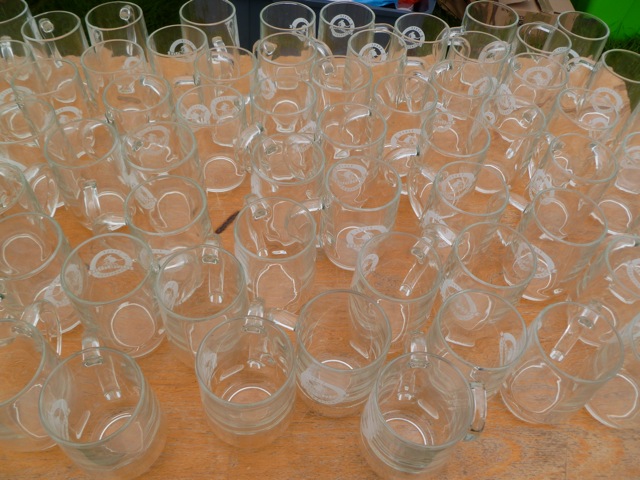 Even though apples are on my banned list, I'm thinking it would be rude not to, right?  Well it's eponymous and everything…  And besides, surely fermentation will have killed off anything bad, right? 😉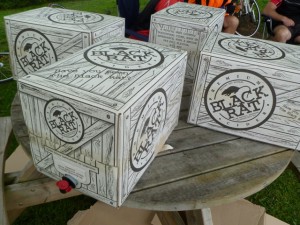 On that basis, I think I shall consider my glass half full…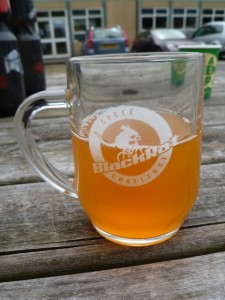 I knew there was a reason I hitched a lift with GB and wasn't driving…  It went down a treat too, although I may have had to top it up as it inexplicably evaporated ;).  The picnic tables and, let's be honest, quite possibly the cider, made for a fairly sociable atmosphere in the long run, as more riders arrived.  There was chilli available, at £3.50 a portion though, and the rider sat with us for a while eating his reckoned it ought to have been free, considering the £25 entry fee.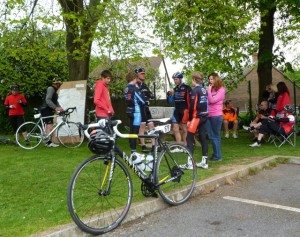 As we sat there under inevitably brightening skies we were joined by various other riders, from one of our ACG own Steve, to Rapha man Duncan, and last but not least, Dad.  This meant I got to interview people slightly more properly for a change – which is going to make writing my official Cyclosport review far easier.  It also meant I knew Dad was back in one fairly happy piece too, which was reassuring, I didn't really want to go home and leave him on his own out there :).  OK, so we left Nick and Gary, who were still out there, but we did pass Gary on his way in as we drove past Cadbury Garden Centre on the way home, so we knew he didn't have far to go, and I'm sure Nick wasn't far behind him.
If you'd like to see our route, you can check it out here.  However I kinda liked seeing the route laid out like this, it was a nice touch, and made a change from the many and varied route mapping sites I usually use.  Very old skool ;).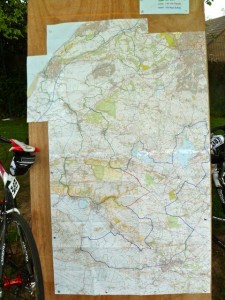 Time to go home, with enough Sunday time left to get some things done, not the least of which involved roasting chicken, jacketing potatoes, boiling beans of the green variety, making gravy, and drinking white wine.  A safe Sunday lunch, or make that dinner :).
UPDATE:  The official results were up online by first thing the following morning, and show me as 99th of 219 100km finishers, and that'll do me nicely.   It also turns out that Nick was actually marginally ahead of Gary and came in 13th.  Gary was 15th.  Impressive!  You can see a couple of photos of me here, and my official cyclosport review is now up here, and I'm happy to say the organisers consider it to be a fair review :).