Easter Monday dawned with a 5:00am alarm call.  I'd managed to get a reasonable night's sleep but that didn't stop it feeling early.  And I woke up to the kind of weather that I wouldn't usually leave the house in, let alone drive my slightly high-sided car anywhere in.  However my normally rational brain fails dismally when it comes to sportives for some reason.  Even with Storm Katie battering down the door!  It's something to do with having said I'd do it, and that I'd review it, and having a conscience and being stubborn I guess…
Regardless (clearly!) of the weather, I'd left by 6:00am, in the dark, since the clocks sprang forward yesterday, robbing me of an hour of my birthday (rude!).  I spent 1.5 hours driving in the wet, windy, slowly lightening dark, through standing water, clouds of spray, and roads covered in debris, clenching my insides slightly every time the wind relocated the car on the road.  Good core muscle practice…or something…honestly, I must be mad…(and yes, I know you're all nodding, and agreeing, and thinking that the cycling has nowt to do with that..).  All this, just for a sportive?!
Actually, oddly, one of the biggest challenges to sportives these days is getting me there and back in one piece, which has nothing to do with the weather.  As with last week's sportive (which I'll blog after this – I'm a bit behind and out of sync), partially as a result of being tired, but far more to do with my drug regime, I found myself getting drowsy both on the way there and back, and even on the bike sometimes, which ain't great!  It's sort of ok on the way home, because I can stop and nap if I need to.  There's no provision for doing that on the way there, other than getting up earlier to allow for it, which would just make me more tired, and somewhat defeat the object methinks.  As for feeling drowsy on the bike…well that's just plain weird.  Still…I'm writing this right, so clearly I made it there, round, and back in one piece 🙂  However I am grateful to those of my mates who have volunteered to accompany me to some of my other sportives this year.  Some of them have even agreed to ride around with me too.  That's supposing they can stay vertical going that slowly of course… 😉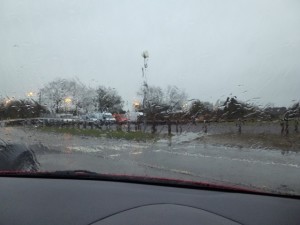 HQ for today's Cotswold Spring Classic Sportive was Cirencester Deer Park School.  Registration opened at 7:00am and I was there sometime around 7:20 ish.  Well wrapped up and luminous marshals guided the small peloton of cars that I'd become part of into the car park.  Having a smaller car than them I was pointed to a different aisle, marginally nearer to HQ – result!  I was half tempted, having done this one before, to sort everything out and then go register when all ready to go, as it is a bit of a walk and it would be a walk in the cold, wind, and rain.  So why do it twice?  But if I did that I'd be far too early for the 8:00am start time, and hanging out, even inside, killing time whilst wet, cold & damp didn't really appeal either.
So I didn't.  I grabbed my camera, wrapped up as best I could, and made my way across campus to register in the hall.  I was far from the first there, and there were plenty of people milling around, using the facilities, drinking coffee, and checking out the various stands in the halls.  I bet any waterproofs for sale disappeared pdq!  The registration desks were still pretty empty though, and having looked at the list of entries to get my rider number, I headed for 'my' desk.  It's possible that that look-up stage was unnecessary, as my pre-ride event pack never reached me, as often happens due to the nature of my role/registration but, since the website had had all the requisite event information on it, I didn't much notice its absence 🙂
The nice lady behind the desk instructed me to fill in the usual details on the list and sign all liabilities away, whilst she dug out a plethora of things for me.  One bike number, two cable ties, one map, two High5 gels, and one large foam backed velcro wrap around timing tag thing to be affixed to the headset, handlebars or top tube.  Which was a new one on me – apparently it's a triathlon thing.  Which is as close as I'll ever get to being a triathlete… 😉  Time to head back to the car, get the bike assembled and outside the car, and to crawl into the boot to get sorted, so as to keep out of the inclement weather for as long as possible.  Btw, did you know that weather can also be clement?  No-one ever says that though, do they?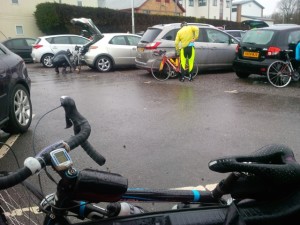 It was pretty miserable out there, and not much better in here.  As I faffed I realised I was losing feeling in my fingers.  But I still didn't know what to wear.  The forecast was for improvement.  And recently when things have been drier and brighter they've also been considerably warmer. I don't like to overheat.  I don't like to freeze either.  Oh dear…  After much mental mulling over of things, I decided it'd be best to dress for the weather that there was now rather than the weather that there might be later on the basis that I would at least be right for some of the time rather than risk being wrong all of the time.  Which I did, with the odd nod to options and flexibility.  Which meant…normal socks, shoes, shoe covers.  Winter longs. Short sleeve base layer, long sleeve jersey, winter jacket, and waterproof.  Head tube, head band/ear cover.  Winter gloves on, with summer gloves in the saddle bag.  And all the usual crap in all the usual pockets.  I emerged from the car (chrysalis?) in reverse butterfly stylee!  And once all assembled and riding across the campus to the start, it now being a little past 8:00am, I was glad of all of it. Hey, I know it sounds like way too much, but some of you know how cold I can get…
I think a lot of people had probably bailed today.  Certainly there was no massive queue to start, and when I joined the latest small group of riders gathering to be briefed, there clearly wasn't going to be too much hanging around.  The briefing guy, Andy Kirk I think, actually thanked us all for turning out!  Thanks to the weather the roads were clearly going to be horrible, and we were admonished to be extra careful out there.  The cut-off time for the long route had also been brought forward an hour to make sure that everyone could get around and back safely and properly, and we were warned not to do that long route, which involves a lot of steep climbing, unless we were proper on one.  As if!  Besides, having done the long route last year, and having no real intention of doing it today for a whole heap of reasons, this didn't bother me too much 🙂
So…shall we go and ride bikes then?  Oh go on then.  Out on to currently quiet wet main roads and heading into Cirencester.  My chain promptly came off.  At which point I should mention that thanks to Chris' expert tuition, I changed the cassette and chain on this bike yesterday.  And although the indexing had seemed ok then, it turns out that it wasn't now.  This was by no means the only time the chain came off today.  And changing gear was sometimes ok and sometimes…well…not!  I was tempted to fiddle with it, but forbore, as I stood as much chance of making it worse as better.  Besides, I was having enough problems with my mudguards which had to be readjusted a few times, and also got clogged up from time to time.  What with stopping to change layers, eat, take pills, etc, there was going to be enough of that…the whole point is to be moving forward not standing still!
It's hard to take photos when the weather is like this, so for a while you're going to have to ride blind with me.  The wind was mental, the roads were soaked, frequently flooded and covered in debris, mud and gravel.  Riding was more of a case of gingerly picking your way through an obstacle course than looking at the scenery while making decent progress.  At least it stopped constantly raining – soon there was more water coming up from the road than coming down on to it, which was an improvement.
I try not to talk to myself for the first 45 minutes as I know I haven't warmed up yet and how I was feeling now was not how I was going to be feeling later.  So I listened to my music and took it easy.  As things started going up, my left knee started twingeing which reminded me that it's done that for the last couple of rides, and which is not the old twinge, it's a new one in a new location – ooh the novelty.  So I spent some time fretting about that and if it was going to get worse…until it didn't and at some point it went away.  The same cannot be said for the usual internal pain but I had that mostly under control, although keeping it that way was, as I said, making me woozy from time to time.  Novel…
There were soon ups, but I was doing ok up them.  In fact I was preferring the ups to the rest of it.  Up kept me warm,  Up has been going well lately – no records beaten but feeling good, if that makes any sense – so oddly I like to keep going up things to see if that's still the case.  Which it was.  Plodding along as ever, admiring whatever views there were, dodging potholes and crappy road surface, and walking riders, and generally getting up them happily.  My serene crawler gear was engaged, and a little bit of me was giggling at those going past me huffing and puffing like the Flying Scotsman!  OK, so they were getting up the hills faster than I was but…*grin*
Although I'd been grateful of the waterproof for a long time, enough of those ups and I was feeling a bit 'boil in the bag'.  After a down that would have been a lot of fun in other circumstances, and the rude interruption of crossing a main road at its bottom, I took a quick break about an hour in, in some pretty Cotswold stone village, to stash the waterproof, eat some flapjack, and take the odd photo.  Just as well I ate then, as just down the road was what turned out to be the first timed stage – up a hill of course.  Ha, ha, ha…as if that was of any relevance to little ole' me!   Still, it was kinda nice?  At least I knew I was in for a decent climb.  It was long, slow, with the odd almost hairpin, and kept going on when you went around the next corner…  So my kind of hill 😀  I have no idea which one it was – Strava suggests it might be Lime Kiln or Hyde Hill…?  But I enjoyed it whichever one it was, or even if it wasn't.
My next break came around two hours in.  Something was making a noise, and it wasn't me, and it wasn't my temperamental gears.  As it turns out it was the front mudguard, something else that had been sort of repaired yesterday, and with all the bumps it had gotten itself misaligned.  I also needed to take more painkillers, being a little overdue, and although I was feeling ok, letting them wear off more would probably be daft.  They're also cumulative and having had a couple of ok days last week, I had been playing catchup since then…  I also swopped my winter gloves for my summer ones, because I was that bit warmer still, and because it's easier to take photos with those on.
Fighting that wind had been hard work, which is an understatement.  But now for a stage in the middle of the route, it would be more behind us than anything else.  I wasn't complaining!  This middle section was also mostly flat, the roads were drying out, the sun was shining if not warming, and I was pretty much in my zone.  As you could tell from the number of times I looked behind me as I hurtled along happily, to discover that I had APS (Acquired Peloton Syndrome) again.  And not one of the f*ckers took their turn at the front!  They either fell off of the back or enjoyed the rest and then hurtled off into the distance.  Tut tut chaps, not very sporting…or even very sportiving? 😉
It might have been brighter, and it was that bit warmer, but that wind was still really chilly.  I unzipped a bit occasionally, and when I did get a bit warm I just pushed up my sleeves so that my wrists/pulse points could meet that cold air, which pretty much had me covered.  Onwards past the Cotswold Water Park, across the top, long straight and (blasphemous I know) just a little bit boring…which didn't help dispel the woozy that cut in as the pills cut in.
Luckily this tedium would be broken up by the first food stop, which is also the only food stop on the medium route, at Performance Cycles in Poulton.  It wasn't yet as busy as the staff were busy worrying it was going to be, but the bike stands were still full (extra were being added) so I parked mine up against a wall, and headed into the courtyard with an empty bottle to top up.  There were a few portable toilets with no queues – result!  And then also a variety of food and drink on offer, so I could fill up the bottle with water (I figured I'd add a Nuun tablet later if I needed to), and grab a few jelly babies.  I know, I know, as ever I should probably have eaten more, but I wasn't hungry!  I didn't hang around long, and headed back out for some more flat fun.
All good things must come to an end…  Which in this case would mean saying goodbye to that helping hand, and turning to face it and be slapped in the face by it again instead.  Oh man!!!  Not only was it hard work, but it also so noisy!  Every hedge, fence, coppice, or obstacle was a blessing.  Was it better to be pushing into it head on, or to be being pushed sideways unexpectedly, and crabbing your way along?  Tough call…!  Still, even with that all going on, I didn't really mind, because it was just so pretty out there 🙂  Wide open skies, blue cloud strewn skies, pretty villages…  Actually the whole route was mostly pretty rather than stunning, but that's The Cotswolds for you, and that's more than ok 🙂
Of course there was more up to come, and the next section of ups included a second timed hill climb.  Still wasted on me… 🙂  Having slogged up things I'd really earnt the downs…and it was galling to have to be so careful today.  Just as well though as at the bottom of a couple of them were nasty cross road trenches that if you'd hit them at speed would have definitely pinch punctured you.  As riders strewn left and right were sadly demonstrating…  Luckily at that point there were other riders around me and I'd been forewarned by them.   Which is just as well, as it turns out that my bike was minus pump today.  I don't know if it's on the other bike, has been taken off when this bike got washed and not replaced, or has fallen off but…it certainly wasn't where it should be!  Which left me worrying about the inevitability of a visit from herself and, when I did hit the odd log or hidden pothole, with serious puncture paranoia.  I had to stop and check the tyres a couple of times to reassure myself that I was imagining it!  A couple of those trenches could definitely have used CAUTION signs – which the worst descents and junctions all had – as they really were unavoidable 🙁
Sometime in a valley somewhere, mid puncture check, I realised I was stood next to a pretty water fountain which, at closer inspection, turns out to be a crocodile.  Or maybe an alligator.  As I was immortalising it, a rider pulled up besides me and asked if I wanted my picture taken with it.  Well…  No, actually.  But since you've offered and I've been drug up all polite n' sh*t, I said yes, so you know, here I am.  I suppose it makes a change from the usual en route selfies..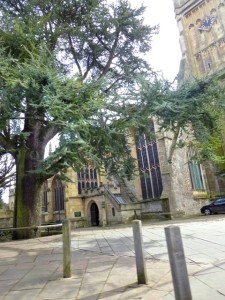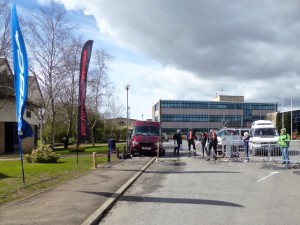 See you later, alligator…time for more ups, more pretty towns, more chilly sunshine.  I reached the route split, around 60 miles in, at 10 to cut off and a little bit of me was actually tempted to do it, since I really was having a pretty good day.  But no – tempt ye not fate, enjoy the moment, don't push it, etc…  Sometimes it's best not to carpe diem 😉  Another time.  Going right would have meant an extra three hilly hours or so before I'd finished and today that wasn't for me.  So very soon I was back negotiating a much busier Cirencester, without my chain falling off this time.  I'd go so far as to say that the worst part of today's ride, by far, was the last mile of so up the dual carriage way back to the school.  Holy crap it was busy!  Sod the wind at this point, it was the traffic flying past, very fast and very close, that had me worried.  It was properly actively scary, as was trying to get into the right hand lane through it to go right at the final roundabout.  Luckily a few other riders were coming up behind me by then and they did the hard work, thank goodness for safety in numbers!  It was quite a relief to get back to the school, back through campus and over the Finish line.  My timing chip was reclaimed and I was presented with my goody bag containing a medal, various bits and bobs and, more importantly a Cadbury's Creme Easter Egg 🙂
I pootled my way over to HQ again where lots of people were taking advantage of the free hot food (mostly pasta as far as I could tell) and hot drinks – courtesy of the arm bands that entitled them to such.  I walked around the hall a bit, and discovered I could print out my time, which was kind of cool, even if the data recorded wasn't 😉  I decided I wasn't in the market for pasta, even had gluten-free been an option (I didn't ask).  Instead I opted for a cup of tea to take to drink outside in the sunshine.  I wasn't in any rush so, tea drunk, I ambled me and my bike back to the car to reverse the process started around 5 hours before.  Back into the boot to get changed, chill out, load up, and head home again, complete with Orangina – the post-ride drink of queens 😀  It's a bit short on caffeine…so it didn't do much to keep me awake on the way home…  But I made it.  Cotswold Spring Classic done.  Slow, but solid, and I felt good.  And that's what matters 🙂
Cycling time: 4:30
Distance: 63.1 miles
Avs: 14.0 mph