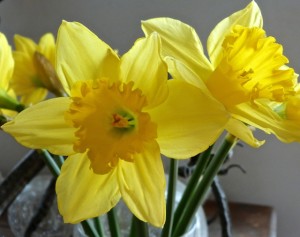 Welcome to the first sportive of my season. Which is actually the second review. I've gotten all behind and out of sync and well…whatever…here it is.
I was a bit nervous beforehand. The forecast had not been great, it's early in my season, and all the other usual worries that bother me were bothering me. I'd spent all week telling myself it was only 80k so not a big deal really. So it's just as well I checked a couple of days before and discovered it was actually 100k, not 80k. This is fine when you're prepared for it, but not when you're out on the course, tired, and spending an hour not reaching the finish line you're looking for. That can definitely do your head and PMA in. Forewarned, forearmed 🙂
So, which sportive are we talking about? Well this year I'm trying to do more events that I haven't done before, which is why I'd picked the CFC Meon Vale Spring Classic – aka the Daffodil Ride – to start the season with. (Sadly the page for the event no longer exists on their website, so I'll point you at their Events page instead in case you want to do another of their events instead). As with quite a few of my events, due to proximity and easy access, it's in the Cotswolds – and in this case the northerly chunk. HQ was at the new Meon Vale Leisure Centre, about two hours drive from here.
It was not the nicest drive in the world. It was early, I was tired, it was cold and grey and dreary and just, well…a bit snooze inducing. I took a break at one of the usual M5 service stations, where the early morning tumble weed were blowing around the empty car park – most normal people still being in bed at such an ungodly hour on Sunday. HQ opened at 8:00am and I was there not long after. It's a new leisure centre on a new housing development, all of which is shiny and new and clean and possibly just a little bit toy town, but hey, it'll all age and bed in. When the pre-event email had said that coffee etc would be available at the Londis shop/cafe in the village – the big purpose built shop here was not quite what I'd imagined…not that I'd be visiting it anyway. I had my own very good coffee with me 🙂 Interesting the pictures your brain paints with very little information though… 🙂
I drove past the shop, into the leisure centre grounds, and was marshalled through a security barrier onto a gravel car park section, the small tarmac section directly adjacent to the leisure centre being full already. Some poor marshal was having to make the barrier work every time, which struck me as a bit of a chore, so I wasn't surprised when, walking back from registration later, I discovered they'd found a way to make it be open all the time.
There weren't that many riders around inside yet, so no queuing for registration, or the toilets – all new 'n clean 'n nice 'n all, but not very generous in number – there would be queues later… As for registration, this is a charity ride – CFC stands for Cyclists Fighting Cancer. So to keep costs down there was to be no official timing, though for those that wanted to compare times they'd set up Strava segments for the two routes available – 100km and 60km. So, no timing chip to collect, just a map, bike number & cable ties, in return for a signature as usual. Talking of costs, entry was just £12 for 100km and £11 for the 60km, plus it's for charity…doesn't that make a nice change?
I headed back to the car, past that open barrier, to faff as usual. It was COLD! Even though the forecast was now actually ok, what with it going to be a fairly short ride, I didn't think there was much chance of it getting too warm before I was done, so I had pretty much every winter layer I own on. Having resorted to posting a photo of the bike on FB, as you do, apparently it looked like I was going on a camping holiday…oh ye who mock my saddle bag! And top tube bag. Well I'll have you know they're both very useful! And if you'd like some better more sports related excuse, call it training under load or something… Just think how fast I'll be when the summer bike and summer wheels come out to play? 😉 At least my pack horse was all clean and oiled and everything – yes, I do occasionally wash it. And photographic proof is always good…as no-one ever believes me when I say that *grin*.
Getting the bike set up was a bit of a pain in the ar*e actually. Or is that literally? My new (ish) mudguards may be wonderful things, but they don't like it when the bike gets put in the back of the car…and the front one had gotten all bent of shape. I got all bent out of shape trying to get it back in to shape! My hands were clearly freezing, as I somehow managed to cut a knuckle without realising it…until I realised I was dripping blood all over things! Not a big deal – just one of those little irritating on a joint things – and it stopped soon enough. I did finally get the wheel and mudguard to stop touching each other though, which was the main point.
The rest of my car park was full now, and the marshals were busy on their radios debating whether or not it was ok to park the still arriving cars on the grassier bits. I guess they didn't want to the the ones who trashed all the new landscaping if it wasn't! I'm guessing it was though because I didn't see them turning anyone away 😉 All wrapped up, both bike and me, I headed back to queue for the toilet, before queuing at the start line along with everyone else. And it was as cold standing around as feared. The guy next to me was doing his first sportive, having come back from Dubai last year…I bet he was feeling it, and I kinda felt for him!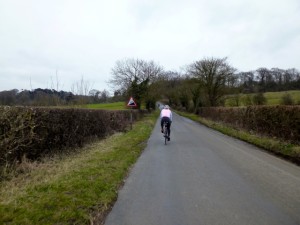 We reached the front of the queue, and after a short safety briefing, were let go on our merry way. The ride itself is a lot like the Mad March Hare, unsurprisingly as it covers a lot of the same ground. That did add a nice degree of familiarity to it, without it being same old same old (I've done the MMH a good few times). I recognised bits. Hills especially. All of which today turned out to be ones I'd done before, if not all on the same event, which was nice because I knew that they were totally doable. It was all very doable really. Pretty countryside, ploddy hills, bit draggy from time to time, not stunning, but pleasant enough. I'd not studied the route too much and, it being the Cotswolds, I'd sort of been expecting it to be hillier, and it's always nice when a route turns out to be easier than you'd expect!
The route split came at the top of Dovers Hill though, which was one of the biggest climbs of the day, so whichever route you did, you didn't get to get out of it. I quite enjoyed it, in my own odd way. I can get up hills. And I like that 🙂 I also liked the Snowshill descent afterwards which is long, fast, and straight, without a junction at the bottom – perfect! Especially with there being no traffic on it – of any variety – not even horse riders. Who are a bigger problem here than in some places, as we'd been warned. It's a popular area for equestrians, which is probably somewhat related to the affluence of the area! 😉 Mind you, it may be affluent, but that doesn't mean the road surfaces are better here than anywhere else. By which I mean that a lot of them were pretty crap. Which has nothing to do with this sportive in particular and more to do with the state of UK roads in general, and I spent quite a while from time to time hankering after the beautiful smooth Spanish roads from my training camp…*sigh*
The first food stop was due a little bit before halfway, in the very pretty village of Stanton, but my painkillers were wearing off well before then. I was tempted to wait but…as it happens at the top of a long hill I found a car park that even had a toilet block so I took an impromptu break there to top up and unload, as it were. I even went so far as swop the winter gloves for the summer ones…a decision which I reversed about twenty minutes later when I realised I was losing feeling in my fingers! Yep – still cold out there then!
That foodstop actually turned out to be at the 24 mile mark which, on a 62 mile sportive, really seemed a bit too soon. That would leave 38 miles still to do…and after 24 miles I've usually only just sort of hit my stride. However there it was, and it was well stocked, with a variety of food on offer, and a few portable toilets. I topped up my bottle, grabbed a few jelly babies – my current foodstop fodder of choice – before heading off again. It was, as I've probably said a few too many times, too cold for hanging around much.
As the miles ticked by under grey skies, the very cold continued. However miraculously, around the middle of the day hints of actual shadows started to appear. Both skies and spirits lightened, and by 1:30pm it was actually blue and sunny and even somewhat warmer. Warmer I said. Not warm 😉 On the upside, there wasn't much wind to speak off all day – and that's always a very good thing! I was glad of my kit choices; it's always nice when you get that right.
Country lanes, Cotswold stone houses, thatched cottages, cute villages, daffodils, snowdrops…sounds nice doesn't it?. There was the slightly busier, more developed and larger, Stow on the Wold thrown in though, and even the odd traffic light for us all to dutifully stop at…though I may have cut it close at one of those busier junctions…hope I made it! Well, I know ALL cyclists jump red lights, right? But… 😉
The second half of the ride was flatter, and the last 15 miles even more so. Flatter, faster, sunnier…oh go on then, this IS fun…and then all the miles were done, and there I was, crossing the Finish Line to be greeting by a small welcoming committee. My number was clipped off for me, and I was presented with my bunch of daffodils – lovely. Both nice touches, and I do like daffodils 🙂 I grabbed a free bottle of water and headed back to the car feeling quite pleased with myself really. I'd enjoyed it, and it was a great way to start my season. I didn't beat any records, but I did feel sort of capable out there? Like this girl can? The first sportive of the year was under my belt – a slow but solid ride. Cool beans 🙂
I could have had a shower in the changing rooms. I could have taken my bike number to the Londis cafe area and got a free hot drink. But I didn't. Hey, I'm lazy…I just packed the car up and headed for home. Back to the kids, to a cold beer, and to a nice roast dinner 🙂
Cycling time: 4:31
Distance: 62.8 miles
Avs: 13.9 mph