Right then. Time for my second sportive of the season organised by the Southern Sportive team. Last time it was the actual Southern Sportive. This time it was the Cotswold Edge Sportive – a new one to me. Well, variety is the spice of life right? Although I seem to have spent quite a lot of time cycling around bits of the Cotswolds this year, so it's definitely variety, not novelty…
I spent the weekend prior to the event having a life. Which was a great deal of fun, but not conducive to proper preparation. You know that thing about proper planning preventing piss poor performance…? I really should bear that in mind. Getting enough sleep and eating properly would have been a good idea. But hey, old dog, new tricks, some people never learn 😉
Still, the morning got off to a good start. Ish. The alarm went off at 6:30, and I left at 7:30 as planned. Pain levels and sleep deprivation meant that the motorway drive was a little…interesting…but I managed to stay awake. Just. It's a good thing it was only a 50 minute (very cautious) drive on fairly empty motorways to HQ at the Renishaw site at Wotton-under-Edge. Which turned out to be a very nice location. Picturesque. With lots of landscaping and the like…all of which was enhanced by the early morning sunshine. I was marshalled to park up in the car park and since I could see registration from where I was sat, I decided to go and register before faffing. The short walk over there revealed that although it was sunny, it was far from warm, and that there was quite a lot of definitely not warm wind to add a little 'je ne sais quoi' to that. Marvellous… I gave the team my signature, and in return received my skewer timing chip, a couple of rather short cable ties, my bike number and a waterproofed map. I really don't like skewer timing chips…as I mentioned when I wrote about the Southern Sportive…but as this is run by the same guys, at least this time I was expecting it.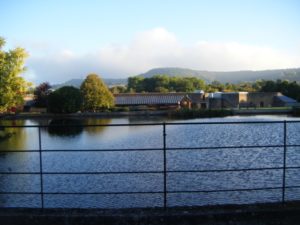 Time for a trip to the facilities, which were around the other side of the building. I walked past the start line, and bumped into organiser Martin, who was busy getting ready to start things going. We chatted briefly, and he promised to try and turn the wind off 😉 It may have been a little walk to the toilets, but it sho' was perty – past a very lovely lake and views over to what might have been the Hawkesbury Tower. And the facilities were very lovely too, so no complaints all 'round really.
Back to the car then. Time for faffing in the sunshine. Clearly this was going to be a cold day, and if it wasn't going to be a cold day in hell, I was going to need layers. Which in this case ended up being winter longs, s/s base layer, s/s jersey, rapha winter jacket, head scarf, neck scarf, ear protectors. This was quite a lot more than quite a lot of people seemed to be wearing, but I know what I'm like with cold, and I'm starting to learn that getting cold or being cold seems to go with the territory when I'm in pain so…lots of layers it was!
While I was faffing the tannoy system had been sharing the stream of rider briefings with us all. I arrived at the start line just as the latest group was leaving so although I didn't actually officially get a briefing, I didn't need one either. I tagged on the back as we all carefully went over the timing mat to make sure we all beeped properly. Apparently the position of that timing chip thing is important – vertical positioning is better than lateral. Mine was fine, natch, but a couple of others had to stop and readjust before heading off…
The first thirty miles, minus the odd early drag, seemed fairly flat to me. I could have been imagining it though, as I really couldn't get into it somehow. I couldn't get properly warm, even if the neck tube did need to come off about 10 miles in. Things hurt. Being all wrapped up, and dosed up, with the low sunshine and long shadows, with eyes constantly having to adapt from light to shade, seemed to make it all a bit surreal. It also made the signs harder to spot. I didn't get lost though and even if I had I'd probably have been ok – I'm starting to know my way around here. Bits of the route were from the Severn Sportive but in reverse, so familiar but not familiar. I'd have figured it out somehow.
Since I was on my own and mostly the only rider in sight, and there wasn't too much challenge going on, I got a bit bored, and what with the bored, tired, cold, ouchy and medicated, I kept zoning out, and doing that nearly falling asleep thing. Not good, as I'm sure you'll agree. And man I hate being cold!!! Still, at least my iPod shuffle was working this time, so I had music for company, which was a big improvement on the last sportive. And it was mad pretty out there. It is the Cotswolds after all. It's not often than you nearly get knocked off your bike by a Bentley, right? 😉 Pretty and posh then… Pretty, posh & prosperous doesn't translate into money being spent on the roads though – there were some really nasty road surfaces along the way, with a lot of gravel and mud around. There were also less signs warning about this than I was expecting, after such roads being marked so well on the Southern Sportive. There may have been less of those signs, but at least there were still plenty of repeater ribbons, which I still love. There's nothing like the sight of a little orange ribbon blowing in the wind, just when you're starting to wonder if….and then there it is, reassuring you that you're going in the right direction. And that wind was still there, blowing them around, and it was cold, and making cold even colder. Sulk, whinge, moan.
I didn't know which route I was going to do. I knew it wasn't going to be the Short (37 miles) route though, as the split for that had come 4 miles in. I still had time to decide. Which brings us to the first stop, around 29 miles in, at around 11:00am. It was next to a playing field and tennis court and fairly exposed. There was certainly nowhere to hide from the wind, and any bits of me that had managed to get hot and sweaty quickly got cold, clammy and unpleasant. Still at least there were toilets this weekend, in a little changing room block. Not that the lights worked, so you couldn't close the door unless being plunged into pitch blackness is your thing…luckily no-one came along at the wrong time! Back to the food table and supplies were really sparse. The mechanic was doubling up as staff, and helping anyone who needed it, wrapped up and looking warmer than seemed fair. I put my neck scarf back on, topped up my water bottle, and grabbed a couple of orange quarters. Considering how I'd been feeling I decided that a Powerbar smoothie might be what was called for, in case lack of food was any part of the problem. Whilst sat on a curb, mulling things over, I also took the next dose of pills and rang a rather distracted Matt for moral support. And managed not to burst into tears this time around, which probably counts as progress 😉
Right then, time to head off again. Straight into the biggest climb of the day – which was a real killer compared to everything and anything else today. It was hard painful work. It came with a silver lining thought; it got me a little bit warmer for a while! And up there, on top of the world, there were some amazing views, when you could see them. It was a bit bowl like up there, and a lot of the time those views were frustratingly just out of view beyond the current horizon. Tantalising… But it's a bit churlish to complain about that really isn't it? When those you could and did see were so fabulous?
The next route split came along shortly – and it definitely wasn't going to be an Epic day. Which was annoying. But I still wasn't warm, and things were still painful, and I had an open Sunday lunch invitation if I happened to make it back home in time. The Epic route might only have been 18 miles longer than the Standard 62 miles but things were painful enough as it was, so pushing it seemed unwise, even if the pills were starting (finally!) to cut in.
Standard route then. And after a rather lovely down, came the second food stop, only 16 km after the first, but with 35km to go. Or 10 miles and 22 miles if you prefer. It was staffed by two very friendly and very chatty ladies who seemed to be really enjoying their day out in the sun and talking to everyone. Mid chatting I ate orange quarters and jelly beans. According to them the rest of the route could be summarised as one big hill ahead, then flattish along the Severn, then back up the escarpment to the finish. Allegedly. I decided another gel wouldn't do any harm. Which it didn't. Especially when there was indeed another big hill. Up to the Tyndale Monument I believe. Which the food stop lady, in tour guide mode, had informed us was dedicated to the Tyndale that translated the Bible into English. Hm… Regardless of what you might think about that, it wasn't as bad as the killer hill before, and was in fact a nice climb. Yes, yes, I know, I do like hills really. By the top of that I was nearly warmed up. In fact the day had nearly warmed up. So of course not long afterwards it started to cloud over and cool down again… Honestly…*sigh*.
Climbing done for the time being, it was time to go and see the River Severn. Although I'm not sure why. The loop out there and back seemed a bit gratuitous, especially since it involved going out there and back again along some of the same roads, and it was really confusing having riders going in both directions on the same stretch of road. It tends to make you think you're lost…which as I was on my own, I could have been. Did I mention I was on my own for most of the time? And hey, the Severn is pretty, but it wasn't that pretty! So when it was done, it was a relief to have looped that loop and be heading back to HQ. Back into the trees ,where a suicidal squirrel played chicken with my front wheel… Luckily I didn't end up on the tarmac and it lived to spend the rest of the day looking for more nuts, not that it needed any…, which presumably is why it had had to cross the road in the first place. But it was a close run thing!
No running up the final climb up the Costwold escarpment though. It was steeper than I'd expected, and longer, and it being later in the day, there just didn't seem to be anything in the tank. Bit like all the hills today. They were fine, I kinda liked them – the legs worked, the lungs worked but…there was no zone, no push, no get up and go. Still, at least I got up them, and I got up this one too. Being near the end probably helped!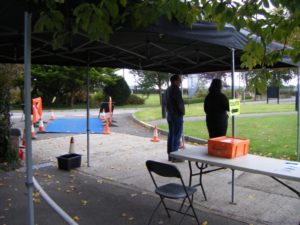 Climbing over and done with, essentially, flat was better. But busier. The stretch to get back took in quite a few more major roads, which had their fair share of traffic on. One example of which made my brush with the squirrel look like a mere bagatelle…and another of my nominal nine lives was shaved off by a motorist with absolutely no patience and even less driving skill! After all that I got back to HQ in one piece for a rather anti-climatic finish. Even though I'd bailed to the shorter route, there weren't many people around. It felt more like when I do the long route on an event and I'm nearly the last in…
Cycling time: 4:25
Official time: 5:00
Distance: 62.5 miles
Avs: 14.1 mph
There were two people at the Finish line to take my timing chip, and then I took a short walk back to registration and refreshments, where those riders that were still around were. The car park wasn't empty though, and riders were still trickling in, it was just in a sort of dribs and drabs way, so I decided I didn't feel too bad about things. I also decided to start by getting the bike in the car and getting warm clothes on me – I never really had got warm all day! That done, I headed back over and paid £1 for a cup of tea to defrost me internally, tell Martin that once more I'd failed to do the long route I was signed up for, and to get my token finisher's medal. Which made it time for me to get back into the car, turn the heating on, and negotiate the busier and better drive home. Back to having a life, and to having Sunday lunch 😉 Cotswold Edge done. Not great…but better than it could have been. I'll take that 🙂