Oops, I'm behind again.  Three rides behind.  But since two of them were cake related coffee runs with Alan, and I'm a busy bunny with a stinking cold, I'll stick to just telling you about the sportive I think.  In this case, as the title makes obvious, the Santini Cotswold Spring Classic.  Which, having gotten my Cotswold's sportives all muddled up in my head, it turns out I've not done since 2011, rather than more recently.  What can I say, I've done a few sportives now, occasionally they all blur into one…  At least I could look back through this blog and refresh my memory.  On the other hand I'm not sure that helped.  I did it with Guy, it was long and hilly, he danced up the hills, and I walked up them!  Oh good.  *gulp*.
Ah well, too late now, or something.  I'd signed up, had nowhere else to be, no-one to see, it was Easter Monday, and the weather forecast was good.  And walking up a hill is not the worst thing in the world.  Worse things happen at sea.  Etc…
The Cotswold Spring Classic HQ is at Cirencester College, and the car park opened at 7:00am.   I left a little later than whichever route planner suggested I should so I could play beat the TomTom, which is always a good game.  As I headed up the M5, the sun was coming up, and the street lights were going out one by one as I went past them, which was a little spooky 😉   Having duly won the TomTom race, I arrived at the car park just after 7:00am, one of the first to do so, with the proximity thus garnered putting me a just a short walk from registration in the main school hall.   Sunny it may have been, but it was a bit nippy out there.  Mind you, it was still very early for a Bank Holiday morning!  There was a short queue for the few portable toilets outside but, having read the pre-ride pdf, I knew there were some inside so I nipped in to use those instead first.  My pre-ride email had also told me I was rider 740, so I found my registration desk, signed my life away, and was given my map, bike number with timing tag on the reverse & two cable ties, and a couple of edible things.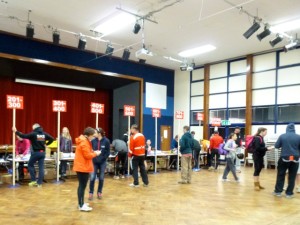 Back to the car for much faffing.  What on earth to wear?  The forecast had said 14C, sunny, no wind.  Apparently it had leapt up to 18C overnight which I was unaware of, but it was already feeling like warmer than had seemed likely.  But…  Oh dear.  Decisions, decisions.  I didn't have summer kit with me.  And it was only a forecast?  After a few trips to and fro killing time and wondering, I did the best I could.  I left the base layer and winter collar in the car, and took the shoe covers off.  Which left winter bib tights, toe covers, long sleeve warm jersey, versatile winter jacket, head Buff, and mitts, with gilet and over gloves in the saddle bag just in case.  And that was that.  Nowt more to be done.  Except to ride back to the start line again and queue up of course.
Start times for the mid (100km) and long (160km) routes were from 8:00am and even having done that to-ing and fro-ing I was still near the front.  I then had a disagreement with the Garmin as to whether I not I should be allowed to do the activity I'd downloaded for once, or whether it would go on strike.  It went on strike.  So, this having happened before, I stepped out of the queue, reset the darn thing, and decided to settle on just recording what I did.  I'd wanted to have the route so as to be warned when the hills were coming, but hey, if it wasn't to be…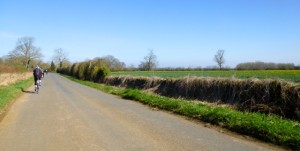 So I was away, post rider briefing, in the third of the groups of 50 or so riders being let away at two minute intervals.  At which point the Garmin told me I was actually doing the route, by beeping route instructions at me slightly too late for me to ever actually do them.  There was no way I was going pressing any buttons though, either to stop that, or to see if it was actually working – I wasn't going to risk it throwing a strop again!  So I left it to its own devices, figuring if I did get lost it might come in useful anyway, and headed off into the just slightly chilly Cotswolds.
I'd done my research.  Well, kinda.  I'd sort of looked at the route profile anyway.  So I knew that the first few miles, out through Cirencester and then beyond, were ok, then the hills would start.  A fairly hilly 15 miles in fact.  And they were hilly.  And I was not warmed up.  There were two really big climbs.  But…I wasn't walking.  Yes they were steep.  And frequently also long.  But I seemed to be grinding up them in survivable style.  I even sort of enjoyed one of them 😉  A good start.  Not that this stopped me worrying…as if I was going to do the long route, which was still up in the air, the majority of the climbing would come in the last 40 miles!  Which seems a little unfair but does mean that the organisers can run two events for two audiences.  It's an early season event so anyone looking for a reasonable ride can do the 100km.  Anyone looking for a real challenge can do the longer route.  Which was I?
Ok, so the first chunk of hills were behind me, and I knew the next 30 miles would be a lot easier.  The scenery was lovely, especially in the sunshine.  Well it is The Cotswolds after all!  Chocolate box villages, cute cottages, country piles, all glowing yellow in the sunshine.  With flowers and trees and green countryside.  All very pleasant, all getting warmer and warmer…and I really don't like too hot.  So by the time we got to the first foodstop at Performance Cycles HQ (event partners & also mechanical support) at Paulton, around 35 miles in, it was time to take action.  Well, once I'd negotiated the cattle grid to get in…which was easier said than done with riders coming in and out.  I cheated and walked the bike through the side gate next to it!  I topped up my bottles, grabbed half a banana, and queued for quite a while for the toilets – 2 portable toilets and one urinal cubicle was not cutting it.  It was however the best place to do the obvious as well as taking off the jersey from underneath the jacket.  Sure, I'd have like to have lost the jacket, but my storage options were limited.  The jersey fitted into the saddlebag, displacing the gilet and overgloves into pockets, and that was all I could do really.  That and pull the jacket sleeves up a bit, and unzip the vents it has.  I did say it's versatile 😉
Time to head off again, all the time debating my options with myself.  As I understood it the route split was at around 70 mile, at which point we'd be nearly back at HQ, so it would be a choice between 72 miles or 100.  I really wanted to do the 100 miles, having failed to do so at The Lionheart, and I was feeling the need to have that first 100 miles of the season under my belt, before I got a real mental block about it.  But I still really didn't know what was going to happen.  Sometimes these things are, as we know, out of my control.  In the meantime I was feeling pretty good.  I was eating regularly – testing out Clif bars and bloks – and I was drinking my Nuun as I sweated my way around the countryside.  The weather was gorgeous, and so far it was all pretty much working.
Somewhat to my surprise the route split actually came at 60 miles, a little while after things had started going up in the world a little more often, and before I'd decided what to do.  And it just felt too early to go home.  So as it happens I didn't even think about it, I just took the long route right turn.  It was in fact a non-decision.  So, for better or worse, I was going to get that 100 miles done.  Which, although I knew a whole heap of hills were coming, was quite motivating.  PMA!
They weren't lying about the climbing though.  OMG and holey moley!  There were lots and lots of big long steep hills.  Hard work, especially being so warm.  And I had a way to go…  So I broke it all down into chunks to deal with.  40 miles to go.  Last 6 miles flat.  So that's 34 miles really.  More than two hours of ups, less than three.  With as much up as down, presumably.  I took a break every hour, just to kick back a little, eat and drink, and recalibrate, and the second food stop broke things up too.  I chatted to the photographers lurking on hills – nice to see you again Phil.  Twice!  I grinned, or gurned, at other riders, depending on the gradient.  And I enjoyed the downhills of course.  It all worked out.  And I didn't walk.  A great many others did which, as ever, always makes me want to keep going that bit further…although walking might sometimes have been quicker!  And those last 6 miles back along the main road to Cirencester were pretty flat, as promised 🙂  I was pretty close to bonking about two miles from the end…hot and tired I guess…but it seemed a bit late to eat anything.  Luckily I made it in and over the finish line without losing it completely.  First century of the year done, with around 7000 feet of climbing!
Cycling time: 7:15
Distance: 100.5 miles
Avg: 13.9 mph
ODO: 8773.4 miles
Having done the ride on my own, and with the mob being away, it was a little bit of a downer to have no-one to ring and be proud of myself to.  But hey, I'm a big girl, right?  I can pat myself on the back 😉  And of course it was all worth it, because the goody bag included not only a voucher for free hot food, a well-earned medal, and a cycling cap but also an Easter Egg!  A Cadbury Creme Egg Easter Egg – my favourite.  'Rah! 🙂   And I could also have had gluten free pasta bake but it was taking so long to sort the gluten free pasta for me and another rider, that I realised I was running the risk of falling asleep sat waiting for it, even having had a can of full fat coke, which I didn't like but probably needed.  So having had a chat to Andy Kirk, who'd sorted my place, I headed back to the car to load up and go home.  I'd have had a shower first, the option was there, but I decided I'd rather sort myself out chez moi.  Well, there was cold beer in my fridge 😉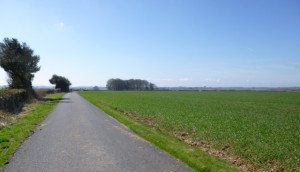 It was a very good day out on the bike.  Sunny, scenic, well-organised, and a real challenge, that I think I rose to.  I am still a happy bunny about it.  Not the Easter Bunny though 😉  Disappointingly I was slower than I thought, as according to the results I was further down the pack than usual.  But hey, on the upside there were far more girls than usual too, which was great to see – around 10% on the long route and more like 25% on the medium route – which is very rare.  It wasn't all great out there today though.  There were some pretty grotty lanes out there, a couple of dodgy descents, and some interesting patch resurfacing which was leaving the puncture-stricken parked up left and right, if not centre.  I didn't enjoy the two stretches on the A419 much either, as it had far too much holiday traffic on it, and didn't compare well with the quieter scenic country lanes, even if it was faster and flatter!  But let's face it, where do we get good roads over here these days anyway?  Overall it's a really good event.  And it only cost £28…  Just saying 😉