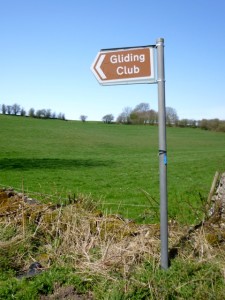 See this?  Ok, it's not an official Col sign. But it'll do me 🙂  This year's mental century block had nothing on my enduring Draycott Steep block.  I've never made it up.  Ever.  And I've been riding a while now.  To be fair I've not tried that many times.  Two or three maybe, and I've always had to stop and walk, even if that was sometimes wet road/traffic induced.  Nonetheless I've never done it.  And, due to my dismal prior performance, I wasn't entirely sure I ever would/could, which is why I've been avoiding it.  But Alan and I have been meaning to try it again for a while.  It was supposed to be today.  But last night, with the possibility that he'd have a hangover (he didn't) and that I'd have earache (I did) I was half expecting us to change our minds about attempting it today.  Well we didn't.
It didn't necessarily feel like a wise decision.  It felt even less wise when, after we stopped post warm-up loop to stash gilets, I coughed my guts up again – this cold is taking a while to clear!  But I did want to do it.  Or at least try to.  We have a habit of doing hills well together, though not actually together as it were.  I don't know if I'd ever summon up the motivation to try it on my own.  And I know I wouldn't want to try it following the usual race snake suspects, who'd be leaving me in their depressing wake.  So I guess it was kind of now or never?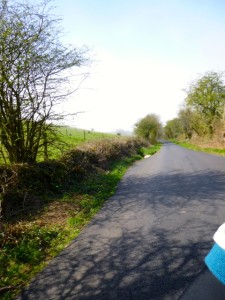 The time was now.  It seemed as good a time as any.  You'd be hard pushed to find a better day to do it too.  OK, so we were in pre-sunshine mist.  But it was dry.  The road was re-surfaced a while back.  It was warm enough.  And barring the odd considerate vehicle, it was quiet.  There was no pressure.  And…?  Yep, I made it up.  All the way up.  In one go.  It's long and it's steep and it's long and it's steep!  I'd say it nearly killed me, but that would be a tad unnecessarily over-dramatic.  It wasn't quite that bad, but it was bl**dy hard work.  Alan had had to take a break near the end of the steepest bit, heart rate you know, but that was probably because he didn't know the worst was nearly over whereas I did, so I could push on knowing that.  To be fair, I just thought he was waiting for me!  The higher we got, the sunnier it got, in serendipitously symbolic fashion.  And after quite a while, for the first time ever, I conquered Draycott Steep.  See this smiley face?  Well, ok, you can't, but even now I'm still mad happy about it 😀
And we didn't leave it at that which, had I been feeling truly rubbish at the top, had been mooted as an option.  But since the sun was out, and the worst was done, it seemed rude not to bathe in the glory for a while.  So we went across the top of the Mendips to Burrington Combe, so I could enjoy a good down.  And then up through Rowberrow so I could enjoy going down Shipham Hill.  I nailed the ups, and I nailed the downs.  It turned out to be a pretty awesome ride 🙂
Cycling time: 1:52
Distance: 26.8 miles
Avg: 14.3 mph
ODO: 8877.8 miles
OK, so since Alan had had to stop, and the Steep took his zing away for the rest of the ride, he probably doesn't agree with me.  But I had a great ride, and I couldn't have done it without him.  Thanks mate!  We sat in the sunny Square for coffee and cake afterwards, and I did my best not to crow too much.  Although I skipped the coffee and went with the more celebratory instead.  Well, it is my day off 😉  Woo hoo – I made it up Draycott Steep!!!