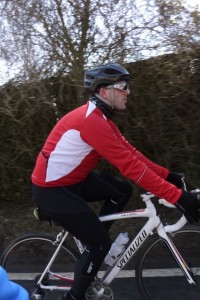 Today the Hardy Northerner (aka Gary, bemoaning his decision not to wear shorts) dragged me over hill and dale in the still cold sunshine. I'm fed up of cold. I'm fed up of cold winds. But I'm trying not to moan so much, and hey at least it was sunny, so I should stop now. Essentially I went for a two+ hour ride in the sun, with a mate, who is exceptionally patient and very good at waiting at the top of hills and the like for me to catch up. Just as well since he had plenty of opportunities to demonstrate this ability ;).
But I did my best. Even if my best was considerably slower than I would like, up hill anyway. In fact there are probably glaciers that could have gone up Harptree Hill faster than I did. But, unlike Burrington Combe, which just didn't work somehow, I quite enjoyed it. Yes it was really hard work, but it got to that point where you're pushing bottom gear slowly but steadily, it isn't getting any harder, you're not dying, you're not walking, you're still moving forwards, ish, and it goes on for long enough for some sort of rhythm to settle in, and your mind feels free to start wandering off while your body gets on with it…  And that, dear readers, is what I'm hoping will get me around the Quebrantahuesos hills. Or mountains as they're probably more correctly known. Oddly enough, the Tour of Wessex is likely to be worse…*gulp*. Oops, moaning again ;).
The Cinelli gears might (allegedly) get normal people up the side of a house, as they delight in telling me, but I don't know many residences built with walls that would suit me and also their inhabitants. Maybe a loft conversion? I doubt I could even get up a pyramid! But if I get up hills like today's without walking, I'll be ok. That'll do me. Especially if I ignore what Strava has to say about my performance and just get on with it.
So, even though it looks like it, it wasn't really a blue day. When I had to I fought. Smiling is supposed to make you feel more like smiling, so I did some of that. I, to use an over used cliché, kept calm and kept pedalling.
Cycling time: 2:19:38 hrs
Distance: 32.2 miles
Avs: 13.8 mph.
ODO: 1203.75 miles