I could have written about last week's ride with George.  But really?  Another fairly miserable ride in the rain?  What could there possibly be left to say?!  If it hadn't been for the fact that George had to ride because her car had to be serviced, and I'd agreed to join her, and that good company is always good, then I'd have bailed for sure.  I am well and truly fed up of riding in the rain…and I wasn't any greater a fan of it by the time I got home and burdened the washing machine with yet another load of kit that would be lighter by the time it came out rather than the other way around!  *grrrr…*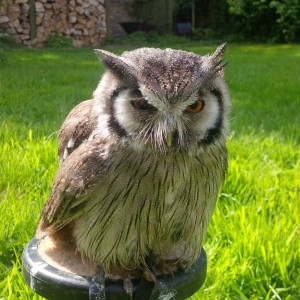 Cycling time: 1:20
Distance: 19.3 miles
Avg: 14.4 mph
ODO: 4515.0 miles
So when the chance came to go for a long but "leisurely" Bank Holiday Monday ride in good ACG company, with actual sunshine forecast after an already sunny weekend, on a newly cleaned and polished and lubricated bike, I was definitely up for it.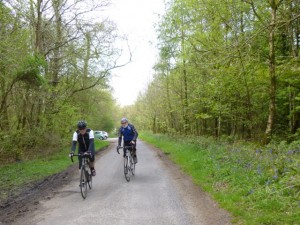 Ah me, oh my, here's a ride brought to you by the letter S I think.  From the Sardonic (he who trains by himself), the Stoic (he who eats mountains for breakfast) and the Slow (well yes, that would be me).  A ride starting from Rodney Stoke that meant, with accidental detours, the total distance was around seventy seven miles, not the sixty odd my head was more mentally prepared for.  The sun did shine, as my sunburnt forearms will attest.  There were ups and downs.  Literally and not so much.  The pinnacle of the ride, in both senses I suppose, was yet another ascent of King Alfred's Tower, which both my knee and I got up without incident, a PMA booster before the looming Tour of Wessex.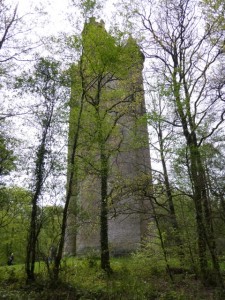 I did lots of concentrating on smooth pedalling all day.  Not metronomic, but even and careful and steady by my standards.  Having said that, after about 4 hours the knee woke up.  Not badly, just there enough…so I popped a pink pill and didn't push it any harder than I had to, which got me the rest of the way home.  Oh, and did I mention there were bluebells?  Lots of them.  Which I usually had a great deal of time to appreciate as we climbed up yet another shady wooded hill through the ever-present scent of wild garlic ;).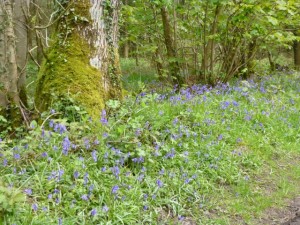 Coffee was at Stourhead where the grockles were milling around and there was something unavoidably smug about rocking up there on speed machines, in lycra and eating well-earned cake, whilst they waddled from their cars to the café and the cake and…I know, I know, insufferable of us.  We were probably just as irritating nonchalantly riding past the tin boxes queuing through the Longleat estate shortly afterwards.  Such fun ;).
OK, it wasn't one of my great rides.  I got dropped on every hill, I'm still not on form and starting to wonder what that even is, and it all just felt a bit sluggish.  If this was a sportive, which length/climbing wise it could easily have been, I would have eaten and drunk properly.  So why would I not do that on this kind of ride?  Eejot!  I got my layering strategy a little wrong and ended up a bit over-heated too, which is never good.  Silly strategic schoolgirl errors.  So somewhere in the middle I was lost and a long way from home, with no idea how far there was to go and suffering somewhat, and it all sort of mentally closed in…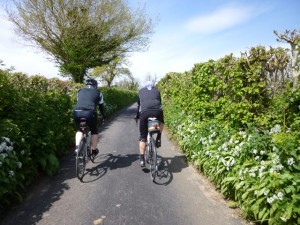 …lots of roads I didn't know, wiggling around Frome way, surprisingly pretty national cycle path whichever number it was, more ups and downs, and somehow more ups than downs.  But then there were the odd stops; to change, eat, buy more water, whatever, and though I don't think t'were done surreptitiously on my behalf, they all helped, and slowly I was more me again.  After parting company with Steve above the Horringtons, and once more on familiar tarmac, Dave courteously towed me home, for which I was and am very grateful.  We fair flew for a while too – it be nice up on the top of them thar Mendips.  It's also nice dropping off them ;).  There was something very satisfying about that final descent down the Gorge – our territory – weaving through those who were just visiting and will never appreciate it quite the way we do.  Ours.  Mine :D.
You know what?  For all that I may winge/whine/moan (I'm trying not to, honest, I know how boring it must be), I was out there, putting in the miles, climbing up the hills.  There was, mostly, a smile on my face 🙂  And there are many many worse ways to spend a few hours.  So there :P.
Cycling time: 5:38
Distance: 75.1 miles
Avg: 13.5 mph
ODO: 4590.1 miles
Here's a song I love, that often weaves its way through my mental meandering out there…