I was kinda dreading this morning's ACG ride, which was probably not the best way to approach it.  I think it was the having seen GB's planned route beforehand thing, knowing that it involved hills, thus allowing me to fear the known not the unknown.  I'm not sure which is better.  Or is that worse?  Things were not helped by the fact that with immaculate timing, as ever, my insides decided that the best way to process food was as fast as possible, do not pass go, do not hang around, do not impart any nutritional benefit along the way…*sigh*.  So I wasn't feeling at my best, even if I could remember what that is anymore!  Of course this didn't stop me layering up appropriately and rocking up in the Square at 9:00am.  Well if I didn't ride every time I felt crap I'd quite possibly never get out on the bike at the moment ;).  Besides, I'm not going to get my form back unless I do some training, now am I?
Unexpectedly and surprisingly there were seven of us.  Quite some turnout for a winter ride.  Myself, GB, Martyn and Paul, Dave, Robin (of Dartmoor Classic fame) and Ian.  I've mentioned Paul before – he's a compatriot of the infamous Paul Baker.  Ian has been out with us in the past, took a brownie point break upon the arrival of mini-Ian, and has since been riding with a certain Paul Baker.  I'm thinking of banning people who know, work for, or ride with Paul Baker – they're all too bleedin' fast…bit like Paul Baker himself! ;).
Posse all assembled, we headed out along the usual familiar wet muddy lanes.  I was doing ok…unless there was a gradient involved, at which point I would fall off the back of the pack like a stone and have to catch them up when conditions were more in my favour a little further on, ie downhill or flat!  I've decided that however girly wussish it might be, I'm getting me some lower gears for next year.  I wouldn't mind it being harder work if I was getting up the hills faster, but I'm not.  I'm just finding it harder work and less pleasant with nothing to show for it, and since a lot of next year's riding will inevitably involve hills, it's time to address the issue.  I've tried it out, I've done over 1000 miles with this set up, and I'm sorry, but it's time to wimp out ;).
I was finding it all a bit frustrating really – trying to keep up, not having warmed up, not feeling great.  I was dropped even before we reached the bottom of Canada Combe, as there's a nasty steep bit on the Locking road there.  It's not that long since I last went up Canada Combe.  Maybe if I hadn't mentioned it back then it would still have stayed off GB's radar?  So it was with a certain lack of enthusiasm that I turned left to follow the lads up the hill.  Martyn kindly dropped back to keep me company, in solicitous fashion.  You know that thing when you're feeling fragile and then someone is nice to you and you feel like crying?  Yep – that.  Poor Martyn nearly had an emotional me to deal with, and I'm not sure he was ready for that! 😉  Luckily the state of the road and the steepness of the climb meant concentrating on that and breathing, and was just distracting enough to head me off at the pass.  I was even slower up it this time than the last, if that's possible, which clearly it is, but I still made it.  Paul was clearly not on form as he had to resort to Shank's pony, much to his disgust, and he left us earlier than planned, albeit not until much later, so I hope he's feeling better soon.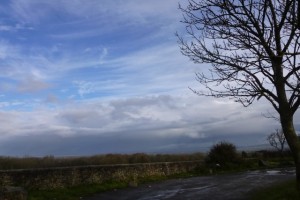 The peloton were patiently waiting at the top for us, and kindly continued to do so whilst I took photos and had a drink.  At least that was due to be the biggest hill of the day, so it was all downhill from there, right?  Actually the downhill from there is good fun, so there was some return on my investment at least.  Life was indeed somewhat easier from here on in.  Well, it's not hard to be easier than that!
After a silly stretch where I got to semi-sprint and lead the way down the road by the railway line, Ian led the way across the mostly flat, to the coffee stop, making it all look enviably easy.  I couldn't compete with the sprint finish though – much though I'd have loved to, I was definitely outclassed.  Although everyone will no doubt deny that that there was any racing on any sort going on… 😉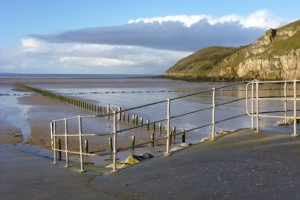 Coffee was at the NT café at Brean Down which, even with signs indicating the contrary, was actually open.  It's a funny place – oddly barren on the atmosphere front.  Still the coffee was nice, and they had some gluten free biscuits.  With breakfast unlikely to have been much use to me, I figured I should probably eat something, and so I did.  Well I shouldn't have.  Today is clearly not a day for consuming solids of any sort :(.
Having coped with the consequences of that, it was time to leave.  I was not feeling happy on many levels, and I did warn GB that I probably needed to take it little easy on the way back.  Another wobbly moment was narrowly averted when he was just nice enough and not too nice ;).  However although I should have been taking it easy, I didn't for a while.
There's a sort of chasing demons thing that comes into play.  If I go hard enough and fast enough maybe I can kind of ride them away?  It sort of works, but there's always payback somewhere along the line.  However fast I go, most of the lads can, and do, go faster, and eventually I just can't keep up anymore.  GB took pity on me and tweaked the return route so we didn't go over Brent Knoll, or in fact past the Webbington.  I may not have said so at the time – but thank you!  If I'd been dropped on one of those, again, I don't think I'd ever have caught up.  As it was, on the flat, I mostly held my own.  I may have even taken the odd stint on the front…but eventually I was happy to sit at the back, chat to GB, and left those that wanted to to get on with it!
Various folk peeled off as we went along, until just 3 of us arrived back in the sunny Square at around midday.  Lunchtime, if lunch is something that you can do.  Yep, still moaning *grin*.  Still I think we all had a good time, or maybe we were just smiling because it was over? ;).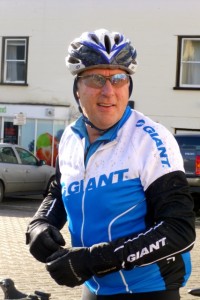 Cycling time: 2:12:50 hrs
Distance: 35.78 miles
Avs: 16.2 mph.
ODO: 1073.79 miles
For all my complaining, it wasn't a bad ride really.  The weather was kind, the company was good, and the scenery was pretty.  My form is not back, though there were occasional flashes of it, which was good to see.  It's just the hills that need work really.  Nothing new there then.  I guess there must be some residual fitness in there somewhere right?  Onwards, if not upwards…  But man, you should have seen the state of me and my bike afterwards!
I gave lunch a miss, unsurprisingly…  White wine later methinks – that has calories in it right? ;).