Welcome to my last sportive of the season…
I'm very tempted to just write "Had shit day, went home". But such paucity of words does not a blog make. Even if it is a fairly accurate and concise of how my day panned out… So here goes.
I was having a bad patch. For whatever reason*. Still, as usual, I wasn't going to use that as an excuse not to go and do what I'd said I was going to do. Besides the main reason I was doing this weekend's sportive – the Evans Ride It Wiltshire Downs – was because I did it last year, enjoyed it, and really wanted to do the long route this time around. So I wasn't going to bail, now was I?
Things were not in my favour however. Maybe an eagle had dropped a tortoise somewhere. Or the goat's entrails had revealed gastro-enteritis. Not only was I suffering in a big way, but the weather was not great. In fact it was feckin' freezing out there…just as it had been all week. I knew I was going to need a lot of layers. I wasn't sure that was going to be enough. I wasn't sure my painkillers were going to be enough. I wasn't sure I was going to be enough. Having had some truly hideous times on the bike of late, I'd reached a stage where I was almost scared to go and ride the bike. Why go there again?
But going I was. And I wasn't going on my own. For what, due to the apparent cancellation of the Wiggle Bitter Beast, would turn out to be my last sportive of the season, I had company. Yep, I dragged Matt along again. Mostly in the hope that he would drag me around! 😉 Plus misery loves company, right? It also loves not having to drive too far…and HQ this time around was at Wiltshire College, nr Lacock, which turned out to be not much more than an hours drive from home. Driving was a good excuse for not having to talk too much; I wasn't really holding it together, and talking when you're that close to tears is tricky. Still, it was an easy journey, as was finding the college, at the end of a very long drive. Having been here before helped, and we were marshalled to park up on the gravelly, somewhat muddy, car park much the same as last time around.
I didn't want to get out of the car. What and leave my warm cosy safe little box? But I did. Kinda. Only to discover it was just as cold as I thought it was, and that standing up didn't feel good. Matt gave me a hug, partially to warm me up, partially because I clearly wasn't feeling great, at which point I promptly burst into tears. Go me…or something.
After a little while I got it together, and managed to MTFU for a bit. Time to go and try and do what we were actually here for. Which meant starting by registering. We decided to walk over there and then come back to faff, and the walk around to the hall demonstrated what I already pretty much knew. It was COLD! And not nice. The toilets however were both warm and nice, and inside, and alongside what looked like a common room. I was half tempted to stay in there and play pool all day instead…! However… The queue for registration was pretty non-existent, probably because we were running pretty late for our nominal start slot. We both signed up, and were presented with our High5 bottle packed with goodies, for having booked our places early, and also a High5 race pack for the day. Another good reason for not riding to registration – we'd only have had to go back to the car to stash stuff anyway! So, duly equipped with timing chips and numbers and the like we made our way back to the car to faff.
Matt took pity on me and made me sit in the car while he reassembled the bikes. I decided that I wasn't wearing enough and swopped the odd lighter layer for more heavy duty ones in the meantime. At some point he disappeared off to answer a call of nature…only to be confronted by kangaroos! Ok, so they could have been wallabies but that's none the less bizarre…the best you usually bump into on such trips is the odd curious cow! How mad is that? And it made us both smile, which was definitely an improvement and perked me up a bit.
So, with even Matt wrapped up in what passes for his idea of warm clothing, and everything all sorted, there was no putting it off any longer. Time to revisit the common room, rue leaving it once again, and join the queue for the start. Such as it was, since most were out and under way already. However I reckon this was better than having to stand around in the cold and queue anyway. A small group of us gathered at the starting gate to be briefed about the signage, warned it wasn't a race, and the like. And then we were off…out into the cold, bright, and breezy. *gulp*.
A lot of the ride is a bit of a blur. It's safe to say that I was a bit distracted. And the first 45 minutes of any ride is never good, since it takes me that long to warm up and warming up of any sort seemed unlikely today. But it was pretty out there, and the first few miles were fairly flat and I was riding the bike in good company, and hey… So when the first route split came at 7.5 miles in, for the Fun route, and Matt presumed we weren't taking it, he wasn't wrong. Although a little bit of me did wonder if I'd come to regret that… The idea of doing this event again had been to come back and do the Long route having been unable to do so last year, and that was still currently the plan. It's only 80 miles after all, with the Medium route being 62 and the Short being 36, and t's a beautiful part of the world to cycle around. I wanted to see more of it.
Things started to be somewhat less flat. Not what you'd call massively hilly, it's not that kind of route, but enough for me to feel it. And not to be feeling it. Poor Matt was having to nurse me along as my pain levels were increasing, my temperature level wasn't, and conversation and scenery were not proving sufficiently distracting. And when we reached the next route split, not much further down the road, where we really should have turned right, to head for being Long or at least Medium, there was no presuming. I really wanted to. I really did. But… So we pulled over to talk and think about it. And cry, if you're me. Yes, again. Partially because it hurt, and partially because I hated having to admit defeat, but it was feeling like I really didn't have much choice. Man it was frustrating! We chatted it through, and map gazed. Decided we couldn't just go and lurk in the Cross Keys pub opposite, which probably wasn't open anyway. And figured out there actually were other options open to us, as there were bits where we could rejoin other routes if we took the Short route and things turned out to feel better than expected, which helped me feel a bit better about bailing, and ruining Matt's ride plans. So, having once again pulled myself together, we headed off to be Short.
Even doing the Short route, I've ridden around here enough for a lot of it to be fairly familiar, and even though there were hills, and they hurt, I got up them, and with the sun now shining, blue skies above, and the Wiltshire Downs spreading out around us, it really was pretty. Oh to be a bit warmer though…the wind really wasn't helping, and I don't know what more I could have been wearing but what I was wearing just wasn't enough. Mind you, a lot of that seems to have been just me, Matt wasn't suffering half as much, which is one of the wonderful side effects of being in pain – my body is too busy coping with other things to get warm, or something.
I can't remember where the food stop was, mileage wise, but it was very welcome whenever and whereever it was. It was at some convenient village hall, with the usual variety of food/drink outside and one toilet inside. One toilet and a very long queue… However also inside, off the hall, was a small kitchen, where tea/coffee making facilities were available. Manna from heaven! I may be a bit of a coffee snob, but today the idea of a cup of hot instant coffee was positively appealing 😉 So Matt made coffee whilst I found a place to sit on the floor against a wall, and then there we sat. Hot "coffee", the next dose of pills, a gel…all things that were likely to be restorative. Although I decided to give the toilet a miss,; I just couldn't face standing in that queue, or to be fair undressing and exposing any more of me to more cold.
Matt was feeling a lot more chipper than me. And warmer. In fact, after some debate, this lady ceased to protest too much and gave in to his generous offer that I wear his cycling top over all my kit. God knows how he was warm enough for that to even be possible, and I seriously doubt it was a good look for me, but it turned out to be a really good idea. We set off again, and slowly things started to feel better. I stopped being freezing. The pills started to do their thing. The sun shone, and having decided to stick to the Short route, I started to cheer up. Knowing you're heading for home does a lot of the PMA too, and I started to feel like I might actually complete this route at least! The routes had joined up at some point, and we could have opted to do some of the Medium/Long route but…some days it's just better to quit while you're behind 😉
So there were more long open roads under open skies, with stunning views, which were just as lovely as I remember them. More climbing, which like labour, I have blotted out. Pretty churches. Autumnal colours in the fields and the woods and the leaves on and under trees. We stopped from time to time, just to give me the odd break to breathe a bit. And it was lovely really. Sadly. If only… What was also lovely was the final descent of Bowden Hill towards the end. After a long gradual climb up through country estate feeling territory, it's a lovely fast drop, with bends and, if you've done it before which I have, it can be SO much fun. You do have to be a bit careful – there was the odd car around, and quite a few sunny Sunday walkers around too. But we hurtled off nonetheless, and I finally found a tiny bit of mojo and remembered why riding a bike can be so much fun. And it was fun for quite a while, as it goes on for a bit!
And then that was it. Back on to the college estate, back over the plentiful speed bumps, and back over the Finish line, feeling a lot better than I had done going the other way, all of a few hours earlier. Job done…albeit badly.
Cycling time: 2:40
Distance: 36.6 miles
Avs: 13.7 mph
Ah well. Ho hum. Etc. Another one best consigned to the history books and best forgotten. It probably doesn't feel like I've written much about the actual ride but let's face it – it was only 36 miles, and took but a couple of hours – so there wasn't much actual ride to write about, right? If you want more ride stuff, then it's a nice area, the route is nice but with rather too many fairly main road sections, and the signs were small, hard to spot sometimes, and there weren't enough of them either. Is that better?
So that was my (our) day, and that was the ride, and clearly it wasn't a good day at the office. But it could have been worse. I could have been doing it on my own. It could have rained. Very few events involve kangaroos. And I did get round which, all things considered, is a minor achievement of sorts. One day I'll do that blasted LONG route!! *grin*.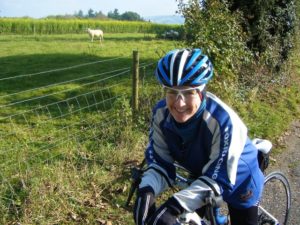 *In case you were wondering, we've worked out why things had gone quite so pear shaped… The latest brand of my patches and I weren't getting on…some form of skin reaction to them seems to have meant that I wasn't absorbing their yummy goodness. So for about two weeks I wasn't getting the pain relief that clearly I do actually require…which clearly wasn't great. On the upside at least I know I do really need them, right? 😉